Wait...Archie Can't Really Be Dead on 'Riverdale,' Can He?
Something very weird is going on with Riverdale—and we're not just talking about the fact that all the residents seem to think they live in "Rivervale" with a "V."
In the first five episodes of Season 6, The CW show has been going in more of a horror direction, with the residents living in a world of curses and human sacrifices.
Who is that human sacrifice? Archie Andrews (played by KJ Apa), who is the victim of a strange ritual perpetrated by Cheryl Blossom (Madeleine Petsch).
Of course, Riverdale has given us many a fake-out over Archie's death (remember when he was mauled by that bear?). Equally, Jughead Jones (Cole Sprouse) has also seemingly met his demise many times over.
This time, however, it seems pretty final for our favorite red-headed singer-turned-boxer-turned-gangster-turned-*insert random hobby or side gig here*—after all, Cheryl literally pulled his heart out of his chest.
With so many strange things going on in Riverdale, however, it is not entirely clear what is real and what is not. Here, we break down all the strange goings on.
So, is Archie really dead in Riverdale?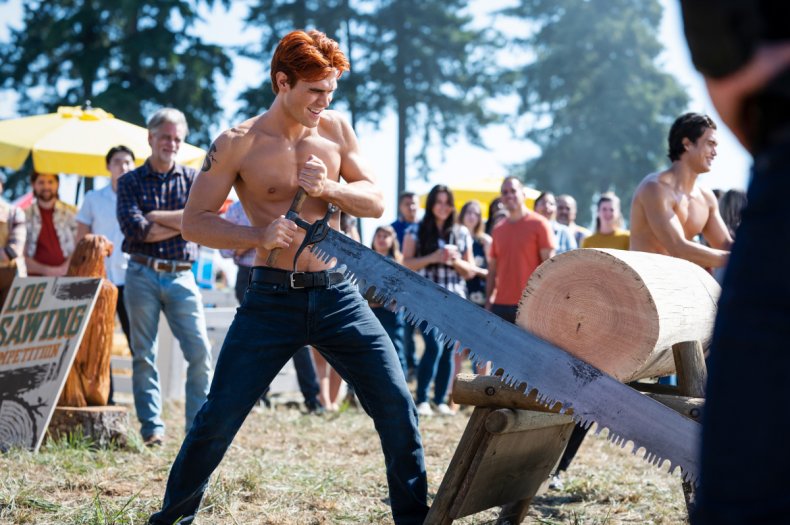 According to its showrunner, Archie is definitely dead for now—but also, he almost certainly is not for the long haul.
Speaking to TV Line, Roberto Aguirre-Sacasa said: "It was really important to make sure that they were what we call 'in continuity,' meaning that things that happen in Rivervale would continue or echo or speak to the events of Riverdale...I'm not going to speak to alternate universes or dreams or anything like that, but I will say that this is all happening, and we will play as though this is all happening, even beyond the first five episodes."
He later added: "Archie is dead in Episode 2. And I'll say this: That's only the start of the body count for Rivervale."
So, at least for the next episode, it seems that Archie Andrews is dead and gone, but it does not look like KJ Apa is leaving the show any time soon.
Aguirre-Sacasa has previously said that the theme of Episode 2 is "ghost stories," (which is also the title of the episode) so it is possible Archie will come back from beyond the (river)veil.
After that? Though it has not been confirmed, the show is almost certainly going to find a way to bring Archie back—especially as a woman with a history of bringing people back from the dead is about to make her debut on the show.
Either way, it is clear that something strange is afoot in the world of the show (as per). This was confirmed by an early scene between Archie and Betty (Lili Reinhart) in which the former said he had a strange dream where he found a bomb under the bed, and where Rivervale was called Riverdale. Plus, Jughead called Rivervale a "shadow town" of Riverdale at the end of the episode, which suggests that things that happen there are not necessarily happening in the reality of the show.
As full-time viewers will know, this happened at the end of Season 5. So either everything that has happened so far in the whole of Riverdale has been one long dream (which would not be the most outlandish twist the show has ever pulled), or the things we are seeing are not quite happening in the real world of the show.
In the real real world, meanwhile, Apa has just had a baby, so it seems likely that Archie's death is a way of giving the actor some paternity leave—but that he will be back when regular Riverdale resumes in March 2022.
Riverdale Season 6 airs Tuesdays at 9 p.m. ET / 8 p.m. CT on The CW.