All the 'Riverdale' X 'CAOS' Crossovers, As Kiernan Shipka Joins Cast
As if Riverdale could not have any more shocks and surprises in store, there is finally going to be a Chilling Adventures of Sabrina (CAOS) crossover in the upcoming season.
On Thursday, October 7, it was announced Kiernan Shipka, who portrayed Sabrina Spellman in the Netflix series CAOS, will be appearing in Episode 4 of Riverdale Season 6.
This is not the first time Riverdale and CAOS have crossed over and judging by both shows' hints at a crossover in the past, fans are in for a treat. Newsweek has a full breakdown of all the Riverdale and CAOS crossover moments.
The most Riverdale and CAOS crossovers took place in Season 3 of CAOS, which dropped on Netflix in December 2020. For years fans suspected the two shows were connected, thanks to a whole load of Riverdale Easter eggs in the Netflix series. Their theories and suspicions were confirmed in Season 3 when figures from Chilling Adventures of Sabrina's Greendale and the Riverdale townsfolk eventually crossed paths.
Greendale and Riverdale link is confirmed
In Season 3, Episode 3 of CAOS, after years of speculation, it was confirmed magic does exist in the town of Riverdale.
Sabrina (played by Kiernan Shipka) and Ambrose (Chance Perdomo) crossed the Sweetwater River into the woods which border Riverdale in Episode 3 to retrieve one of the three Unholy Regalia's, King Herod's crown. The artifact in question allegedly connected an ancestor of Riverdale's infamous Blossom family to the supernatural world.
However, when they broke open the tree to take the crown, a demon tree came to life. The fact this magic and mystery took place on Riverdale's turf proved magic existed outside of Greendale and even worse, demons exist in the neighboring town.
Pop's Chock'Lit Shoppe Diner gets a mention
In CAOS Season 3, Episode 6, Hilda (Lucy Davis) gave Riverdale's Pop's diner a huge shoutout before she was transformed into a spider woman.
She told Dr. Cee (Alessandro Juliani): "There's a diner in Riverdale and it sells the juiciest hamburgers and the thickest milkshakes" and sends him on his way to the town.
Later in the episode, Dr. Cee returned with three of Pop's iconic milkshakes in hand.
Billy Marlin appears in 'Riverdale'
Characters from Chilling Adventures of Sabrina have also made appearances in episodes of Riverdale.
In Season 4, Episode 10 of Riverdale, titled "Varsity Blues," Betty (Lili Reinhart) came face to face with Baxter High Ravens' Billy Marlin (Ty Wood), who first appeared in CAOS Season 1.
In the Riverdale episode, Billy was one of the players from several football teams who had come together to help Betty with her investigation into Bret (Sean Depner) and the Stonewall Prep team.
At the time, Betty was looking into claims Stonewall Prep football players had been intentionally hurting their rivals. It was also revealed in the episode Billy's football team are rivals of the Riverdale Bulldogs.
Jughead's work of art
In CAOS Season 3, Episode 3, titled "Chapter Twenty-Three: Heavy is the Crown," Sabrina and Ambrose come across graffiti left by Riverdale's finest artist, Jughead Jones (Cole Sprouse).
Sabrina and Ambrose pass the Welcome to Riverdale sign, which had the words "Murder Capital of the World," Riverdale's infamous nickname.
Eagle-eyed fans may have noticed Jughead's tag and the words "JJ Wuz Here" spray-painted beneath the sign, solidifying suspicions the characters of Riverdale and CAOS exist in the same universe.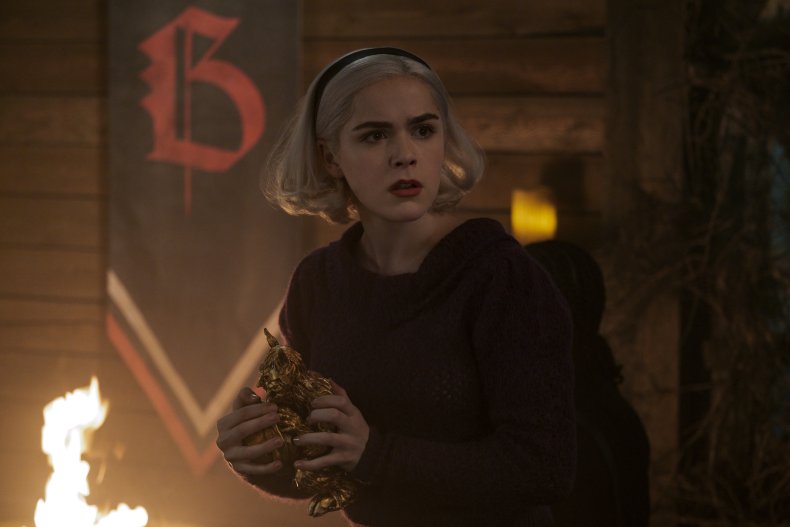 Confirming the upcoming crossover event, Riverdale showrunner Roberto Aguirre-Sacasa announced to Entertainment Weekly: "We've been talking about having Sabrina visit Riverdale since Season 1, so it's thrilling that this is finally happening, as part of our 'Rivervale' special event.
"It's also perfect that she shows up to help Cheryl Blossom during her hour of greatest need. Everyone on set lost their minds—I think fans will, too. It's really fun and special."
In Season 6 of Riverdale, Cheryl (Madelaine Petsch) will cast a dangerous spell which will put the Blossom family at risk. Thankfully, Sabrina will arrive in Riverdale just in time, changing the course of events, the episode synopsis teases.
Shipka has taken to Instagram to share her excitement about the upcoming crossover event.
Alongside a photo of herself on the set of Riverdale, Shipka wrote: "from Greendale to Riverdale. See u in Season 6."
Riverdale Season 6 premieres Tuesday, November 16 at 9 p.m. ET on The CW.