When Will 'Riverdale' Season 6 Return Next Year?
Riverdale Season 6 is only airing five episodes in 2021, and after that is taking a long break. The first five episodes of The CW and Netflix show have been a self-contained story called "Rivervale," a more horror-inspired series that featured major character deaths and a crossover featuring Sabrina Spellman (played by Kiernan Shipka).
That story comes to an end with the Tuesday, December 14 episode of Riverdale, in an episode that will be the 100th instalment of the show. This episode will be the winter finale.
Unlike other shows that are airing winter finales in December and then coming back in January, Riverdale will not be back until the spring.
Despite that, the showrunner has already been dropping hints at what we can expect when "Rivervale" ends and Season 6 proper begins.
Riverdale Season 6, Episode 6 release date
The CW show is set to return in March 2022. Specifically, Sunday, March 6.
This is a new night for Riverdale, and the first time it has aired on Sundays. It is, however, returning to its original time slot of 8 p.m. ET / 7 p.m. CT.
In countries where the show is streaming on Netflix, Season 6, Episode 6 will air on Monday, March 7 from 8 a.m. GMT (midnight PT).
So far, The CW has not released an episode title and synopsis for the first 2022 episode of Riverdale. However, showrunner Roberto Aguirre-Sacasa has been dropping hints about how the rest of Season 6 will link to "Rivervale."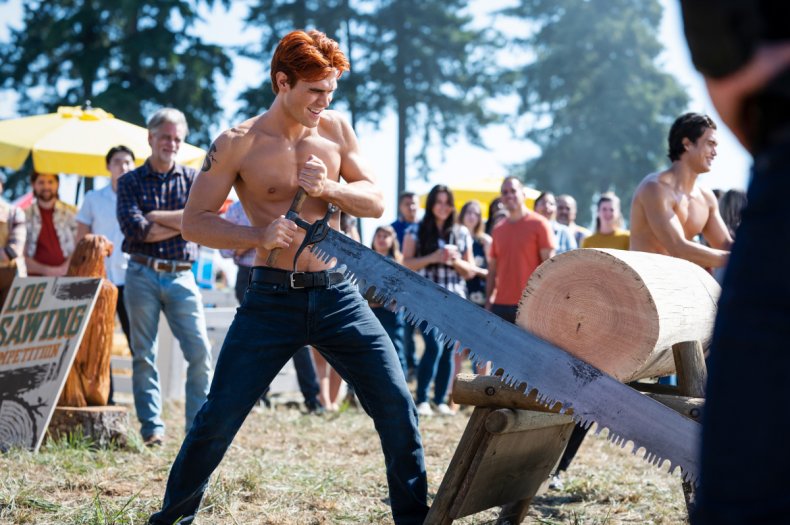 He told The Nerds of Color: "I would say that one of the great things about the Rivervale arc and the mini series is that it sort of has opened the door, I think, to a new genre and things that we kind of have not done before on the show.
"So again, stories that start in...'Rivervale' continue in Riverdale in a more grounded way, but it's definitely a different genre for us and feels very fresh."
Oddly, though we do not have an episode title for Season 6, Episode 6, we do know what Episode 7 is called: "Chapter One Hundred and Two: Death at a Funeral." We know this because Hermione Lodge actor Marisol Nichols posted a picture of the script onto Instagram, confirming that her character is returning for the episode.
As for when Season 6 is set to run until, production on the season is set to continue until June 2022. This likely means that this season is set to air until the late fall. And after that? Currently, The CW has not renewed the show for Season 7. The network tends to renew its shows en masse in February or March, so by the time Season 6 returns we should know whether it will be the last ever run for Riverdale.
Riverdale Seasons 1 to 5 are streaming on Netflix in the US (with Season 6 also streaming on Netflix outside the US). Season 6 comes to Netflix in the US in late 2022.