'Riverdale' Season 3 Spoilers: Lili Reinhart Reveals 'Mysterious' Cult Secrets
Riverdale is slated to be plagued with a new threat in Season 3. In the CW drama's debut season, the fictional town of Riverdale was forced to solve who murdered Jason Blossom. The following season was centered around unmasking the Black Hood. Now, the fan-favorite characters will soon suffer the effects of The Farm—a new cult that's preparing to infiltrate Riverdale.
"Alice and Betty are, kind of, divided again because of The Farm," Lili Reinhart, who plays Betty Cooper, told reporters at New York Comic-Con (NYCC) on Sunday. "Alice has been pulled into this cult-like group...where the leader is treated like a disciple, almost. Betty can see from the outside that that's not right. Something is really wrong here. It almost feels like brainwashing. Betty is obviously very opposed to that. Polly is already far-gone into The Farm—fully brainwashed."
The Farm was first introduced in Riverdale Season 1. At the time, Polly Cooper (Tiera Skovbye) had initially planned to go to a farm upstate to raise her twins—Juniper and Dagwood—with her late boyfriend, Jason. The Farm was explored further in Season 2 upon Polly's return, where she informed her parents Hal (Lochlyn Munro) and Alice (Mädchen Amick) of her intentions of raising her children there.
After Hal was revealed to be the Black Hood, Polly returned home. She suggested to Alice how the group could aid in her mother's healing process.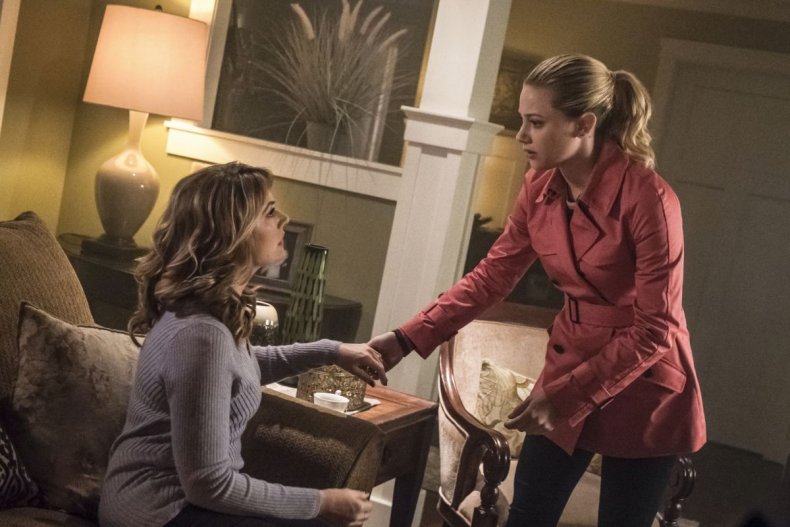 "I think I have someone who can help you, Mom...A friend of mine from The Farm who healed me when I was so broken after Jason. If you're open to it, I would love to invite him to come to visit and talk to you," Polly shared with Alice. To that, Alice explained how she felt it "sounds nice."
In Season 3, Alice will be heavily involved in The Farm and will begin to form a close bond with a "very charismatic cult leader" named Edgar Evernever, according to Amick.
"Alice was so broken after Season 2, in realizing that her husband was a serial killer. She was just so vulnerable and such an easy target, that she just went all-in to the cult," Amick said at NYCC. "Right now, she's really living in denial of what really happened. She's just all about being organic, wearing crystals and free love with F.P. [Skeet Ulrich]."
While The Farm will be important to Riverdale in Season 3, Reinhart suggested it will come more into play as the show progresses. She claimed the first half of Season 3 will primarily be centered around "a different mystery, but it's still there."
"Betty's fighting to make her mom stay as normal as possible, but also still trying to figure out what The Farm even is," Reinhart explained. "It's very mysterious, but you do see her deal with the Farmies in the early part of the season. We're going to tackle that whole mystery in the second half, which we haven't started filming yet."
Riverdale premieres Wednesday at 8 p.m. ET on The CW.