'Riverdale' Season 3 Spoilers: KJ Apa Says Archie's Jail Time Was 'Rough'
Riverdale's jam-packed Season 3 premiere was a doozy. A storyline that takes center stage in Wednesday's episode, titled Chapter Thirty-Six: Labor Day, is what happens with Archie's arrest. Spoiler alert, everyone's favorite ginger is heading to jail.
"It's rough," actor KJ Apa, who plays Archie, told reporters at New York Comic-Con on Sunday. "We see him in survival mode for a lot of that and I feel like he changes a lot. It definitely shapes him into a man, I feel like. It changes his relationship with everyone around him when he comes out."
Apa, 21, shared how new characters will be introduced during Archie's prison stint, saying: "He meets a few people in there that he needs to get close to in order to protect himself. Some are serpents, some are not serpents. Some are not even affiliated with anyone. He meets some cool characters in prison, for sure."
Due to Archie's time in jail, Apa suggested "he's not really around for a lot of" the craziness that ensues in Riverdale since he's dealing "with a lot of his own stuff." This, however, could lead to trouble for Varchie—aka the coupling of Veronica and Archie.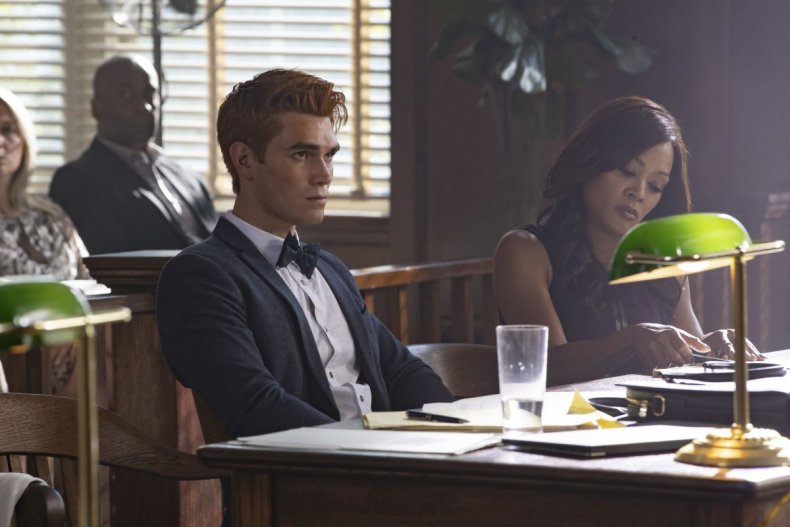 "There relationship is put to the test, for sure," Apa explained. "At the end of the day, I feel like they will always still love each other, Archie and Veronica."
In the show's Season 2 finale, the CW drama series left off with Archie Andrews celebrating being elected as class president. This ceremony was abruptly interrupted by Sheriff Minetta, who arrested Archie on the spot for murdering Cassidy Book (Harrison MacDonald).
Cassidy is a store clerk Veronica Lodge (Cami Mendes) and Betty Cooper (Lili Reinhart) interacted with in "Chapter Twenty‑Seven: The Hills Have," where they were heading to Veronica's family's lodge in Shadow Lake. The gang—Archie, Veronica, Betty and Jughead Jones (Cole Sprouse)—was later attacked by a group of masked men. Veronica, fortunately, set off a silent alarm before any real harm was done.
The four intruders exited the premises and Archie ran after one of them. Archie knocked the man down and prepared to attack, but Hiram Lodge's (Mark Consuelos) employee Andre (Stephan Miers) stepped in and instructed Archie to leave. As Archie exited the area, he heard a gunshot sound in the background. Eight episodes later, he finds himself in handcuffs after Hiram framed him following Archie's threat to expose his secrets.
Archie's arrest is revisited in "Labor Day" as he appears in court during the episode's opening scene. After the jury was split on their decision, he pleads guilty to receive a shortened sentence of two years in juvenile detention. He stated how he didn't want to put his mother and "everyone else through" another trial.
"Are you happy now daddy? It all worked out, just like you planned," Veronica said to Hiram after the court hearing concluded. "Archie didn't play by your rules. He threatened you, so you punished him. You destroyed his life."
Archie was taken directly to the Leopold and Loeb Juvenile Detention Center, where he would begin to serve his two-year sentence immediately. Despite Archie's bold submission, his parents intend to work beside F.P. Jones (Skeet Ulrich) and Sheriff Keller (Martin Cummins) to bring him home.
"We'll get him home, Mary. One way or another," Fred Andrews, played by Luke Perry, said to Mary Andrews, portrayed by Molly Ringwald. "I'm going to prove that Hiram Lodge framed our son, and I'm going to make the son-of-a-bitch pay."
Riverdale premieres Wednesday at 8 p.m. ET on The CW.