Season 3 of Riverdale has kept fans on their toes week after week, but excitement for the show's progression hasn't been limited to fans. Star Camila Mendes, who plays Veronica Lodge, has enjoyed seeing her character's growth in the show's current run.
In Season 3, Veronica has begun to take control of her life and became a much stronger character. Mendes spoke with Newsweek about how Veronica has developed further as she's separated herself from her parents Hiram Lodge (Mark Consuelos) and Hermione Lodge (Marisol Nichols).
"It's been really fun. I love Season 3 for Veronica because she's kind of a boss bitch," Mendes, 24, told Newsweek. "She has fully honed in her power."
Mendes continued, "She's not wearing her pearls. She gave up her pearls because they're associated with her father—he gave her those pearls. It's almost like she's disowned her parents. She doesn't identify with them anymore. She's removed from them. They're like a broken family in that way."
As Veronica has drifted away from her family's business endeavors, she's begun to forge her own path.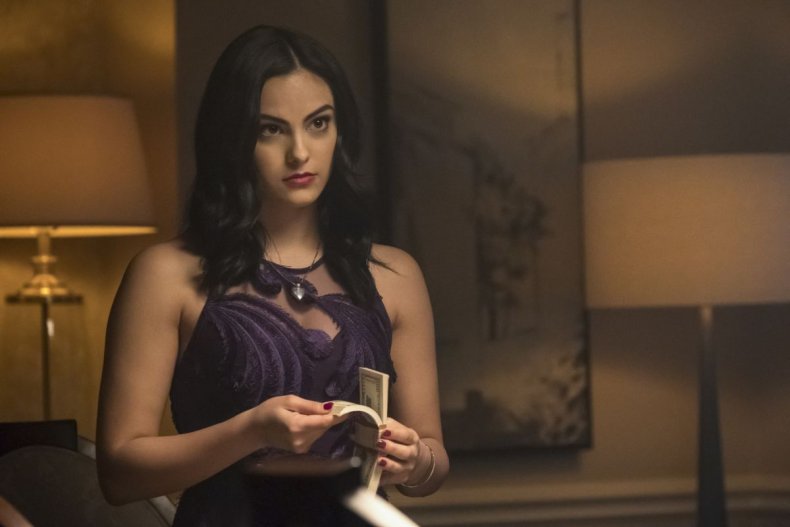 "She's become a businesswoman. She's running her own business and hustling to balance school, Pop's [Pop's Chock'lit Shoppe] and the speakeasy. It's all under her control," she explained. "I'm very impressed by her this season."
While Veronica's character development has taken center stage in Season 3's early beginnings, so has the deadly game "Gryphons and Gargoyles." The board game, which is similar to "Dungeons and Dragons," has led to the deaths of Dilton Doiley and Ben Button. The game's explored further in Episode 304, titled "The Midnight Club," where the show goes back to when Veronica and the gang's parents are high school-aged kids who get caught up in playing the game. What results is the mysterious death of Riverdale High School's Principal Featherhead.
Mendes enjoys the Gryphons and Gargoyles storyline. "I think is a such a fun way to incorporate the Season 3 mystery. The show never ceases to amaze me," Mendes explained. "I'm always [wondering] what's the next mystery going to be like? How are they going to make it new and fresh? And they do. They find the perfect ways of making it Riverdale."
Mendes compared the inclusion of Gryphons and Gargoyles to Season 2's jingle jangle, adding: "Last year was jingle jangle—this candy that's dangerous. Then there's this board game, which is also dangerous. It's like taking these innocent childhood symbols from our lives and turning them into these darker, scarier ideas."
Newsweek caught up with Mendes's castmates Lili Reinhart and KJ Apa at New York Comic-Con in October where they spilled on what's to come throughout Season 3. Apa suggested Archie Andrews's time in prison was "rough" as he's forced to enter "survival mode" behind bars. Reinhart shared how trouble with The Farm impacts Betty Cooper's family as it proves to make them more "divided."
Riverdale airs Wednesdays at 8 p.m. ET on The CW.