'Riverdale' Spoilers: Season 4, Episode 5 Revealed What Really Happened to Jughead in Major Clue
One of the big questions of Riverdale Season 4, alongside what Cheryl's house (played by Madeleine Petsch) must smell like and whether Archie (KJ Apa) even owns a shirt, is whether Jughead (Cole Sprouse) is dead after he first went missing then appeared on a coroner's table.
So far, the show has given us a lot of red herrings as to who could have killed Jughead, from his Stonewall Prep nemesis Bret Weston Wallace (Sean Depner) to Betty (Lili Reinhart), Charles (Wyatt Nash) and their 'serial killer gene.' However, the most recent episode of Riverdale, Season 4, Episode 5, seems to give a huge clue as to what really happened to Jughead.
At the end of the episode, titled "Witness for the Prosecution," Jughead decided to take on Bret and the rest of his creative writing class in the competition run by Mr. Chipping (Sam Witwer) to find the next ghost writer of the Baxter Brothers mystery books. What do they have to do to win this competition? Plan the perfect murder.
The episode of The CW show then cut to Sherriff FP Jones (Skeet Ulrich) coming into Riverdale High to arrest Archie, Betty and Veronica (Camila Mendes) for the murder of Jughead, following the events of the Season 3 finale which saw them covered in blood, burning Jughead's signature beenie hat.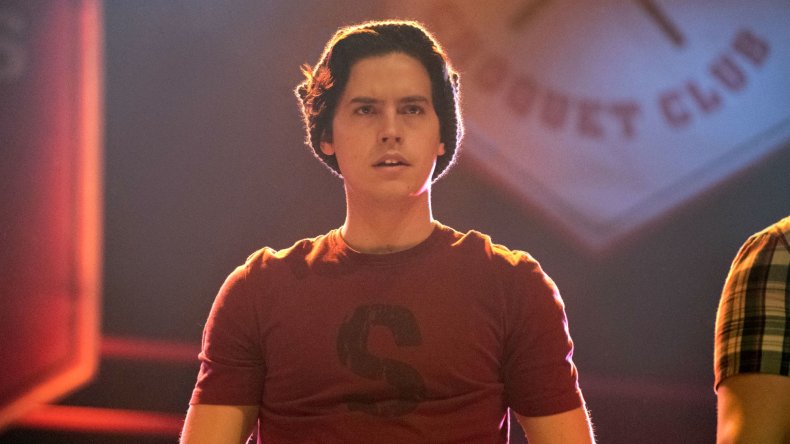 However, FP told the gang they were under arrest with almost no emotion, which is strange seeing as he is ostensibly confronting the three people who murdered his son. As reported by Newsweek earlier this week, this is not the first time that viewers have noticed people close to Jughead reacting to Jughead's 'death' with almost no emotion. In Episode 4, for example, when FP and Betty see Jughead's body on the coroner's slab, one fans wrote on Reddit: ""FP and Betty looked pretty cool for it to be the real Jughead."
Bringing these pieces of evidence together, it seems as if Jughead has faked his own death as part of his mission to plan the perfect murder as a genius way to beat Bret and become the new Baxter Brothers writer, and that FP, Betty, Archie and Veronica are all in on it. After all, what would impress the judges of the competition more, who are all mystery writers themselves, than the drama and intrigue of someone faking their own death.
Though this has not been confirmed by The CW or the Riverdale cast and crew, this seems the closest we have got to the answer of who killed Jughead yet. However, the CW show itself will not reveal the full solution to what happened to Jughead, including how exactly he managed to appear so realistically dead, until the midseason finale, coming in December 2019.
Riverdale Season 4 airs on Wednesdays at 8 p.m. ET on The CW
'Riverdale' Spoilers: Season 4, Episode 5 Revealed What Really Happened to Jughead in Major Clue | Culture