'Riverdale' Spoilers: Bret Weston Wallace to Kill Jughead in Midseason Shocker?
Riverdale has hinted that Jughead Jones (played by Cole Sprouse) is going to be in some deadly danger later in Season 4, but Episode 3 of the new season seemed to give us our biggest hint yet as to who will be responsible for Jug's disappearance.
Bret Weston Wallis (Sean Depner) was introduced in "Dog Day Afternoon" as a new nemesis for the Riverdale character, with the episode also including some massive hints that this rivalry could eventually lead to the scenes of Jughead going missing that we have already been teased in The CW drama's most recent season.
Warning: The following contains spoilers for Riverdale Season 4.
In Episode 2 of Season 4, for example, we saw a flash-forward to a town-wide search for Jughead, with the residents searching the forest by torchlight. This is most likely around the same time in the timeline as the events of the Season 3 flash-forward that saw Archie (KJ Apa), Betty (Lili Reinhart) and Veronica (Camila Mendes) burning Jughead's signature hat while covered in blood, as well as the glimpse we got in the Season 4 trailer of Jug buried alive.
Although we have had a number of hints about Jughead's fate, Episode 3 contained our first hint about who might be behind it. In "Dog Day Afternoon," the battle between Jughead and Bret begins as a relatively small thing after Jughead criticizes Bret's short story in one of their creative writing seminars.
Things escalate, however, as the two nearly fight twice and everyone starts to warn Jug about his "diplobrat" roommate. By the end of the episode, their feud has claimed its first victim in the form of their other roommate Moose (Cody Kearsley), whose past as the son of a serial killer is posted all over the school by Bret.
This seems like only the beginning of their battle and, in typical Riverdale style, it is easy to imagine things escalating until we reach the point of attempted murder.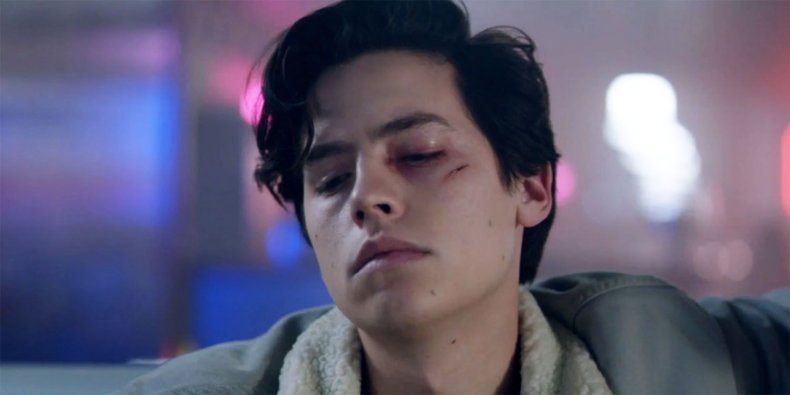 The tension was also hinted in the script of Season 4, Episode 3, when the boys come joint last in a mystery-writing competition and their teacher Mr. Chipping (Sam Witwer) ominously says, "At least you didn't kill each other." But perhaps they will?
After all, it seems no coincidence that Bret Weston Wallis gets his name from Bret Easton Ellis, author of hyper-violent book American Psycho⁠. Though this could also be a reference to Ellis' other book Less Than Zero, his twisted look at what goes on at elite schools such as Riverdale's Stonewall Prep.
At San Diego Comic-Con, showrunner Roberto Aguirre-Sacasa teased: "One of the biggest mysteries of the season is kind of centered around Jughead at the new school."
What that mystery is is sure to be teased until the midseason finale, which the boss has said will reveal exactly what happens to Jughead.
Riverdale Season 4 airs Wednesdays at 8 p.m. ET on The CW.