Riverside Shooting: Tributes Paid to CHP Officer Andre Moye Killed in 'Long and Horrific' Gun Battle With Suspect
Tributes have been paid to California Highway Patrol Officer Andre Moye, 34, who was killed during a lengthy shoot-out with a suspect in Riverside. Moye died from his injuries after he was shot by a male suspect following a traffic stop at around 5:37 p.m. on August 12. Two other officers were also injured during the shooting just off the 215 Freeway.
In a press conference, CHP Inland Division Assistant Chief Scott Parker said the incident occurred after Moye had pulled over a white GMC pickup truck. At some point, Moye told the driver that he was going to impound his vehicle and began filling out the necessary paperwork.
During that process, the suspect entered his vehicle and pulled out an unknown caliber rifle and fired several times at the officer. During the shoot-out, Moye was struck but still able to call for back-up.
Three further CHP officers soon arrived at the scene and also exchanged fire with the suspect. Two of these officers were also injured during the shooting, including one who is currently in a critical condition at Riverside University Health System, Parker said.
Further officers and deputies from the Riverside Sheriff's Department and the Riverside Police Department arrived at the scene and exchanged gunfire with the suspect, eventually striking him. The suspect, who has not been formally identified, later died at the scene from his injuries.
"It was a long and horrific gun battle and it resulted in a very extensive crime scene," Riverside Police Chief Sergio Diaz said at the news conference.
Moye was transported by air ambulance to Riverside University Health Center, where he was later pronounced dead from his gunshot wounds. Tributes and condolences have poured in for Moye following his death.
California Governor Gavin Newsom said in a statement on Facebook: "Jennifer and I extend our heartfelt condolences to the family, friends and fellow officers grieving the tragic loss of Officer Moye, who will be remembered for his commitment to serving the Riverside County community and the people of California."
CHP Commissioner Warren Stanley tweeted on the night of the shooting: "I am devastated by the tragedy that unfolded earlier in Riverside. Tonight, I mourn the loss of one of our own, CHP Officer Andre Moye, who was killed during a shootout following a traffic stop. Prayers go out to all, including the responding officers injured in the shooting."
On social media, the Riverside Police, CHP and Riverside Sheriff's Office departments all shared doctored images of their logos with black arm bands across them in respect for the slain officer. Newsom's office also confirmed that Capitol flags will be flown at half-staff.
Moye served as a member of the CHP for nearly three years. He was assigned to the Riverside Area Office upon graduation from the CHP Academy on March 3, 2017.
Giving an update on the investigation, Diaz told reporters: "Here's what we don't know at this time: we don't know where the suspect was coming from, where he was headed to, what his affiliations are. We don't know his motive for this crime. And we won't speculate on that.
"We have a huge amount of evidence to sort through, including body warrant video evidence, radio transmissions, paperwork, and many, many eyewitnesses accounts that will occupy our investigators over several days."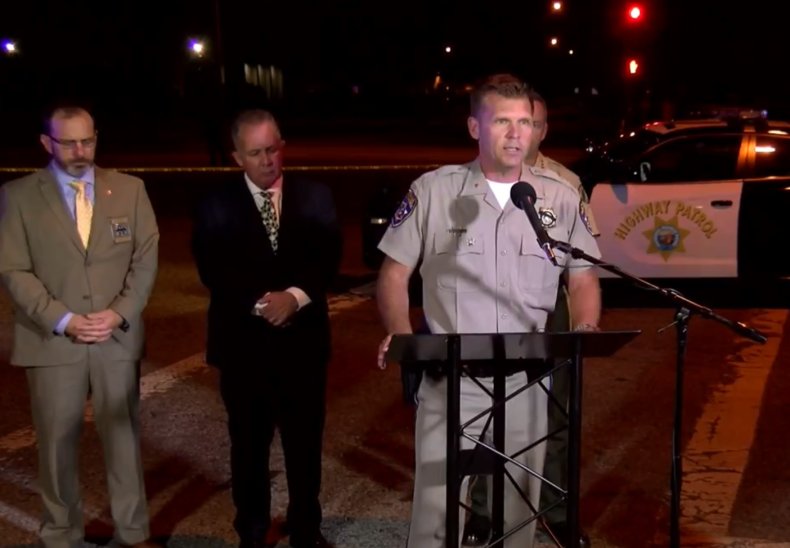 Riverside Shooting: Tributes Paid to CHP Officer Andre Moye Killed in 'Long and Horrific' Gun Battle With Suspect | U.S.