Riz Ahmed Fixing His Wife Fatima Farheen Mirza's Hair at the Oscars is Relationship Goals
Riz Ahmed stole hearts all over on the Oscars red carpet when he sweetly fixed his wife's hair as they posed for photographers.
The actor was nominated for Best Actor for his role in Sound of Metal and his wife Fatima Farheen Mirza accompanied him on the red carpet.
"I need someone to look at me like Best Actor nominee Riz Ahmed looks at his wife Fatima Farheen Mirza!" said Twitter user Nancy Wang Yuen.
Another viral tweet reads: "I wish us all a very 'Riz Ahmed Fixing Our Hair for the Perfect Pic' kinda love."
Journalist Nora Dominick added: "Not Riz Ahmed pausing the Oscars red carpet to fix his wife's hair WHAT A PERFECT HUMAN."
Another person tweeted: "I've never been more in love with Riz Ahmed than i am right now just looking at him fixing the hair of another woman who is not me at the #Oscars red carpet."
While another gushing tweet reads: "did anyone else pass away watching riz ahmed tenderly fix his wife's hair."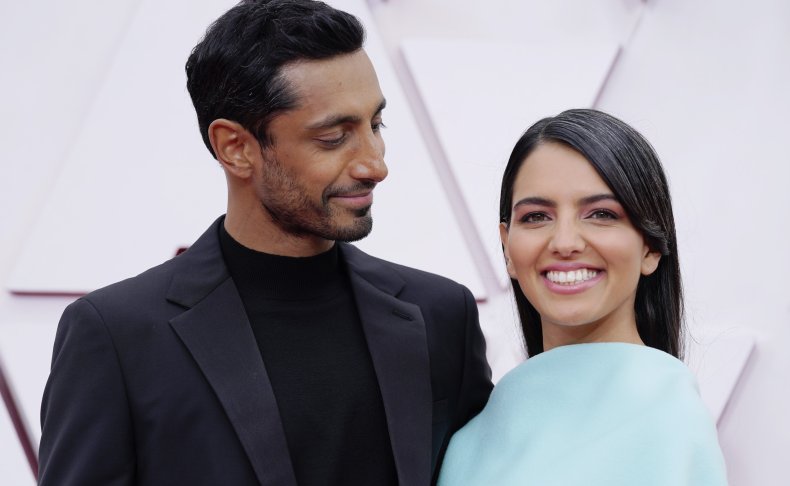 The newlyweds recently tied the knot with Ahmed telling Jimmy Fallon they got together after meeting in a café.
"She's an amazing novelist. We met so randomly while I was preparing for this role, for Sound Of Metal when I was in New York," he said on The Tonight Show Starring Jimmy Fallon.
"We both sat down at the same table in the café where we both turned up to write. We were both jostling over the same laptop plug points, like a very modern way of meeting.
"And we struck up a friendship and reconnected down the line. But it's weirdly like one of the many things about preparing for this role that was so special, it just brought a lot of goodness into my life."
He added: "Obviously, I met Fatima for the first time and met so many people in the deaf community that have become friends. There's just something about this whole period around this film that was kind of life-changing."
However, not all are convinced by the gesture with some labeling the move pointless as her hair looked like it did not need to be fixed to begin with.
"this is absolutely pointless he didn't fix anything her hair was fine he just wanted this video to go viral he's not the first celebrity to do this either it's not genuine imo," one person tweeted.