Cancel Culture Debate Rages as Isleys Perform R. Kelly Songs on 'Verzuz'
The Isley Brothers and Earth, Wind & Fire's Easter night Verzuz battle had many people talking—not just about the passionate performances, but also about what songs were performed.
Specifically, it was about two songs written by R. Kelly that were performed by the Isley Brothers.
Monday, people on social media were debating: Can you separate the art from the artist, especially in this instance when the art in question was created for another artist? It's the latest chapter in the cancel culture debate.
R. Kelly has been incarcerated since 2019 while he awaits trial—currently delayed until later this year—on multiple state and federal charges. The charges include sexual assault, sexual trafficking, abuse of a minor, racketeering, obstruction of justice and more.
In January 2019, Lifetime aired the popular six-part documentary series Surviving R. Kelly, which detailed the sexual abuse and misconduct allegations against him. The Grammy Award-winning R&B star has pleaded not guilty to all charges and is being held at the Metropolitan Correctional Center in Chicago.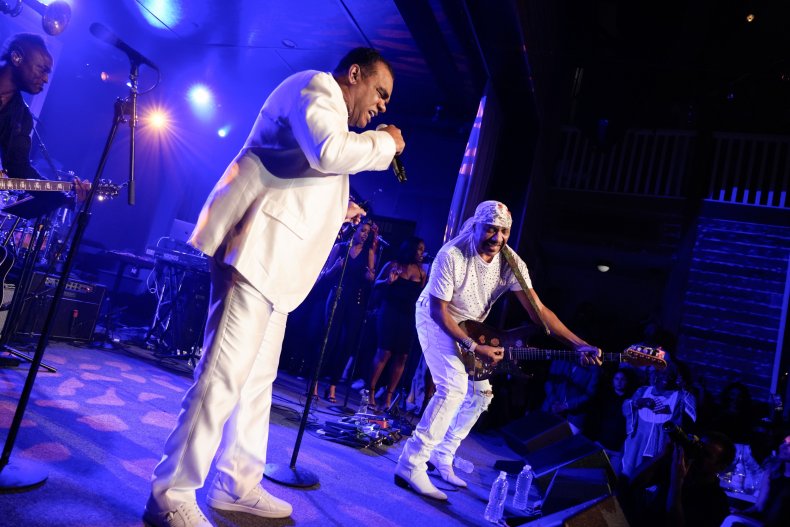 Due to the circumstances, Kelly's music has been blacklisted from many major radio stations. However, that didn't stop Ron and Ernie Isley from playing two songs he created for the brothers on Sunday night. The duo sang "Contagious" and "Busted" when they performed against three members of the legendary soul-funk group Earth, Wind & Fire on the popular Verzuz battle series.
Many viewers recognized the songs as Kelly creations and expressed shock on Twitter.
Some seemed to stand by the work of Kelly as an artist while not condoning the alleged actions he's been charged with.
There were comments from people that harshly damned Kelly while noting they could still be fans of his songs.
Others pointed out hypocrisy regarding people who criticize Lil Nas X's recent cheeky satanic imagery while defending the art of R. Kelly and Michael Jackson, the latter of whom continues to be dogged by abuse allegations even in death.
Most people on Twitter, though, just weren't even going to even hear a debate about Kelly given the allegations.
Steve Harvey hosted Sunday night's showdown between the legendary groups. The Isleys started off the evening with old hits like "This Old Heart of Mine," "Summer Breeze," "It's Your Thing" and "Twist and Shout" before sprinkling in later songs from the 2000s, which included the Kelly tunes "Contagious" (2001) and "Busted" (2003). Both tracks were written and produced by Kelly. The former also contained a verse from Kelly when it was originally released, which Ron Isley omitted from singing.
The account for the Big Boy Brunch podcast observed the irony in the song selection, given Kelly's current residence behind bars. Its message simply stated: "Them playing Busted with R. Kelly finally in jail is...interesting."
The next Verzuz will be an April 20 special called "How High," featuring the Wu-Tang Clan's Method Man facing off against his sometime collaborator, Redman. It airs live on Verzuz's lnstagram account or on the Triller Network's app.