RNC Chair Accuses Dems of 'Shameless Behavior' and Obstruction Amid Claims of Voting Irregularities
Even as top jurists and legal officials acknowledge an absence of evidence to support Donald Trump's claims that voter fraud and misconduct impacted results of the general election, some Republican leaders have refused to disavow the sitting president's allegations.
Ronna McDaniel, who chairs the Republican National Committee (RNC), insisted that several states are "ignoring voting irregularities" pushed by Trump's campaign over the past month in an op-ed published on Fox News' website on Saturday.
McDaniel defended the campaign's lawsuits targeting areas of the country where President-elect Joe Biden earned a majority of popular votes. Most legal actions sought to halt or reverse states' certification processes on grounds that their respective elections procedures were carried out unlawfully, and nearly all were quickly dismissed in court for lack of proof to substantiate claims.
Still, in Saturday's opinion article, the RNC chief accused Democrats of obstructing Republican-led efforts to challenge the election's outcome.
"After all this and everything else Republicans have been through these past four years, it is nothing short of disgraceful that Democrats and the liberal media are now saying we can't speak up peacefully about very legitimate concerns we have about how the 2020 election was conducted," McDaniel wrote.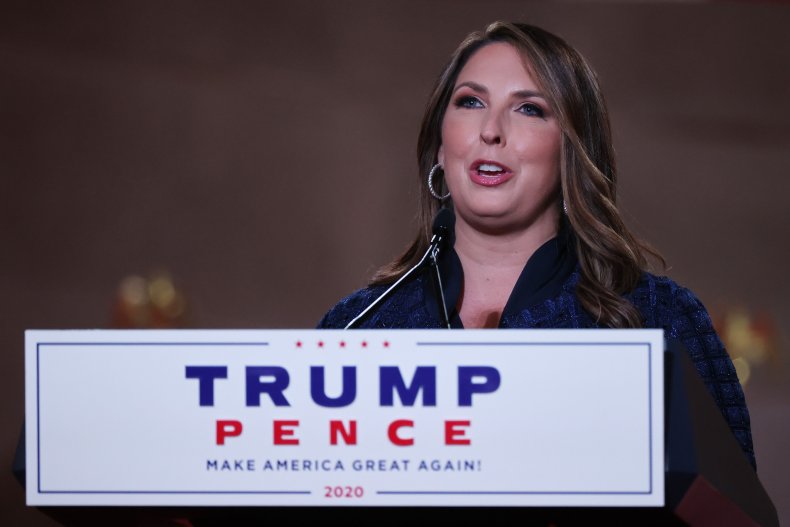 "Those doubts should not be dismissed without being fully and fairly investigated to ensure that only legally cast ballots are counted to determine the winner of the November presidential election," she continued later in the piece. "It's time for Democrats to drop their dangerous rhetoric and obstructionism and allow the process of ensuring the fairness and legality of our election to play out so that ultimately all Americans can be confident of the results."
Earlier, McDaniel indicated that Democrats were to blame for business establishments boarding up storefronts in major cities prior to November 3.
"The shameful behavior of Democrats has real-world consequences," she said in the op-ed. "In the days leading up to the Nov. 3 election this year, business owners in cities across America boarded up their buildings out of fear of what rioters would do to if President Trump was declared the winner on election night."
Given the violence that occurred during demonstrations involving both conservative and progressive groups earlier this year—which took place in response to a number of national issues, including stay-at-home orders, public health mandates and police brutality, in addition to election-related political matters—many business owners closed buildings in anticipation of potential unrest after Election Day. Trump's inflammatory rhetoric and continued divisiveness through the end of his campaign had also aggravated fears that he would resist a peaceful power transfer in the event of Biden's victory, and consequently prompt further discord.
Much of McDaniel's Fox News piece focused on claims of irregular voting procedures manipulating election results in critical swing states that Biden won last month, like Georgia and Michigan. After examining the allegations, officials in those states noted that any irregularities identified were not significant enough to impact the election's overall outcome.
Last week, Attorney General William Barr told the Associated Press that federal inquiries conducted by the U.S. Attorneys and the FBI yielded similar conclusions.
"To date, we have not seen fraud on a scale that could have effected a different outcome in the election," he said.
Newsweek reached out to the RNC and the Democratic National Committee (DNC) for further comment, but did not receive a reply in time for publication.