RNC Chair Expects Trump to Back 2024 GOP Nominee Even if It's Not Him
Republican National Committee (RNC) Chair Ronna McDaniel is confident that former President Donald Trump will back the 2024 GOP presidential nominee even if it is not him.
While appearing on CNN's State of the Union on Sunday morning, McDaniel told host Dana Bash that candidates will most likely sign a pledge to support whoever the nominee is in order to participate in debates.
"We haven't put the criteria out, but I expect the pledge will be part of it. It was part of 2016. I think that is kind of a no brainer, right? If you are going to be on the Republican National Committee debate stage, asking voters to support you, you should say 'I'm going to support the voters and who they choose as the nominee,'" McDaniel said. "I think they're all going to sign it."
While speaking to radio host Hugh Hewitt earlier this month, Trump was asked if he would support the GOP nominee in 2024, whoever it may be. The former president responded that "it would have to depend on who the nominee was."
Trump has been critical of his opponents in the past and that is no different this campaign cycle. Former South Carolina Governor Nikki Haley announced her candidacy for president earlier this month, with Trump responding by calling out her previous comments on immigration, Medicare, and Social Security.
Another potential 2024 rival Trump has on his radar is Florida Governor Ron DeSantis, who has not officially indicated if he plans to run. The former president has repeated insults on Truth Social labeling the governor "Ron DeSanctimonious" and trashing his state's COVID-19 response.
While speaking on Truth Social last Tuesday about DeSantis, the former president said, "Florida was doing GREAT long before Ron DeSanctus got there. People are fleeing from New York to Florida (and other places) because of high TAXES and out of control CRIME, not because of Governor (thank you President Trump!) DeSanctimonious."
Trump continued: "Rick Scott did great, and even Charlie Crist had very good numbers. SUNSHINE AND OCEAN, very alluring!!!"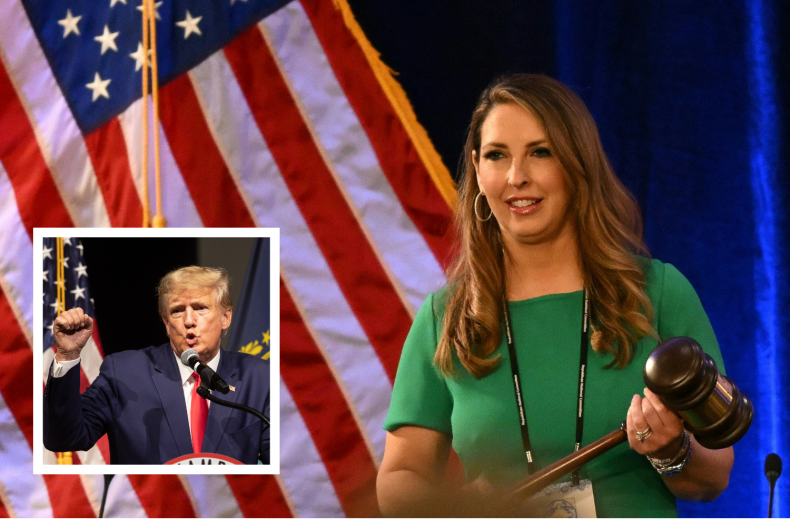 Political analyst Robert Collins told Newsweek on Sunday, "Donald Trump has proven that his behavior is unpredictable. So, there is no way the chair of the RNC can predict what he will do. In all probability, he will support the nominee, but we just don't know for sure. As the campaign[s] start ramping up, we can expect Trump to start engaging in personal attacks on the other Republican candidates in any attempt to get them out of the race."
Collins continued: "He's actually already started. Right now, the polling numbers favor Trump wining the primary. It's very early, so things can change, of course. But at the present moment, he appears to be the most likely nominee."
Meanwhile in a recent Fox News poll, the former president is leading ahead of potential 2024 challengers. Trump has a double-digit lead over DeSantis and Haley among voters. The poll surveyed over 1,000 people and was conducted from February 19-22.
Newsweek has reached out to Trump's campaign for comment.