Chairperson of the Republican National Committee Ronna McDaniel has said that Democratic Virginia gubernatorial candidate Terry McAuliffe is "flailing" on the last day before the election against Republican opponent Glenn Youngkin.
"McAuliffe is flailing," McDaniel told Fox News. "He can't run on his record, he's bringing in all of his D.C. friends, even Biden...A lot of McAuliffe's problems are of his own making."
Specifically, McDaniel accused McAuliffe of calling parents "domestic terrorists" and saying that "parents shouldn't have a say in their kids' education." McAuliffe hasn't specifically made the statements that McDaniel has alleged, though he has opposed parents being able to opt their students out of reading texts that they find objectionable.
"For them to alienate parents, I think, has been a bad strategy. The Democrat Party continues to double down on that, as does McAuliffe," McDaniel continued. "And Youngkin is hitting the right tone at the right time, and the momentum is with him."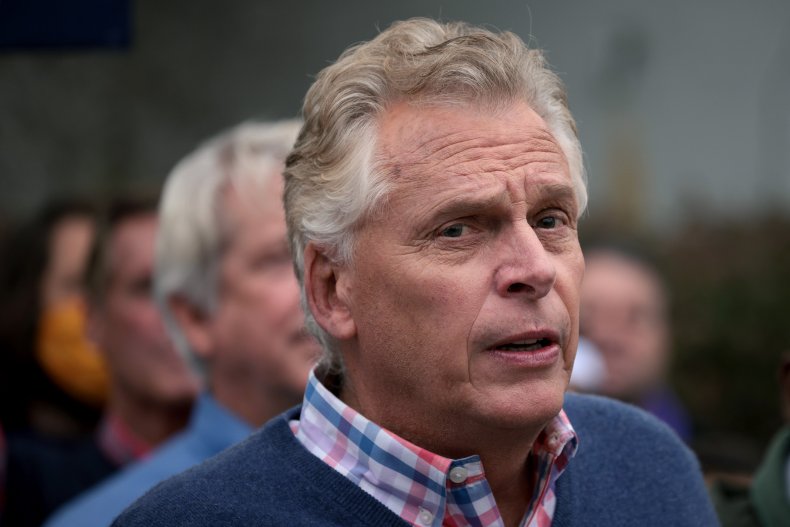 Republicans have tried to tie McAuliffe to Attorney General Merrick Garland's recent memo asking the FBI, attorneys general and law enforcement officials to investigate illegal threats and harassment made by protesters against teachers and school board members.
The memo especially struck a chord in Virginia because of a June meeting of the Loudoun County school board that made national headlines after it devolved into violence. The meeting was shut down as an "unlawful assembly" by local police after parents and others protested against "critical race theory" (CRT) and policies protecting transgender students.
In contrast, Youngkin's campaign has centered on supporting parents who have opposed mask mandates, CRT, "objectionable" content and protections for transgender students. Youngkin has called his rallies "parents matter" events. One of Youngkin's political ads, released in early October, claimed that "the FBI is trying to silence parents" after Garland's memo.
McDaniel's claims about McAuliffe refer to a September 29 letter from the National School Boards Association (NSBA) referencing the threats against educators. The letter said the threats could be equivalent to "domestic terrorism." But Garland's memo didn't use the phrase and McAuliffe hasn't repeated it either. The NSBA later apologized for using it.
Rather, McAuliffe and Democrats have sought to tie Youngkin to Trump. The campaign has highlighted Youngkin's early campaign comment that "Trump represents so much of why I'm running." The campaign has also posed Youngkin as a return to "divisive culture wars" and a threat to voting access, reproductive freedoms and other social progress made under state Democratic leadership.
Polls leading into the weekend showed McAuliffe and Youngkin as having razor-thin leads over one another. A Republican hasn't won a statewide race in Virginia in over a decade. In 2020, Biden carried the state by a margin of over 10 points.
Saturday was the final day of Virginia's early voting period. Over 1.1 million out of the state's 5.9 million registered voters have already cast their ballots.