RNC Pitches Trump to Black Voters as Nikki Haley Says America Isn't Racist
President Donald Trump and America itself were defended from criticism amid ongoing civil unrest over race relations across the United States on day one of the Republican National Convention (RNC).
Protests, as well as clashes between those involved and authorities, continue across the U.S., with many having begun in the wake of George Floyd's death and others having been sparked by Jacob Blake's shooting.
Trump has faced criticism over his reactions to such situations, while calls for reflection among institutions and individuals nationwide have mounted following these events. The president has also been accused of using racist language in the past, though claims have been denied and he has branded himself the "least racist" person.
Several speakers touched upon the issue of racism on night one of the RNC, backing both Trump and America, with former U.S. Ambassador to the United Nations Nikki Haley insisting in her speech: "America is not a racist country."
"In much of the Democratic Party, it's now fashionable to say that America is racist. That is a lie," she said.
Touching upon recent events in the U.S. she said: "We seek a nation that rises together, not falls apart in anarchy and anger."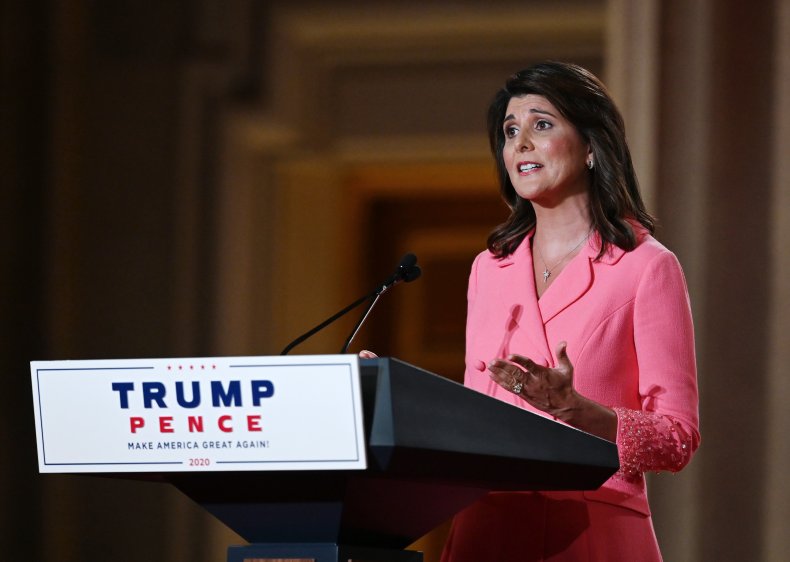 Trump, she said, would push for "every girl and boy, every woman and man, of every race and religion" to have "the best shot at the best life"—suggesting he was the "only candidate" who could.
Sen. Tim Scott (R-SC) also defended America generally, stating that while there is work to do he believes in "the goodness" of the nation.
"We are always striving to be better," he said. "When we stumble, and we will, we pick ourselves back up and try again.
"We don't give into cancel-culture, or the radical, and factually baseless, belief that things are worse today than in the 1860s or the 1960s.
"We have work to do. But I believe in the goodness of America. The promise that all men, and all women are created equal."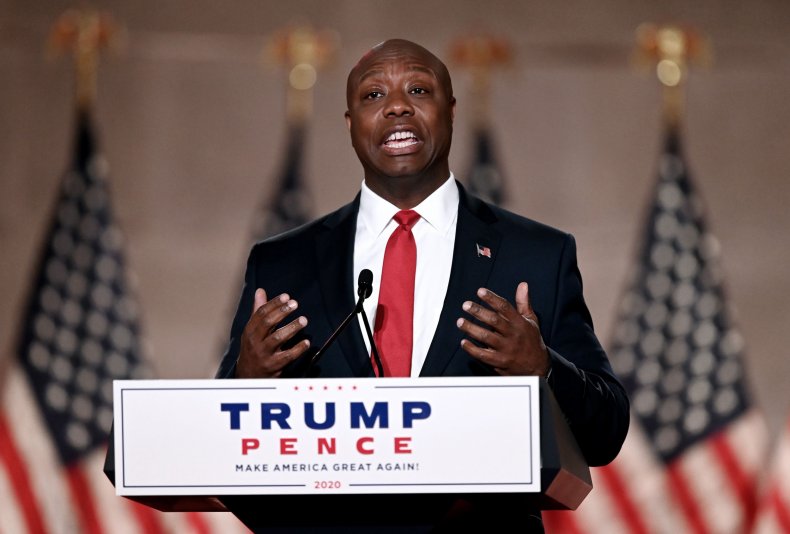 He went on to praise Trump, stating he had "built the most inclusive economy ever," before taking aim at comments previously made by Democratic presidential candidate Joe Biden.
Kim Klacik, a Republican congressional candidate in Maryland's 7th district, said "the days of blindly supporting the Democrats are coming to an end," as she also criticized prior comments from Biden.
"Joe Biden believes we can't think for ourselves, that the color of someone's skin dictates their political views," she said.
The Democratic candidate previously faced criticism after an interview with The Breakfast Club host Charlamagne Tha God in which he said: "If you have a problem figuring out if you're for me or Trump, then you ain't black."
Georgia State Rep. Vernon Jones, a Democrat, also criticized the Democrats, while stating he is part of a "large and growing segment of the Black community" which believes "Trump is the President that America needs to lead us forward."
Former professional football player Herschel Walker praised Trump's character in an address to the RNC.
He said he had "seen racism close up," stating Trump was not racist, stating he found it insulting when people made such accusations against the president, whom he described having a near four decade friendship with.
Newsweek has contacted the Trump and Biden campaigns for comment.
Amid ongoing unrest across the United States, recent polling from NBC News/Wall Street Journal found most respondents, 56 percent, said American society is racist and only 26 percent said race relations were good.
The polling, conducted among 900 voters July 9 to 12, also found that 59 percent of respondents said Black Americans face discrimination.
Other polling from Gallup found only 21 percent of Black Americans asked were satisfied with the treatment of Black people in the United States. While overall, out of 1,226 adults asked June 8 to July 24, 35 percent said they were, a 9 percent decline since a similar survey in 2018.
Among Black voters, racism has come out as a top issue in polling. Recent surveys have also put Biden ahead of Trump among Black Americans, while he has also led on people's opinions of who would better handle race relations.