The RNC Is Leaving My Generation of Young Conservatives Behind | Opinion
This week, Americans all over the country have tuned in to the Republican National Convention in Charlotte, North Carolina. A multitude of different challenges facing our country have been discussed, but significantly, climate change is not one of them.
Three years ago, I founded the American Conservation Coalition because I saw a gap in the environmental conversation and wanted to re-engage conservatives, specifically young ones. Since then, we've had incredible success with conservative thought leaders and congressional Republicans on these issues. We've had this success because Americans are hungry for serious, realistic climate solutions in the face of progressives' big government and even socialist agendas. Young conservatives have been vocal about our desire for pragmatism—not alarmism—on this issue, and it's incredibly frustrating to see no one address our concerns this week at the RNC.
Instead, the Republican National Committee and President Donald Trump are resisting change. Rather than releasing a new vision for the GOP ahead of the convention, the RNC chose to embrace a MAGA wish list from the Trump campaign. The president's plans don't mention climate change at all and only have small measures for sustainability and environmental protection.
In 2020, this is unacceptable. The science is clear. An Intergovernmental Panel on Climate Change special report published in 2019 clearly states that global temperatures are approximately 1 degree Celsius higher than pre-industrial levels and continued warming at this rate will mean catastrophic results. This data isn't political; it's factual.
Republicans often complain that young people trend more and more liberal. With moves like this, though, the RNC isn't even trying to win over young conservative voters like me, who care about climate change but don't want to grow the government. Simply warning against climate alarmism and obstructing big-government measures isn't enough. It's important to stand against those things, but we have to stand for something, too.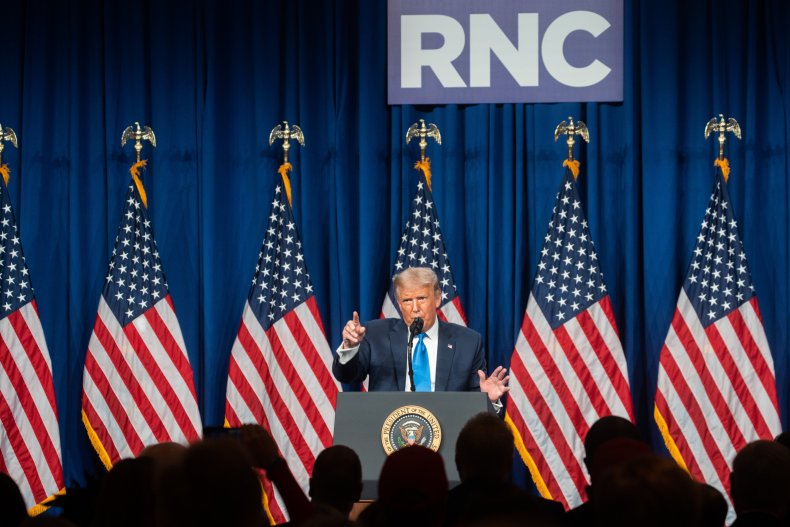 To be clear, the Republican Party had already hemorrhaged young voters before the convention began. A CNN poll from earlier this month found that 58 percent of young voters, aged 18 to 34, would vote for the Biden-Harris ticket if the election were today, compared with 36 percent for Trump-Pence. This is something the RNC should take seriously; the path we are on now is not sustainable. Will the Republican Party push itself into irrelevance by refusing to address challenges of the 21st century? On this trajectory, that's certainly possible.
Smart, effective solutions to climate change that are politically feasible are something we should be proud to provide. Congress has gotten to work, passing legislation like the Nuclear Energy Innovation and Modernization Act to reduce carbon emissions and the Great American Outdoors Act to conserve public lands with vast bipartisan majorities. For our conservative movement to be politically sustainable, it must be environmentally sustainable.
With that in mind, having a plan to address the effects of climate change as a presidential candidate should be a given in 2020. Trump and the RNC must rise to the challenge if they want to garner young voters' support in November. It's not too late.
Benji Backer is the president of the American Conservation Coalition (ACC).
The views expressed in this article are the author's own.