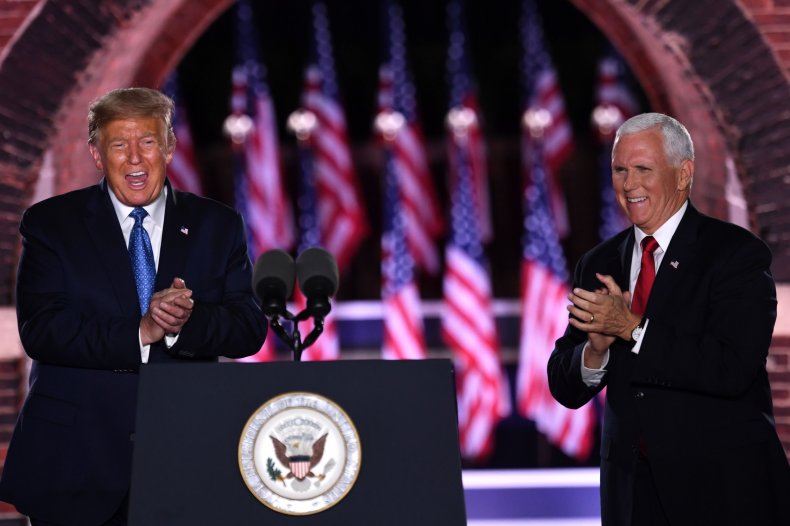 If the 2020 Republican National Convention has resembed a well-produced TV show, that's because the GOP has spent nearly $3 million on "production consultants," including at least two with ties to The Apprentice - the reality TV show that was hosted by President Donald Trump.
During a call with reporters previewing the big finale—Trump's acceptance speech tonight from the South Lawn of the White House—campaign spokesman Tim Murtaugh praised the "great content" and "high production value" of the televised event so far.
"We feel very strongly that the first three days were rousing successes," Murtaugh said. "I think (it's) exceeding expectations."
In addition to multiple highly produced, pre-shot videos highlighting aspects of the Trump administration, the convention has featured several made-for-TV moments—including appearances by Trump, himself, each day.
The RNC showed footage of a naturalization ceremony and Trump issuing a presidential pardon. The event has featured former athletes, multiple members of the Trump family, and stories and testimonials from Trump supporters. From a scripting standpoint, organizers have held back some elements of surprise, rather than releasing a full schedule of events to the media.
"For the entirety of this convention," Murtaugh said, "we've been focused on laying out key accomplishments of the Trump administration and also the president's vision for the next four years."
And they have been paying big money to do it.
One of the highest-paid consultants for the Republican Convention, based on Newsweek's analysis of campaign finance records dating back to the start of the event's planning, is a "production consultant" called Two Dots TV, Inc., which has been paid at least $2.7 million.
State records show Two Dots TV, Inc., was registered in Tennessee last fall, but the firm has virtually no web or social media presence. The company's registering agent was Nashville-based accountant, Robert Taylor, and the address listed on campaign finance documents is the address of Taylor's firm. Taylor didn't respond to Newsweek's request for additional information.
Other production consultants included companies helmed by former The Apprentice producers Sadoux Kim and Chuck LaBella, which have been paid at least $100,000 combined for consulting that started late last year, records show. Trump produced and hosted the reality TV competition from 2003 to 2015, and it's widely credited with making the then-future president a household name outside of tabloids and New York social circles.
The Committee on Arrangements for the 2020 RNC has spent at least $12 million total on hosting the event. The most recent finance reports only reflect spending through the end of July, so the costs for the convention are likely higher than what has been report to-date.
The RNC faced an unexpected upheaval earlier this year that left organizers scrambling because of the coronavirus pandemic. Trump initially called for the whole event to be moved to Florida, governed by Republican Ron DeSantis, an avid Trump supporter, from its original Charlotte, North Carolina location, after Roy Cooper, North Carolina's Democratic governor, said attendees would be required to observe social distancing restrictions put in place to curb the spread of COVID-19.
When Florida saw a coronavirus surge, the convention was moved again—parts of it going back to North Carolina, while other activities were planned for Washington, D.C. and the surrounding area.
Organizers say Trump has been personally involved in selecting the tone and the guests this week—directing the convention in his own style. It has oscillated between praise for Trump's leadership and portraying him as a president who will prioritize "law and order."
Meanwhile, a catastrophic storm hit the Gulf Coast this week, but that didn't prompt Trump to delay his speech, and mass protests have been raging in major cities, largely in response to police brutality.
"Last week, Joe Biden didn't say one word about the violence and chaos engulfing cities across this country," Vice President Mike Pence said in his speech Wednesday. "We will have law and order on the streets of America for every American for every race and creed and color."
Pete Buttiegeg, a former candidate for the Democratic presidential nomination who has become a key surrogate for the Biden campaign, described what he called the "alternate reality" of the RNC.
"They are profoundly out of touch with the experiences we are having as the American people," he told reporters Thursday.
Biden senior campaign adviser Symone Sanders also accused the GOP of putting on an out-of-touch event.
"That violence is happening right now in Donald Trump's America," Sanders told reporters. "The division is happening on (Trump's) watch."
But Trump's no stranger to finding ways to work in surprise moments intended to go viral and get attention when he does public events—even those that are in his official White House capacity. Earlier this year, he awarded the medal of freedom to conservative talk radio host Rush Limbaugh during his State of the Union address and surprised a soldier's family with his return from overseas.
About 17 million people tuned in to watch the first night of the 2020 Republican National Convention across 11 networks on Monday, according to data compiled by Nielsen. A week earlier the Democrats drew an audience of 19.7 million across those same outlets.
But the RNC saw the advantage from C-SPAN's livestream, drawing nearly 440,000 viewers for the first night, compared to 76,000 views for the Democratic Convention.
The Nielsen and C-SPAN figures don't include many viewers who watched the speech online or via streaming video. The RNC touted that viewers could air it live on Twitter, Facebook, YouTube and even Amazon Alexa devices.
The Trump campaign didn't directly respond to Newsweek's request about total estimates across all platforms.