Cleveland Diary: The First 24 Hours of the Republican National Convention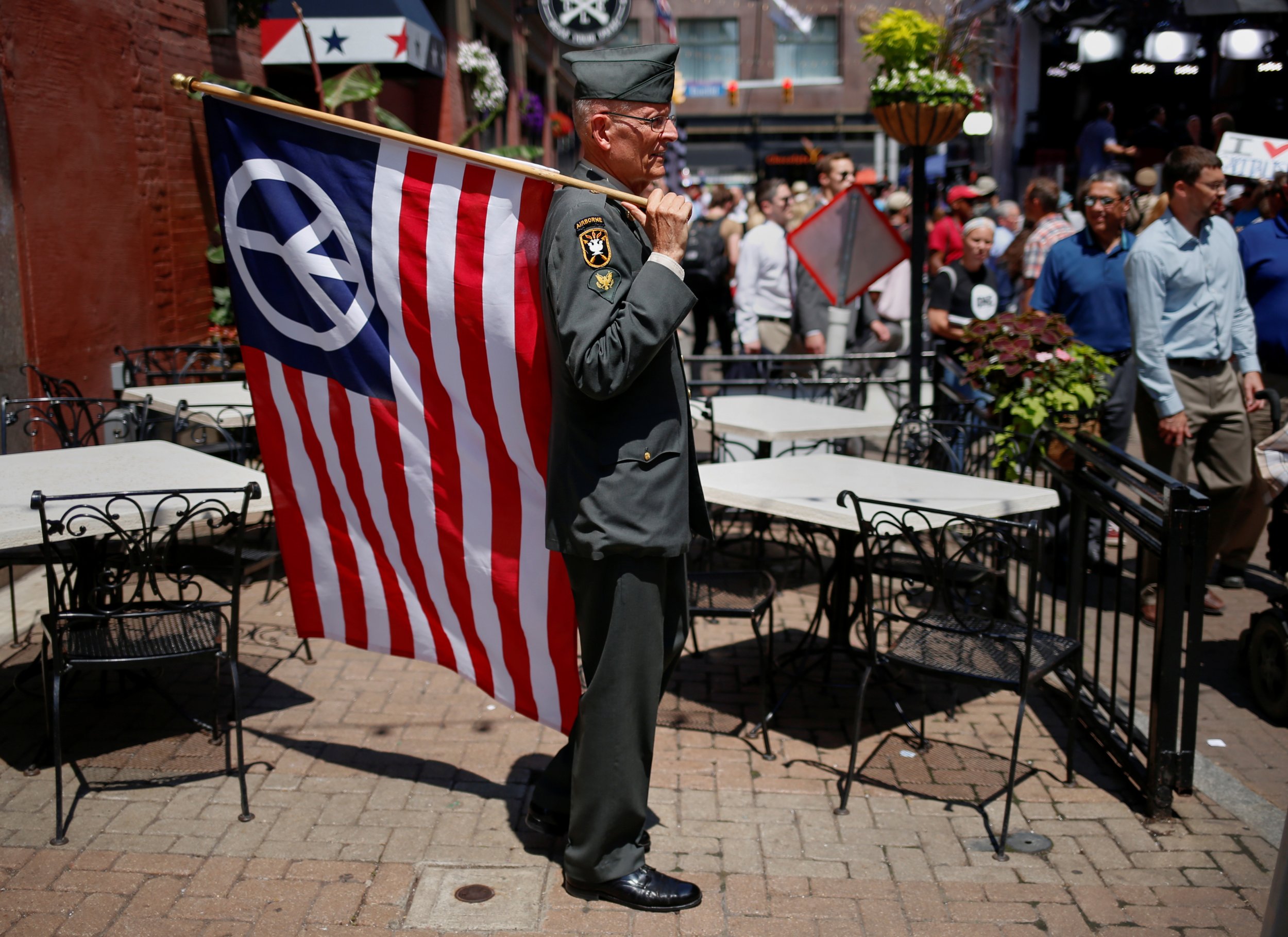 As thunderstorms bucked and heaved across the Midwest and toward the East on Monday, flights from the Atlantic seaboard to the shores of Lake Erie and the opening night of the Republican National Convention were delayed for up to three hours. Your correspondent landed at Cleveland Hopkins International Airport in a sultry twilight, shortly after the Never Trump mutineers had been broadcast live attempting to stand in the way of the real estate tycoon's nomination, before slinking off the floor to lick their wounds.
It's been many decades since the GOP last convened in Cleveland, but there are a few similarities between the two events. In 1936, the party nominated Alf Landon, a man who is now an asterisk in pre-war, Depression era American political history. As in 2016, there was a floor challenge, a "stop Landon" movement, that failed. The 18,000 badge-bedecked delegates nominated Landon to face Franklin D. Roosevelt, who was running for a second term. FDR won in a landslide, garnering what was then the most electoral votes in history.
A Somali taxi driver silently steered from the airport through numerous detours, pointing out how the entire downtown was under lockdown, and passing phalanxes of men in blue, his radio tuned to the convention coverage. The theme of the night was "Make America Safe Again," and in the time it took us to get near the Quicken Loans Arena (the Q), we listened to Duck Dynasty's Willie Robertson announce to the delegates that the media "hates us," because "they don't talk to regular folks like us, people who like to hunt and fish and pray." Next up on stage, Scott Baio, the actor, elicited a hearty round of cheers when he warned newcomers to America—presumably like the Somali driver—"It's important for you to understand what it means to be an American. It doesn't mean getting free stuff!" Then came Rick Perry followed by the mother of Benghazi victim Sean Smith, and the taxi pulled up near the Q just as she shouted, "Hillary for Prison!"
Many incoming journalists had been given training and trauma packs and helmets in preparation for expected civil unrest, but it was impossible to find more than the occasional protester in the sea of blue. Smiling California cops (300 of them are here) greeted everyone on street corners, chatting about how hot they were in their bulletproof vests. Rumors went around that besides the thousands of cops trucked onto the shores of Lake Erie from out of state, NORAD was monitoring the action too.
Given that extreme level of protection, your correspondent's DIY kit of orange helmet and swim goggles were great conversation starters, but have proved entirely unnecessary—so far. Actual protesters are in such short supply that when a few young people walked by in keffiyahs, they were flanked by the men in blue at a ratio of three to one.
A few hours later, after taking in the circus in the streets—a pair in nun costumes on stilts, grizzled old men waving signs reminding people to "Vote For Jesus," blues buskers, vendors selling buttons profaning Hillary Clinton and bobble-headed Donald Trump dolls, and a stream of Republican delegates making merry in their business suits and summer dresses—your correspondent watched Melania Trump's speech while standing at a bar beside two young men who work for the Koch brothers back in Washington. Their insta-reaction to the former model's speech was that she handled it very well, "humanized" the candidate, and maybe even gave young American women a role model, adding marriage to a New York billionaire to the list of millennial generation life goals.
On Tuesday morning, after scrolling through the inbox of Clinton campaign email responses to the insults of Monday night, we breakfasted at Tommy's (a Cleveland diner Al Roker apparently just mentioned on TV) with the Truckers for Trump we profiled yesterday. The couple was slightly disappointed at not having scored a pass to any of the events, inside the Q or any of the galas or other entertainment, despite having campaigned for their man for months.
Journalists have passes to the Q—home of the champion Cleveland Cavaliers in non-political times—where your correspondent was inexplicably forced to relinquish the orange bike helmet, as helmets are prohibited along with glass bottles and nunchucks.
In the noonday sun not far from the stadium, a man in an olive Army dress uniform waved an American flag with a peace sign where the stars should be. He was sweating profusely and being occasionally heckled by America Firsters, so we took refuge at a cafe table in the shade. Lou Pumphrey lives in suburban Cleveland. He was drafted in 1967 at the age of 24, and served one year in Vietnam. He had dressed up and brought his "peace flag" to the perimeter of the GOP convention in memory of a buddy, Billy Joe Blacksten, who died in a mortar explosion in the Tet Offensive the day after his 23rd birthday.
"It feels like yesterday," Humphrey said. "I still tear up talking about it. It took me years to get used to the fact that his death was pointless, that it was a wasted life. I do this to show people that there are veterans for peace." Back on the sidewalk, a delegate in a blue business suit, fresh from Monday night's "Make America Safe Again" session, buttonholed Humphrey to tell him he had no right to carry such a desecrated American flag while simultaneously wearing a uniform of the U.S. Armed Forces.
This post will be updated as developments warrant.