RNC Spox Deletes Tweeted Photo of Joe Biden's Son Wearing Redskins Hat
Steve Guest, the Rapid Response Director of the Republican National Committee, deleted a tweet he originally published at 3:31 p.m. on Monday afternoon that shows Democratic presidential nominee Joe Biden holding one of his sons—either his now-deceased son, Beau Biden, or his still-surviving son, Hunter Biden—when they were a young boy.
The young boy is wearing a cap of the Washington Redskins, the football team that recently announced a name change following criticisms about the team name's offensiveness towards Native Americans.
In his tweet, Guest wrote, "Hey Joe Biden, are you still a Redskins fan?"
Beau Biden died of brain cancer at age 46 on May 30, 2015. Hunter Biden is a founding partner of Rosemont Seneca Partners, an investment and advisory firm. The mother of both sons, Biden's first wife Neilia, died along with her one-year-old daughter Naomi in a December 18, 1972 car accident, leaving Biden's sons without a mother.
Although Guest deleted the tweet, several Twitter users captured a screenshot of the tweet beforehand.
A screenshot of an alleged followup tweet from Guest reads, "To the libs in my mentions, odds are this is a photo of Hunter Biden, Joe Biden's crack-smoking son who was administratively discharged from the Navy for testing positive for cocaine and has abused his dad's elected position to get rich off the Chinese Community Party."
Newsweek reached out to the Republican National Committee and the Biden campaign for comment.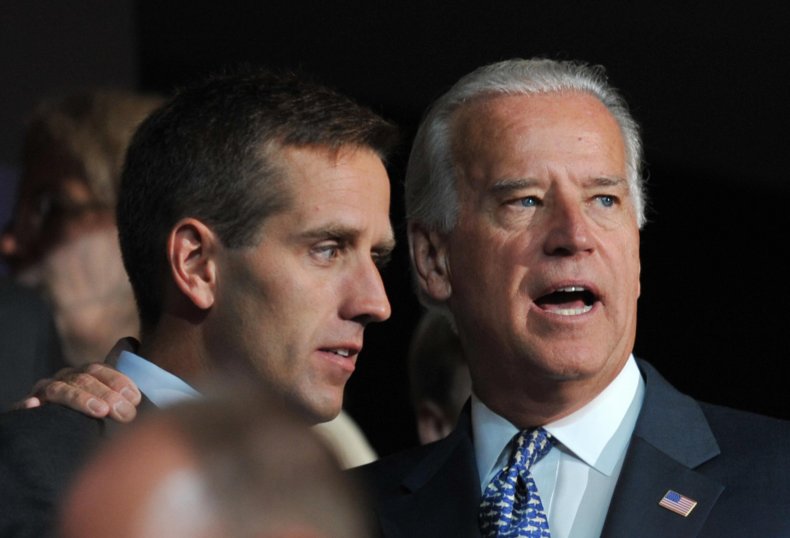 In 2013, Hunter, was discharged from his role as a U.S. Navy reserve officer after testing positive for cocaine. In a July 2019 interview with The New Yorker, Hunter also admitted to relapses in his past addiction to crack, according to ABC News.
Sometime before 2017, Hunter helped negotiate a $40 million investment deal for CEFC China Energy, the company of Chinese businessman Ye Jianming. The deal sought to help CEFC take part in a liquefied natural gas project at Monkey Island, Louisiana, but the deal eventually fell apart.
During their discussions, Ye gave Hunter a 2.8-carat diamond, possibly as a bribe; Hunter said he gave it to an associate. Ye was later sentenced to three years in prison for allegedly trying to bribe government officials in the African countries of Chad and Uganda.
Joe Biden said he chose not to run for president in 2016—even after eight previous years as vice president—so that he and his family could properly mourn Beau's 2015 death.
In April 2019, Joe Biden told the hosts of the daytime news-talk TV show, The View, "It sounds stupid. When I get up in the morning, I think about you know, I hope he's proud of me. I hope he's proud."
Joe has also said that he wishes his son Beau could currently be running for president rather than himself.