The Republican National Committee (RNC) has released a video montage of families of people who were allegedly killed by undocumented immigrants and used several prominent political figures' own words to support President Donald Trump's plans for border security.
The video, which was released on Monday, included footage from the aftermath of the deaths of Sandra Duran, 42, Nisa Mickens, 15, and Police Corporal Ronil Singh, 33. At the end of the ad, viewers were encouraged, "Tell Democrats it's time to secure the border."
Duran, a mother of two, was killed on February 19, 2017, when a man identified as Estuardo Alvarado was allegedly speeding down a Los Angeles road and crashed into a car that she was driving, according to the Los Angeles Daily News. Alvarado was charged with five counts, including murder and gross vehicular manslaughter while intoxicated.
Mickens was killed by suspected members of the MS-13 criminal gang in September 2016. Several of the people charged with her killing were in the country illegally. Singh was fatally shot during a traffic stop just after Christmas. Days later, Gustavo Perez Arriaga, an undocumented immigrant, was charged with his murder.
RNC Chairwoman Ronna McDaniel posted the video on Twitter, with a caption saying that Trump would always "put the safety and security of Americans first." She also posted a link to BorderFacts.com, a website, paid for by the RNC, that advocates for border security.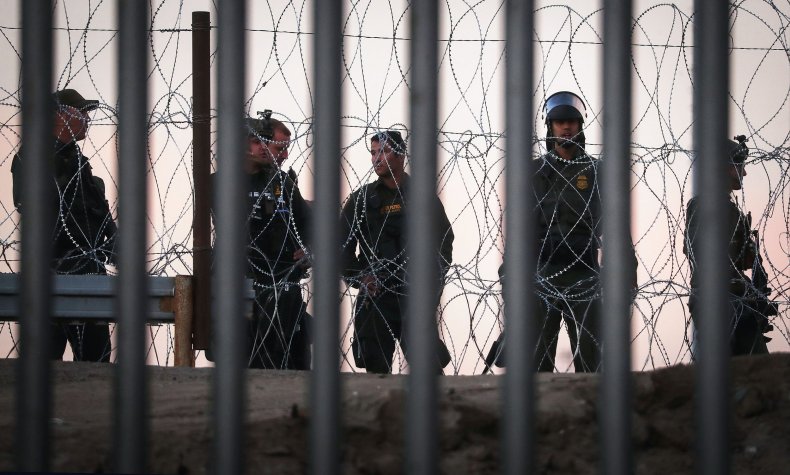 Along with the video, the website has a section dedicated to "what they said," featuring a slideshow of comments from former Presidents Bill Clinton and Barack Obama, Senate Minority Leader Chuck Schumer and former Secretary of State Hillary Clinton.
The website quoted Obama's 2013 State of the Union address, when he said real reform requires strong border security, including "putting more boots on the Southern border than at any time in our history and reducing illegal crossings to their lowest levels in 40 years."
During a presidential campaign event in 2015, Hillary Clinton said, "I voted numerous times when I was a senator to spend money to build a barrier to try to prevent illegal immigrants from coming in. And I do think that you have to control your borders."
Included in the rotating images was a quote from Bill Clinton's State of the Union address in 2005, when he said allowing immigration laws to be abused was "wrong" and "self-defeating."
In 2009, Schumer delivered a speech about America's immigration laws. During the speech, he said that using the term "undocumented workers" sends the message that the government isn't serious about fighting illegal immigration.
"If you don't think it's illegal, you are not going to say it," Schumer said. "I think it is illegal and wrong, and we have to change it."
At the bottom of the website is a letter people can add their name to, which was addressed to Schumer and Nancy Pelosi, the new House speaker.
"As an American citizen, I am demanding that you finally put me above illegal immigrants and build the wall!" the letter said. "Our security is not a political game and I am tired of your petty obstruction."
The government has been shut down since December 21 after Democrats and Republicans were unable to reach an agreement on a spending plan, largely because of Trump's insistence on billions for a border wall. On Tuesday, the president is scheduled to deliver a speech about immigration, beginning at 9 p.m. EST. Pelosi and Schumer are expected to give separate speeches in response to the president's address.