Road Rage Driver Shot in the Neck With Flare Gun After Threatening Other Motorist
An angry driver in Moscow was shot in the neck with what's believed to be a flare gun during a confrontation with another motorist.
The incident happened Wednesday on the Warsaw Highway.
Video footage shows a man identified as Spartak Ognessian angrily racing up to a dark-colored sedan. When he reaches the driver's side window, though, there's a bright red flash and Ognessian getting hit in the neck. As car drives off, Ognessian, 30, clutches his still-burning neck and stumbles around on the road before an unnamed woman comes to his aid.
Ognessian is listed in serious condition in the ICU at an area hospital, Russian language site Komsomolskaya Pravda reports.
The incident was confirmed Wednesday afternoon by the Russian Ministry of Internal Affairs in the Northern Butovo of Moscow, which indicated a woman reported that her friend had been shot in the neck "with a pistol-like object" during a traffic conflict on the highway.
An unnamed 32-year-old Moscow resident has been arrested on hooliganism charges. A weapon that was seized is being examined—Most news reports indicate it was a flare gun.
Komsomolskaya Pravda speculates the weapon may have been a signal flare gun, used by "used by hunters, fishermen, tourists [and] rescuers," which do not require a license.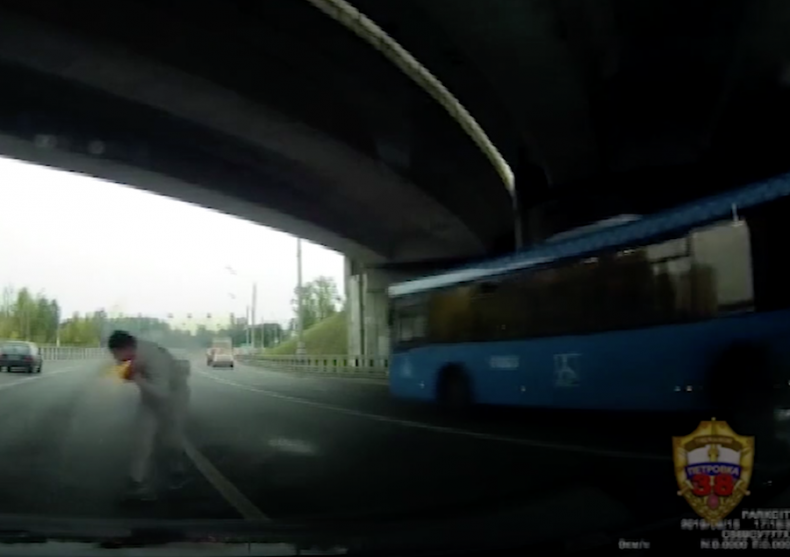 In March, a Twitter video depicted another road rage incident in Russia went viral. In it, a young motorist walks up to an SUV, presumably to confront the driver inside. But when the window rolls down, it reveals the vehicle was full of heavily armed Russian soldiers, one pointing his gun at the driver.
"I'm guessing the chances this kid pulls another road rage incident in his life... is f__ing never," tweeted Mindy Robinson, whose clip has been viewed more than 1.8 million times.
And in July, another road rage incident saw a man in Houston shooting at a car, causing the fireworks inside to ignite.
The incident began as two men got into an argument and drove to a nearby gas station in separate vehicles, before getting out and continuing the dispute.
One driver got back into his car before the suspect fired his gun at it, igniting the incendiaries, which severely burned the other man, his wife and two young children, age 1 and 2, who were all inside.
Harris County Sheriff Ed Gonzalez described the incident as a "horrific scene."
"The father drove off briefly, but their car engulfed in flames forcing him to stop," Gonzalez said in a statement. "Some good Samaritans came to the rescue and transported the family to a community ER clinic."
A reward of $5,000 was offered for information leading to an arrest.