Road Safety: Wreckage From Fatal Collision Displayed Outside Parliament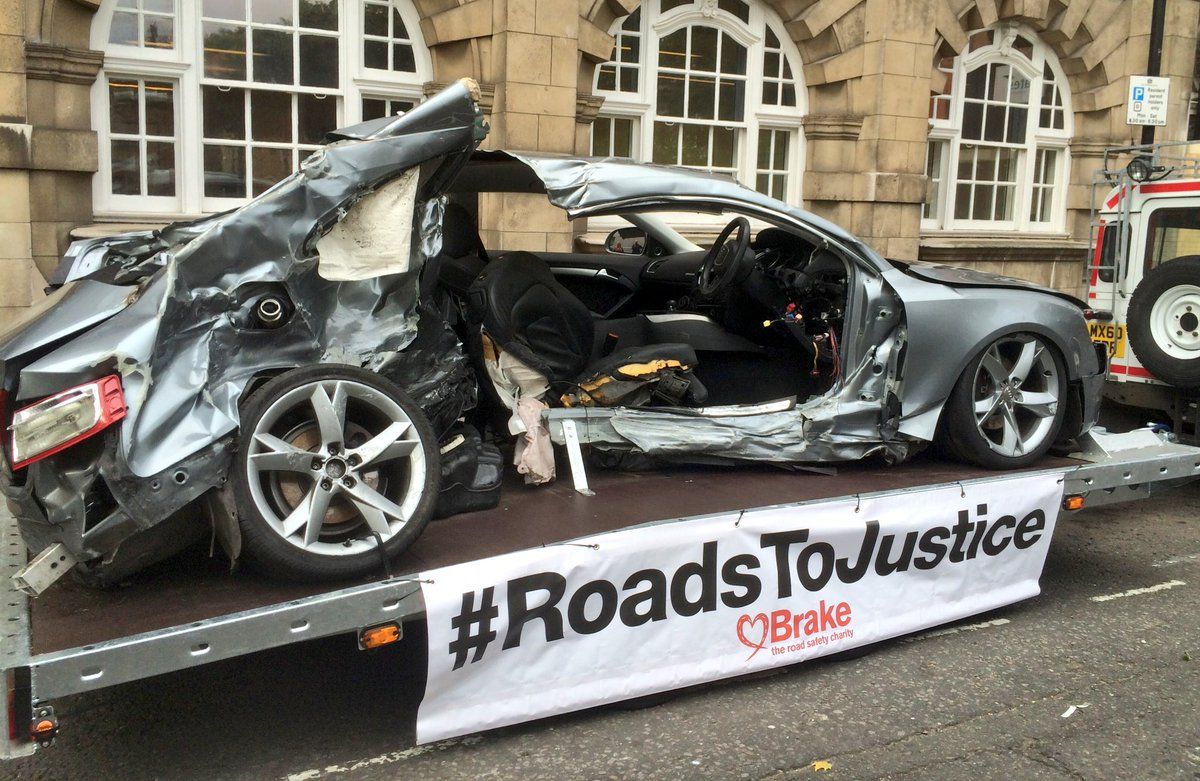 The wreckage of a car involved in a fatal collision two years ago in Rochdale is on display outside the U.K.'s Westminster Parliament on Monday 11 July, drawing attention to the importance of road safety. As part of the #RoadsToJustice campaign by Brake, a charity which works to end the tragedy of road deaths and injuries.
Joseph Brown-Lartey, 25, died instantly as his car disintegrated into two when Addil Haroon drove through a red light in a residential area at 80mph. Haroon was subsequently jailed for six years. In court, he admitted causing death by dangerous driving. He was both unlicensed and uninsured.
Brown-Lartey's father, Ian, said he found it "upsetting" that Haroon, who was 18 at the time of the accident, will still be younger than his son would have been when he gets out of prison.
"It's just like we've been kicked in the teeth twice. You lose your son and then the legal system that you trusted lets you down too," he said. Brown-Lartey's mother Dawn wants to see the government take action with tougher sentences because there is no real "deterrent" to refrain from driving dangerously. "Judges are bound by guidelines and the guidelines need to be changed," she said.
Newsweek subscription offers >
Sixty-six people believe drivers who kill should be jailed for a minimum of 10 years, according to a survey of 1,000 people published by Brake. About half of respondents asked said the sentence for killing someone in a crash should be at least 15 years. And 91 percent believe drivers who cause a fatal crash after drinking alcohol or taking drugs should be charged with manslaughter, which carries a possible life sentence.
"Families are betrayed time and again by our justice system. That is why Brake is calling for tougher charges and penalties that reflect the suffering caused; investment in road-traffic policing; and for government-funded support for road crash victims whose loved ones have been violently killed or have suffered life-changing injuries," a Brake spokesman said in a statement released for the launch of the Roads to Justice campaign.
In 2014, 176 people were charged with "causing death by dangerous driving" and 205 were charged with "causing death by careless driving."
"Drivers who kill while taking illegal risks are too often labelled 'careless' in the eyes of the law, and then given insultingly low sentences when their actions can only be described as dangerous and destructive," said Gary Rae, director of campaigns for Brake.
Road Safety: Wreckage From Fatal Collision Displayed Outside Parliament | World