Road Signs Telling People Not To Be 'A Grinch' at Christmas Met With Confusion
An anti-drink driving road sign which has popped up in Washington is being met with confusion online, after it told drivers not to be a "Grinch" this Christmas.
With less than a week until the big day, followed by New Year's Eve celebrations, millions of Americans take to the roads as they visit loved ones, some under the influence.
The festive season sees numerous alcohol-related fatalities, with the National Highway Traffic Safety Administration (NHTSA) noting they're "more prevalent during the holidays."
New signs appear to have been installed in the Evergreen State in a bid to curb alcohol-related deaths.
One sign was shared to Twitter by Naomi, posting under @rackbrat, who confirmed to Newsweek it was located in Tacoma, with her tweet questioning the reference to the green character.
It says: "Don't be a Grinch this season drive sober."
Naomi captioned it: "Damn the Grinch was drunk when he did all that?
While a fellow Twitter user, named @AdamChase112358, shared a snap of a sign sporting identical wording, joking to Naomi: "Okay I see you Washington driver."
Naomi's post, shared on Saturday, racked up more than 130,000 likes, as people shared their opinions on the Dr Zeuss creation.
The Grinch, star of the eponymous films including How the Grinch Stole Christmas! and The Grinch, tells the story of the green creature who hates Christmas.
In the latest film, released in 2018, the animated Grinch, who lives on Mount Crumpit with his dog, Max, attempts to sabotage December 25 for the Whos, who live in Whoville.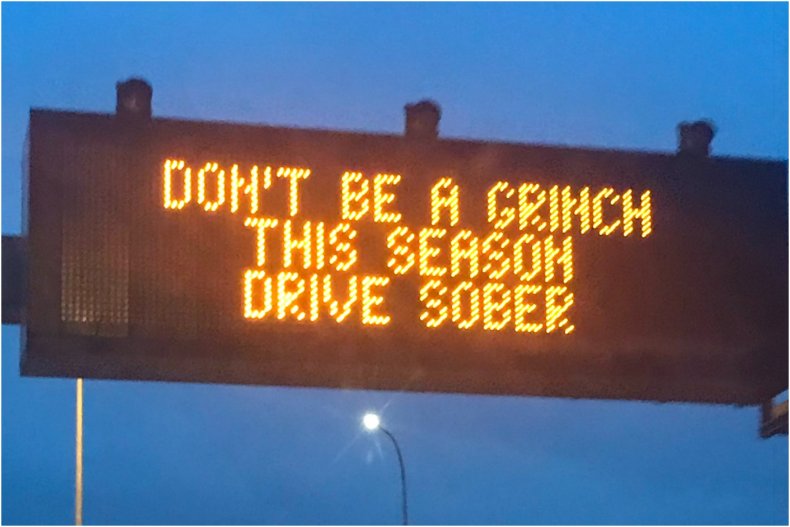 His hijinks include dressing up Max as a reindeer, and himself as Father Christmas, as he pulls off a plan to ruin the big day, angered by the Whos' noisy jubilations.
Ultimately he repents, and returns the decorations and presents he stole, and ends up joining in the festivities after discovering the true meaning of Christmas is friendship and kindness.
The decision to name the Grinch in the anti-drink driving sign was met with confusion online, as Hopper wrote: "I might be wrong but I seem to recall that the Grinch saved Christmas?"
Although Greg said: "Explains a lot tbh. Stealing trees and dressing the dog like a reindeer."
Weirdo in Residence noted: "Plus the no-pants and coat combo."
Declan Morningstar reckoned: "Yeah, didn't you hear him? complaining about all the noise? bro has a hangover every Christmas morning."
Agreeing, Wildfire Darkstar commented: "Dunno about during his rampage, but his irritation with all the singing and carousing the citizens of Whoville were doing is consistent with a serious hangover."
While Midwest Pirate added: "I don't think a sober person has ever either yeeted a tree out a window, or eaten that much food."
The NHTSA warns about the dangers of drink driving on its website, with its messages for this year's campaign, running from December 18 to January 1, including "Drive Sober or Get Pulled Over" and "If You Feel Different, You Drive Different—Drive High Get a DUI."
In 2018, the last date for which it shared statistics, there were 10,511 drink-driving crashes nationwide, accounting for nearly one-third of all crash deaths that year.
It said: "Drunk driving is a problem on our nation's roads every day, but it's more prevalent during the holidays. During the New Year's and Christmas periods in 2018, there were 285 drunk-driving-related fatalities.
"The tragedy of these deaths is felt year-round, but for many, most strongly during the holidays."
The Washington State Department of Transportation (WSDOT) confirmed the signs were part of a state-wide campaign, and ran from December 16-19.
A spokesperson told Newsweek: "The messages were created by a statewide team and placed on the VMS boards across the state to support the Washington State Patrol's DUI emphasis patrols."
They added another two messages will run "throughout the holidays in support of the DUI patrols," the next starting on December 23-26.
It will read: "Drive sober stay off the naughty list."
The third, running from December 30 until January 2, will say: "A little too jolly to drive? Use a sober driver."
The spokesperson added "the creative messages are meant to grab peoples attention, spark conversation and encourage sober driving."
Update 12/2/21, 4:20 a.m. ET: This article was updated with comment from WSDOT.