Vanlife Diaries: Connect with nature by taking to the road in a van
The Van Life Diaries celebrates the peripatetic life and hitting the open road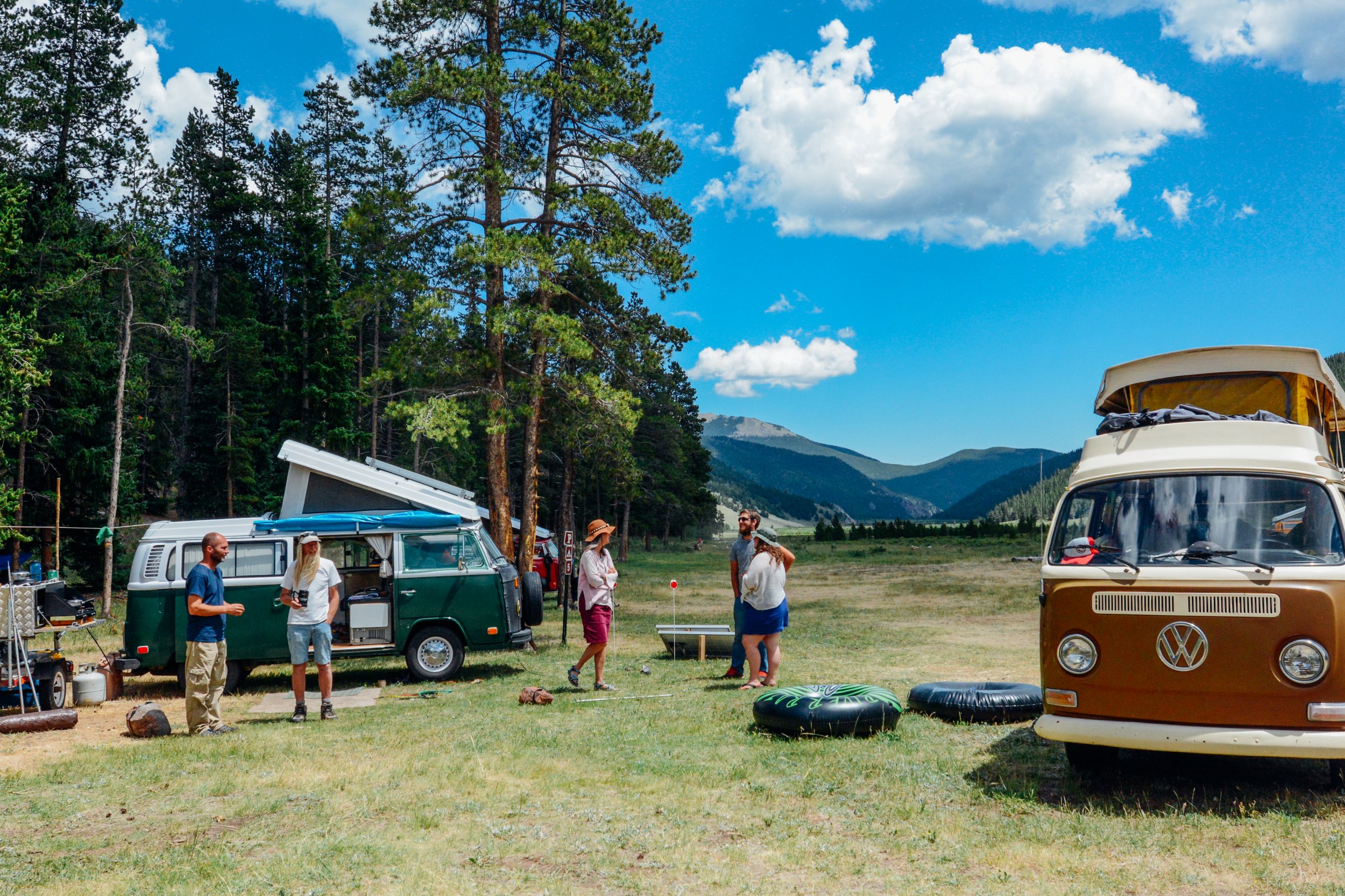 There's something quite magical about traveling around in an older rig. You're much more aware of everything. You feel every bump in the road, the wind coming through the gaps in the doors, the sound of the engine humming under the driver's seat.
It might be because when you're driving an '87 Toyota van several hundred miles, you're met with a lot of uncertainty. Will you make it from point A to point B? Where will you park and sleep? What people might you meet that might lead you to a local watering hole or hot spring?
During 2017-2018, I lived in three different vans traveling primarily out west and down to Baja, Mexico. And before that, there was a 1969 camper trailer that stayed parked in one location. In all the tiny spaces I lived in, the ideals were the same. I wanted to embody a non-traditional lifestyle, one free from possessions and rooted in eco-conscious ways.
While driving an older vehicle is not very green, the smaller space allowed me to get creative about off-grid living. It turns out that two 100-watt solar panels can power a small fridge for several weeks. I cut back on the trash and recycling, because I often camped in national forest areas that didn't have waste disposal or collection. Not wanting to spend several days with trash inside my home, I simply tried to buy items that I would eat and use right away.
Some of the best spots I slept were in remote areas, sometimes without Wi-Fi or seeing anyone else for days. Those places were recommended by locals or fellow nomads, or found on apps where the community shared their favorite locations for free camping. Sometimes I just ended up there—going down one road and then another and before you know it, you get to a place that has that "Goldilocks" feeling.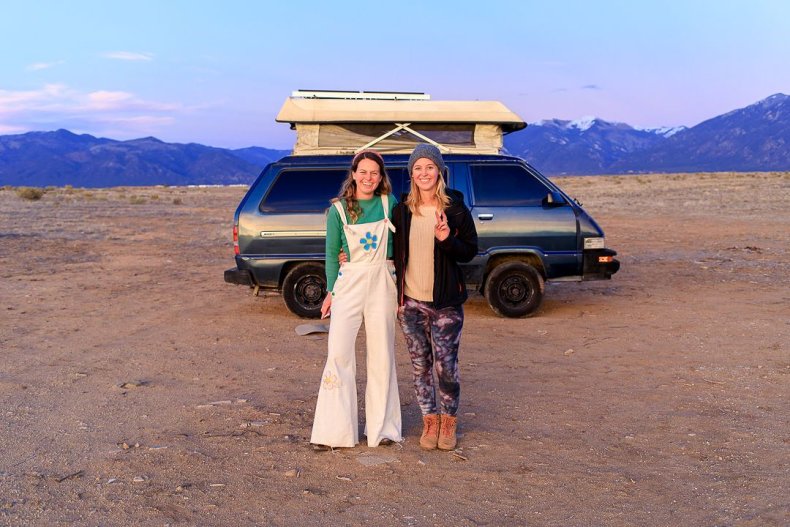 Visiting these public, open spaces is one of the benefits of living and traveling out of an adventure rig. Seeing open skies and wildlife helps us reconnect with a quieter time, one our ancestors' might have experienced back in their day. And in a van, you're able to rotate your backyard between amazing vistas, mountain rivers and desertscapes.
When's the last time you stared up at the clouds and watched them morph into different shapes? Or closed your eyes and let the river be your soundtrack as you meditated in the natural hot springs?
Some of my favorite summer camping destinations have been inspired by backpacking trips. Two summers ago, I backpacked in Grand Teton National Park for four days. The first night I arrived at the park, I slept in the parking lot of the Ranger Station and woke up when the office opened so I could talk to the rangers and get a permit for the next day. During the hike, I fell in love with the Teton Range and their spectacular presence against the Rockies. On one of the trails, I saw a sign for the border of Bridger-Teton National Forest and made a note to visit it again in my van.
What I love about National Forest areas is that they are protected and managed by federal lands. In most National Forests, you can disperse camp in designated spots, which means you can stay outside of a designated campground. And unlike National Parks which may have limitations for your pets, dogs are allowed on most trails.
I recommend looking up national forests near national parks on your next road trip so you can visit these places. In many cases, national forests are less crowded than national parks and still offer a similar experience.
As someone who relies on these places to camp in my van, I am learning more and more about how we can protect our public lands. There are several principles we can abide by when we visit these areas to make sure we enjoying them in a sustainable way. The Leave No Trace Principles are so important because they allow us to keep these places clean and respectful of wildlife in the region.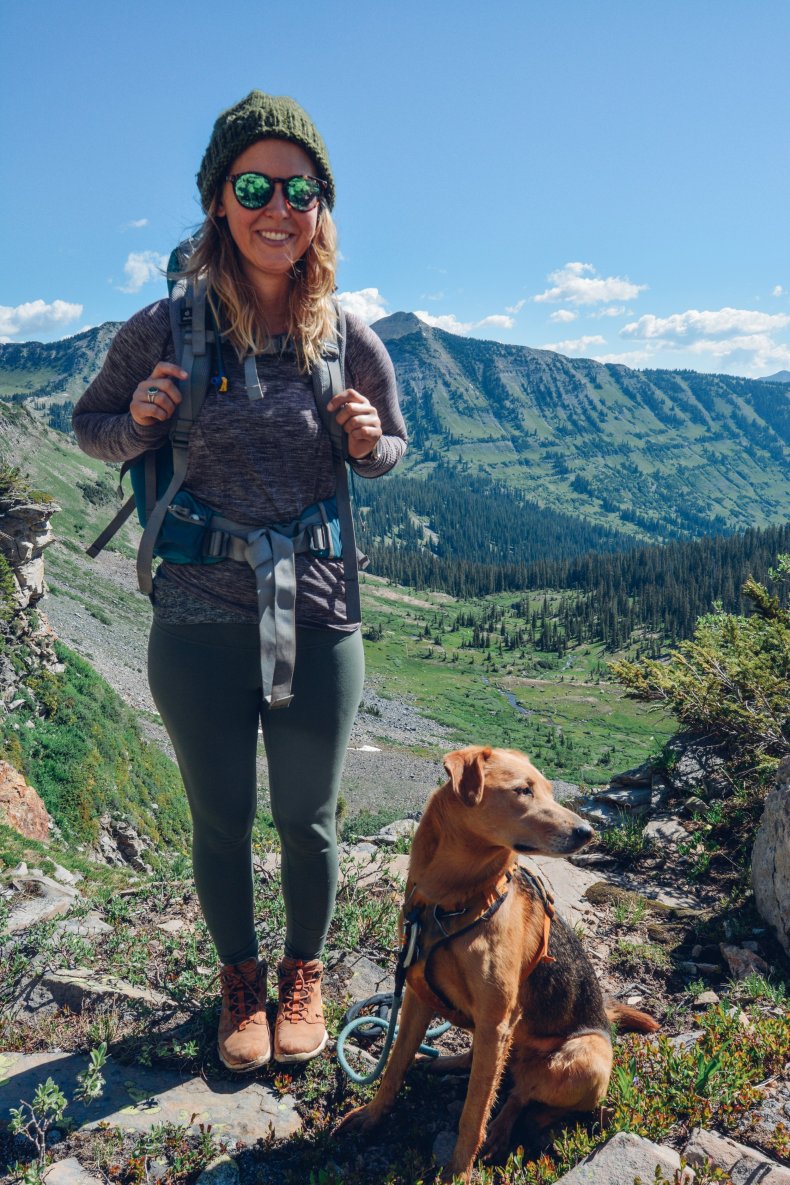 While camping in these areas, I ran into several people like me traveling around in vans, truck campers or Airstreams, finding a way to make their home on the road. One common link was not only did we have similar vehicles we traveled in, but also the common desire to be away from the city. This community was different than the one I knew of when I lived in one place. There were no fences around our rigs. And the invitation to step inside each other's small homes was immediate and a conversation starter that allowed us to see each other's personalities. So much thought has to go into the materials, design and build inside these tiny spaces and what items to bring along in the journey.
This community is so special because of these instant connections. One day you meet someone, the next you're camping with them and the next you might be caravanning to another destination. I craved these interactions because camping out in the wilderness can be lonely when you're by yourself, and it's hard to describe it to your friends back home who might not resonate with that feeling.
Not only did I meet so many amazing people on the road, I also spent a lot of time getting to know people digitally. Through social media, I connected with a community in Australia called Vanlife Diaries. They were hosting vanlife gatherings across the eastern Australian coast and wanted to expand those meetups in the States. In 2014, I joined their team and in 2016, I hosted the first Colorado Vanlife Gathering. When 65 people showed up to camp out for a weekend, I realized this was bigger than I expected. There was a need for people like me to get together and foster those relationships.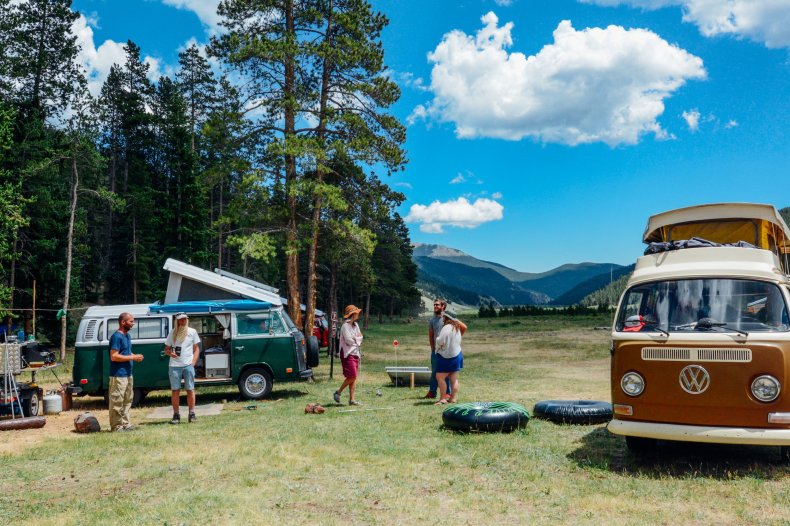 Now, three more Colorado gatherings later, and with a tour throughout New Mexico, Idaho, North Carolina, California, Ohio and Louisiana, it's clear that this is a movement that's not slowing down anytime fast. With the desire for more affordable housing and the rise of remote work opportunities, alternative living is more appealing. Mobile businesses are popping up, parents are teaching their children school on the road, and artists are touring and recording albums in smaller rigs.
I wanted to share the stories of some of these people redefining the American dream and how they viewed success. With the crew at Vanlife Diaries, I wrote a book called "Vanlife Diaries: Finding Freedom on the Open Road." It's available for pre-order now, and comes out April 9 at bookstores, outdoor stores and mom and pop shops. What I love about this book is that it captures such a diverse look at this community. It's a coffee table book for some that might want to flip through the photos and for others, it's one where you can dive deep into the interviews and learn tips and tricks—ones not only for vanlifers, but for anyone who's ever gone on a road trip.
And if you're looking for a film that might capture what the book is about, you're in luck, because there's also a documentary. Coming out April 26, "The Meaning of Vanlife" follows the founders of Vanlife Diaries as they caravan to meet up with other nomads to learn about the ideals, struggles and philosophies that define the movement.
One of the struggles we learned from the people we met was not only could this lifestyle feel lonely, but that many were craving a home base. When you're traveling so much and seeking out Wi-Fi, it can feel a bit draining to always be on the go without resting.
I no longer live full time in my van, because now, I've found a happy medium. I own a 1,000-square-foot cabin outside of Denver on a half acre of land. It's there that I rent out the cabin when I'm living in my van. But when I'm on those trips, I also have a place to return to when I need to work on the van, get some laundry done or spend a few months in one spot on a project. And when I want to rest for long periods on end, I can stay there on a more full-time basis. It's a place that I can host travelers in their vans and also get my hands dirty with gardening and learning how to be more sustainable living in one location.
What I've learned from my time on the road is that it's less about the van and more about why we choose this freedom. When you have a place to return to, it elevates some of the challenges of always moving from one place to the next. And when you can travel and truly disconnect, you're soaking in the wildness of our amazing wilderness.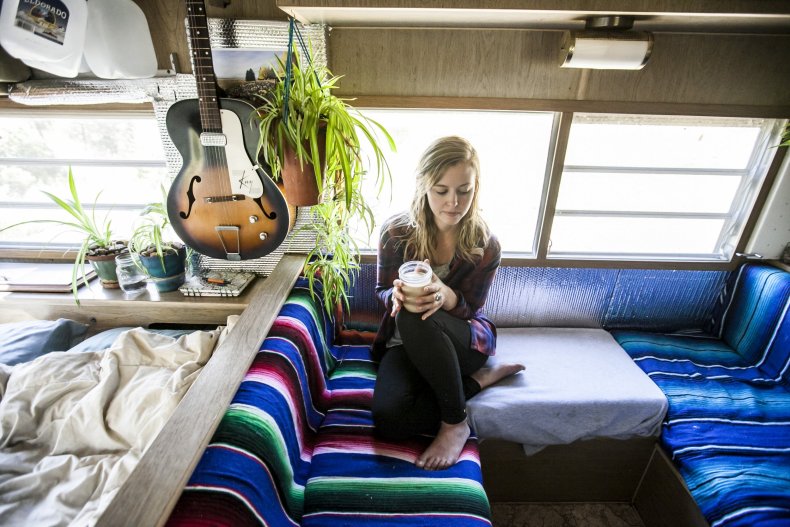 Someday soon, I may go back out for another long stint in my Toyota van. But right now, I'm resting and building a community both locally and one across the world full of nomads. Bringing these two communities together brings me so much joy and I hope you all get to experience it—perhaps around a campfire, at a gathering, within the pages of my book or as you watch the documentary.
Thank you for taking a little journey with me in my rig. I hope to see you on the road someday.
-Kathleen
Follow Kathleen on Instagram @tinyhousetinyfootprint or @vanlifediaries or visit her blog at tinyhousetinyfootprint.com or vanlife.com.au. You can order the book online or learn more about the documentary.