Road Warrior Animal Passes Away at 60 and the Wrestling World Mourns
Road Warrior Animal, half of the Road Warriors one of the most decorated tag teams in wrestling history, passed away at the age of 60.
The news of the passing of Animal, real name Joseph Laurinaitis, was confirmed via the wrestler's official social media accounts Wednesday morning.
"At this time, we would like to confirm the passing of Joseph Laurinaitis aka Road Warrior Animal at the age of 60. The family is planning to release a statement later today. At this time we ask for you to keep everyone in your thoughts and prayers."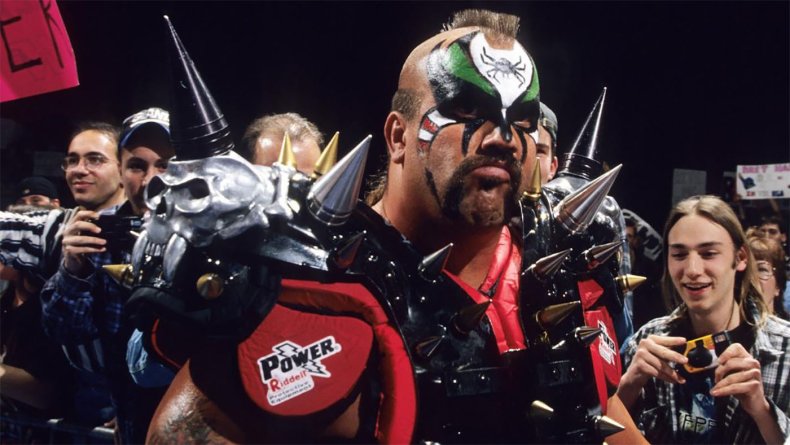 Laurinaitis and his tag team partner Hawk (Mike Hegstrand, who passed away in 2003) were known as The Road Warriors after forming in 1983 for Georgia Championship Wrestling.
With their red, white and black face paint and signature red and spiked shoulder pads, Road Warrior Animal and Hawk would dominate the tag team scene capturing titles in the National Wrestling Alliance (NWA), American Wrestling Alliance (AWA) and New Japan Pro Wrestling.
They would make their WWF debuts in the early 90s as the Legion of Doom and eventually capture the World Tag Team Championships. The Road Warriors would wrestle in just about every promotion you can think of, bringing their unique brand of violent tag team wrestling to the masses.
In 2011, The Road Warriors were enshrined in the WWE Hall of Fame along with longtime manager Paul Ellering for their contributions to the wrestling industry.
Following the news, the outpouring of support and condolences went out through social media with #RIPAnimal.
Wrestling legends and current stars took to social media to show their appreciation for one of the toughest wrestlers out there.
"RIP Animal,love you my brother, I know you and Hawk have a lot of unfinished business to take care of! God speed and blessings to your beautiful family,one love4Life," Hogan wrote Wednesday morning.
Fans who want to learn more about The Road Warriors, they were the subject of an episode of Vice TV's Dark Side of the Ring series where Laurinaitis gave first-hand accounts of the tag team at the peak of their popularity.
Newsweek extends its condolences to the Laurinaitis family during this difficult time.