Afghanistan is once again at a crucial crossroad. Four decades of war and conflict have killed over a million Afghans, injured and traumatized many more and devastated its already fragile economy, society and polity. Yet, from the ashes of war, the world must restore the possibilities for peace and development which the people of Afghanistan desire and deserve.
For Pakistan, restoring peace in Afghanistan is an imperative. Pakistan and Afghanistan are bound inextricably by geography, history, ethnicity, faith and common interests. The long 40 years of war in Afghanistan have also had severe regressive and disruptive impacts on Pakistan's economy and society. After Afghanistan, it is Pakistan which suffered the most in the so called "War on Terror," with 80,000 of our people killed in terrorist attacks and $150 billion in economic damage. Peace and stability in Afghanistan will be enormously beneficial to its people and to Pakistan, opening the possibilities of connectivity and trade for all the countries of Central Asia among themselves and with the world.
After the devastation caused by foreign intervention, the international community cannot, once again, exonerate itself from the responsibility to help in restoring peace and reconstruction in Afghanistan. Afghanistan's political or economic collapse will result in continuing conflict and a humanitarian crisis that would engulf its neighbors, Europe and beyond with a torrent of refugees.
Achieving the goal of lasting peace and stability in Afghanistan requires a roadmap that must consist of three elements: first, ensuring urgent humanitarian assistance to the Afghan people and helping revive the Afghan economy; second, encouraging the formation of an inclusive government in Afghanistan, reflective of its complex ethnic and current political realities; and third, the development of a comprehensive and coordinated plan of action to neutralize the threat posed by terrorism flowing from Afghanistan to its neighbors or other countries.
According to the United Nations, protracted conflict, severe drought and COVID-19 have created an extremely dire humanitarian situation. Some 18 million Afghans—almost half of the population—are in need of urgent assistance.
Pakistan will play its part. We have established a "humanitarian air bridge" for supplies of essential food and medical items to Afghanistan in coordination with relevant U.N. agencies. The international community must also step up to the plate. The U.N.'s appeal for $1.3 billion in emergency assistance to Afghanistan is only 40 percent funded. The secretary-general's decision to convene a high-level ministerial meeting on the humanitarian situation in Afghanistan is most timely. We hope that the meeting will galvanize support for a fully financed humanitarian response plan to meet the basic and essential needs of the Afghan people including the millions of Afghan refugees in Pakistan and Iran whose welfare is a shared responsibility of the international community.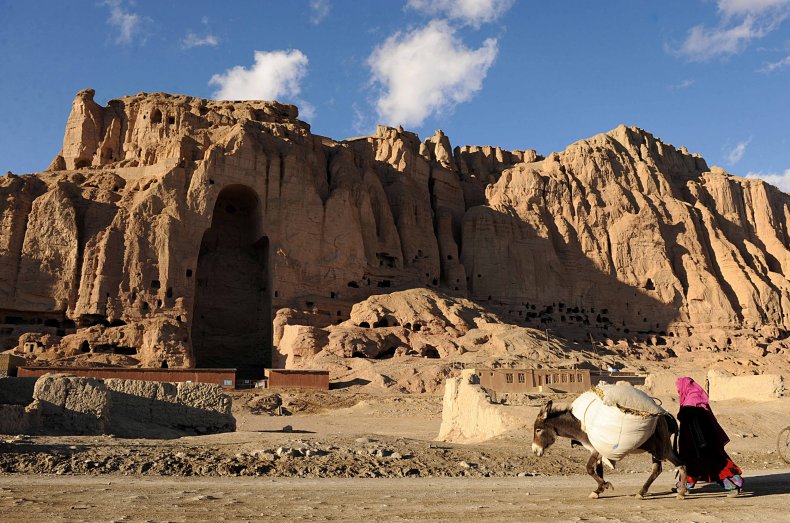 The emergency humanitarian program for Afghanistan should be followed by a concerted plan for Afghanistan's economic recovery aligned with sustainable development goals and targets. Freezing Afghanistan's currency reserves will prove counterproductive. It will spark inflation, increase food prices, intensify hunger and produce the very consequences that are feared most by western capitals—massive refugee outflows, expansion in drug production and smuggling, continued conflict and terrorist violence.
The concerns regarding evacuation of those who wish to leave Afghanistan are understandable. Pakistan has helped to evacuate over 11,000 foreigners and Afghans since Aug. 15. However, as the chaos at the Kabul airport has demonstrated, such evacuations must be well organized and orderly and can be arranged in consultation with the present authorities in Afghanistan.
Acknowledging the new ground realities, the international community, especially neighboring countries, must continue to support Afghan efforts aimed at formation of inclusive governance and political settlement among all Afghan parties. The Afghans must be encouraged to evolve their own political arrangements. History bears testimony that external solutions cannot be imposed on the Afghan people. Positive engagement rather than coercion will help achieve the desired goals.
Lastly, as Afghanistan stabilizes, the Taliban's commitment not to allow Afghan soil to be used for terrorism against any neighboring or other country should be transformed into practical actions to neutralize terrorist groups like Tehrik-i-Taliban Pakistan, ISIS/Daesh, Jamaat-ul-Ahrar, Eastern Turkistan Islamic Movement, Islamic Movement of Uzbekistan and others, with the cooperation and support of the international community. For their cooperation in such efforts, the Taliban are no doubt likely to demand fulfillment of the promise to "de-list" them from the 1988 Security Council sanctions list.
It is Pakistan's hope that the international community will be able to develop an agreed approach to respond to the new realities in Afghanistan. A fractured and competitive approach will squander the opportunity of promoting peace, security and prosperity in Afghanistan and the entire region.
Ambassador Munir Akram is a permanent representative of Pakistan at the United Nations.
The views expressed in this article are the writer's own.