'I'm a Bald Woman—Re-Writing Roald Dahl's The Witches is a Mistake'
While browsing an online support page for people with alopecia this week, I found out that Roald Dahl's books were being re-written to remove language that's deemed offensive.
I read a comment from one user saying how pleased they were the 1983 children's book The Witches had been updated. A passage explaining that witches in the book are bald beneath their wigs now includes a line that reads: "There are plenty of other reasons why women might wear wigs and there is certainly nothing wrong with that."
There was a mixed response in the group, and I started thinking: "How do I feel about this?" I quickly realized that to me, this change is meaningless. I don't believe it helps anyone or changes anything.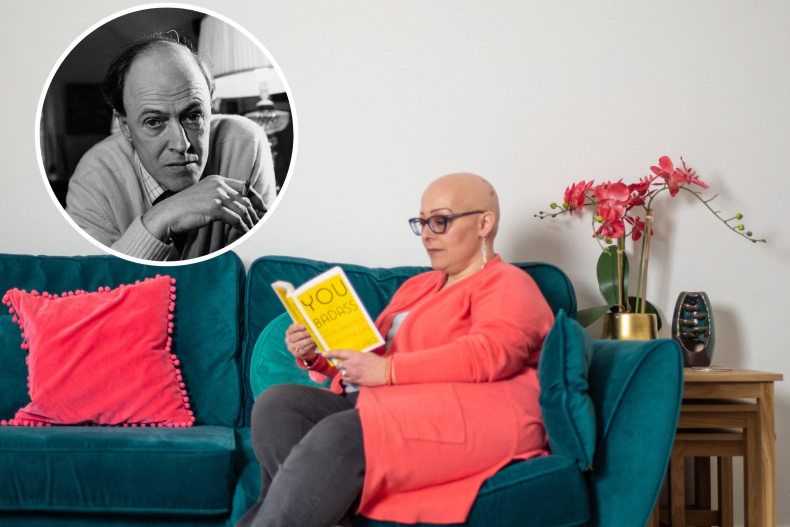 I developed alopecia at 40 years old. I was getting ready for my 40th birthday party when I found my first bald patch in 2017. At first, I had no idea what was going on, but within two months I had lost all of my hair.
I went to see a dermatologist and was diagnosed with alopecia—a disease that occurs when the immune system attacks hair follicles. I was told it was triggered by stress, but I wasn't under a particularly huge amount of stress at the time, so that conclusion never felt right to me. I don't believe anyone really knew what was causing it.
I was treated with steroid creams and tablets, but they didn't work for me. I had spent years struggling with my image—I've always been fat and had all the usual kinds of worries about my body up to that point, so losing all my hair made me feel as though I was never going to look good again. For a while, it made me very depressed.
After a few weeks I decided to go shopping for my first wig, which my nanna bought for me. I tried to find one that looked as close as possible to my natural hair, so that nobody realized that it was a wig.
Eventually, I revealed publicly that I lost my hair. I realized I was living in fear of people realizing I was wearing a wig, and that I could remove that fear really easily by just letting everyone know that I had no hair.
I decided to tell the world and shared a bald photo on Facebook with the caption: "The problem with having no hair is that when you put your makeup on, you don't know where your face ends #alopecia."
I wanted to be light-hearted. I didn't want anyone to think I was after sympathy, and I had a really lovely reaction. Everybody was really kind and supportive. It took a while from there, but eventually I was happy sharing photos, though being seen bald in real life was still a daunting prospect.
I had been experimenting with different wigs for a while, and I had fun with colors and styles, but I found them so hot and uncomfortable that eventually I decided I was just going to ditch them. Sharing photos on Facebook had started the journey towards embracing myself as I was, and after a while I gained the courage to leave the house without my wig for the first time.
The first time was absolutely terrifying. I was going around to a friend's house, so that felt like quite a safe way to do it initially, but halfway there I realized that I had forgotten the bottle of wine I was going to bring as a gift, so I had to stop at a store on the way.
It felt terrifying, but actually, nothing happened. No one stared; no one commented. I got back to the car feeling quite triumphant and realized that actually, I had just done the hardest bit. I was never going to have to do that for the first time again. And I survived it, so it was okay.
Since that day, I have not only come to terms with my appearance, but learned to accept it, love it, and realize that actually I can be fat and bald and feel good about who I see in the mirror. It was this epiphany that led to me starting my career as a confidence coach in 2018. I had already qualified and been working as a life coach, but losing my hair inspired me to specialize in the area of confidence coaching.
I've now managed to build a whole career out of sharing my own journey towards confidence, to really use my experience for good and show people that it's okay to not look the way we think we're supposed to look.
Now, I genuinely love having no hair. In fact, if it grew back, I'd be really upset. It's changed my life for the better in so many ways, because it's made me learn how to fully accept myself and stop trying to make myself look different; to do the things many women do like to lose weight or whitening our teeth. I've given myself permission to stop doing all of that and if I hadn't lost my hair, I wouldn't have had the chance to really embrace who I am and what I look like.
I am conscious that Roald Dahl's books are primarily written for children, and I'm coming at this from the perspective of an adult. So, I can appreciate that having a line about other reasons for having hair loss, other than being a witch, could potentially be slightly reassuring.
But I believe that the damage is done by the witches being bald, and a line saying there are other reasons that women are bald doesn't really do anything to mitigate or change that. Ultimately, the extra line feels a bit like virtue signaling, without actually doing something meaningful that makes a difference.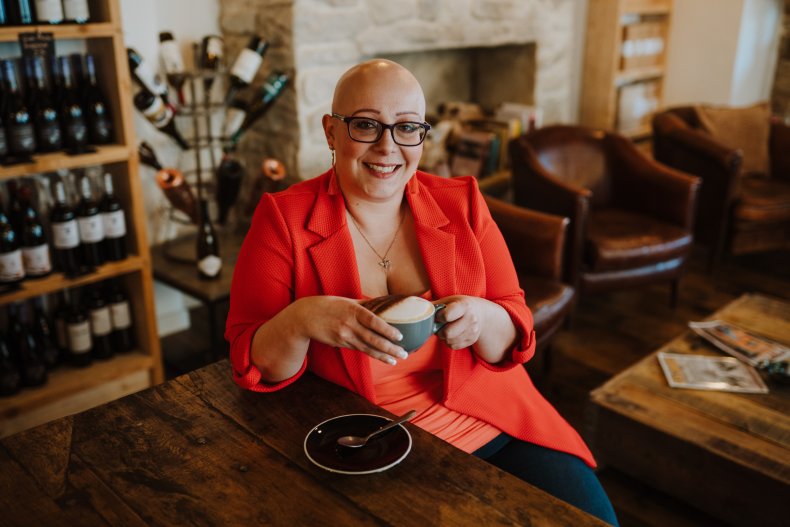 While there are plenty of other reasons that women will wear wigs, there are women like me who have no hair and choose not to wear wigs. Even in trying to be more inclusive, I feel the updated version of The Witches excludes me and people like me. There's still the suggestion that if a woman is bald, she will and should wear a wig. I think they had the best of intentions, but really missed the mark.
I believe that when reading any book that contains something controversial or potentially offensive—regardless of whether it's for children or adults—it opens up a chance to discuss and reflect, which I feel is incredibly helpful and valuable in any situation.
When there is offensive content in a book, I think a really good starting point would be for children to clearly recognize that those aren't words that would be used in a book that was being written today. Perhaps they should then think about why that is, what's changed, and what do we understand or see differently now?
Lizi Jackson-Barrett is an author and confidence strategist for entrepreneurs and people in business from Essex, England. You can visit her website at www.lizijacksonbarrett.com and buy her book How to Feel Beautiful here.
All views expressed in this article are the author's own.
As told to Newsweek's My Turn associate editor, Monica Greep.
Do you have a unique experience or personal story to share? Email the My Turn team at myturn@newsweek.com