Rob Gronkowski Adds CBD To Retail Lineup In Aim To Loosen NFL Restrictions On Pain Reliever
Former football star Rob Gronkowski announced his own CBD product line on Tuesday, all in an effort to see the National Football League (NFL) loosen its restrictions on the hemp derivative.
Gronkowski explained CBD, or cannabidiol, has led him to live a pain-free life, so he partnered with CBDMedic to launch his own line of pain-preventing products. According to Gronkowski, he turned to CBD after several injuries sustained during games, practices and workouts left him in pain.
One of those injuries, where the former New England Patriots tight end experienced internal bleeding after being hit in the lower leg during the 2018 Superbowl, prompted him to retire at age 29.
"I got done with the game; I could barely walk. I go to the after party, I sit down, and I'm just chilling all day, like the rest of the night until 3 a.m. I try to go to bed; I slept for five minutes that night. I couldn't even think," Gronkowski said at the press conference. "I was in tears, in my bed, after a Super Bowl victory. It didn't make that much sense to me. And then, for four weeks, I couldn't even sleep for more than 20 minutes a night after a Super Bowl win. And I was like, 'Damn, this sucks.'"
During the product launch, Gronkowski explained how CBD was able to help him feel healthy and manage his pain. The former athlete said he is now pain free for "the first time in more than a decade" thanks to CBD.
CBD is an oil found in the cannabis plant, but it does not make users high. Instead, it provides calming techniques and pain relief that do not impair daily activity. The oil, which can be used topically in lotions and beauty products, or consumed in drinks or snacks, has become popular within the celebrity community. Kim Kardashian West had a CBD themed baby shower for her fourth child, Psalm.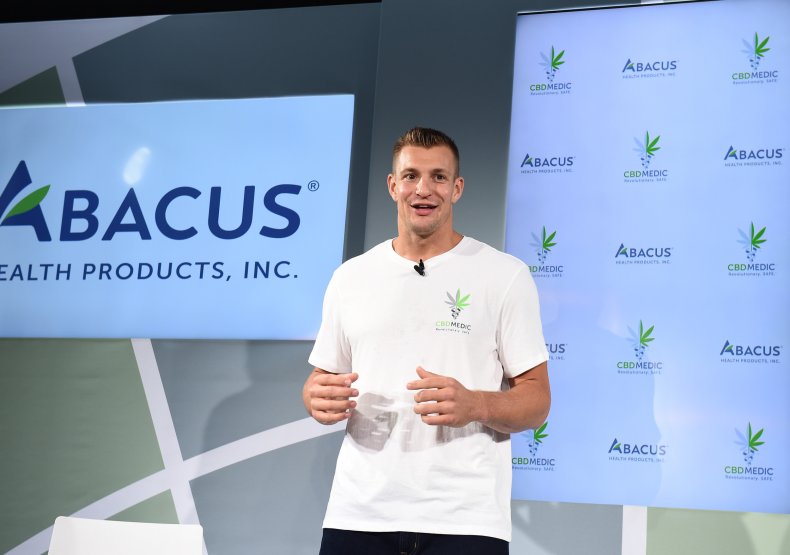 Gronkowski praised CBD for giving him a working body again, one he said he could return to football with. Just because he's physically better doesn't mean the five-time pro-Bowler is ready to return to the field, though.
"I want to be clear to my fans. I needed to recover. I was not in a good place. Football was bringing me down, and I didn't like it. I was losing that joy in life," he said.
Though Gronkowski isn't entirely counting out an NFL return, he said he's happy with his life now. "It's a purpose to have passion in my life, to have joy in my life. And then to inspire optimal health within myself, I need to do that in order to get to a peak and then I can bring it to other people," he explained. "Because I know [in] the NFL, players are dealing with that kind of stuff; they're dealing with pain. I was. And I needed to walk away because I needed to do what was best for myself."
This isn't the athlete's first retail venture. He joined with his brothers to launch the Gronk Shaker, a shake bottle that can be used to keep drinks cold all day, or to shake up protein shakes. The brothers were featured on Shark Tank and accepted a partnership with investors and show panelists Alex Rodriguez and Mark Cuban. The bottle concept is led by Chris Gronkowski, who is also a former NFL player.
The graphic below, provided by Statista, illustrates the projected growth of CBD sales in the U.S.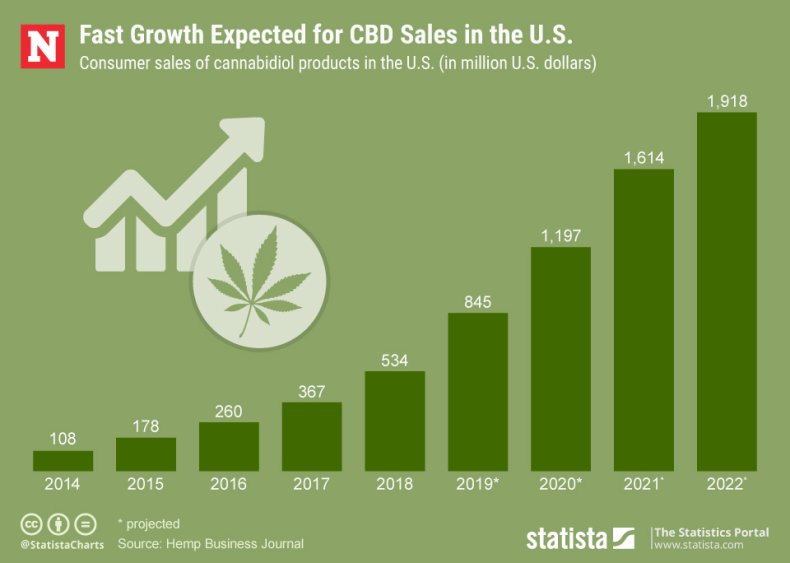 This article was updated to include an infographic.