Rob Gronkowski officially became a member of the Tampa Bay Buccaneers last week, but he has since boasted that he had the team's playbook several weeks before that.
Gronkowski reportedly told a YouTube audience last weekend that he had the Tampa Bay playbook while he was still technically a member of the New England Patriots, who officially traded Gronk to the Bucs last week to join former Patriots teammate, quarterback Tom Brady.
NBC's Pro Football Talk reported Gronkowski made the statement on YouTube Live's Bud Light Seltzer DrafterParty last weekend during the NFL's first-ever virtual draft.
"I was in a Tampa Bay Buccaneers playbook four weeks ago, and I wasn't even on the team," Gronkowski said.
If Gronkowski held a Buccaneers playbook that long ago, that would indicate he had it in possession around March 21-25, which is long before he was traded.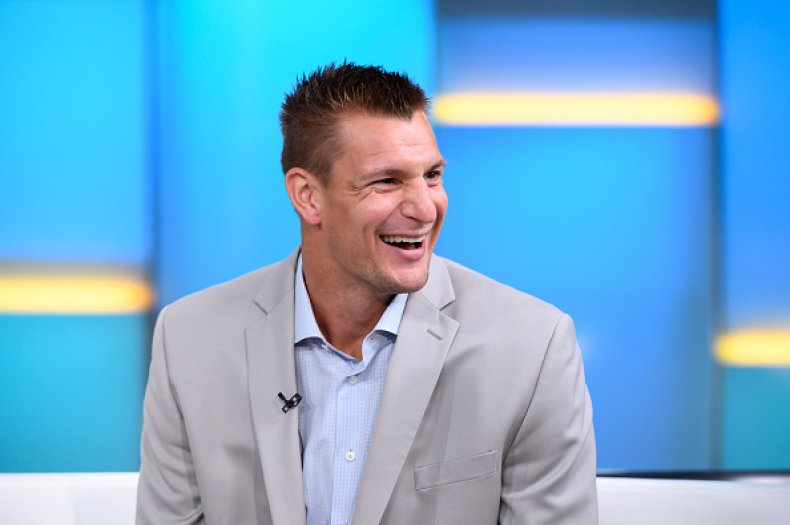 Why is this a story?
Gronkowski retired from football after the 2018 season, but the Patriots still held the rights to him under contract. The Buccaneers signed Brady as their team's new quarterback in late March—about the same time frame Gronkowski claims he held Tampa Bay's playbook.
Gronkowski had his first meeting with team reporters this week, and he told them he looked forward to diving into the playbook, but said he hadn't actually done it yet, according to the Tampa Bay Times.
"I'm very excited to," Gronkowski said about looking up the playbook. "I'm letting things settle down a little bit."
The news of this surfaced about a week after other news of Brady entering the wrong house while looking for the home of Buccaneers offensive coordinator Byron Leftwich, where Brady was to personally pick up a playbook.
Usually, the handoff would have been made at team facilities, but with restrictions from guidelines following the COVID-19 pandemic, the league okays personal visits like Brady to Leftwich.
Now that Gronkowski has boasted of having the playbook in his hands, it's not hard for Tampa Bay opponents to look into the latest Buccaneer outing as a future interruption of Brady to Gronk.
Brady in his own right became the newest Florida man when he signed with the Buccaneers last month. Since then, he's been kicked out of a public park and entered a home that wasn't his.
Those two incidents are far less than the hijinx that make up stories with "Florida Man" headlines. However, Brady seems to be loving life in South Florida. He posted a video to thank Bucs fans for welcoming him and his family, he described his excited anticipation of the upcoming season and, well, mentioned getting kicked out of a public park.
"I'm so happy to be in Tampa Bay, and I wanted to say "Thank you guys" for welcoming me and my family into your community with open arms, outside of getting kicked out of the park the other day," Brady told the Krewe in a tweet posted by the team.
Last week, after the Buccaneers signed Gronkowski, the team gained favorable odds to not only win the NFC (7-to-1), they have decent odds of winning the Super Bowl (14-to-1), which will be played in their home stadium.
Uncommon Knowledge
Newsweek is committed to challenging conventional wisdom and finding connections in the search for common ground.
Newsweek is committed to challenging conventional wisdom and finding connections in the search for common ground.
About the writer
Scott McDonald is a Newsweek deputy night editor based in Cape Coral, Florida. His focus is assigning and writing stories across all topics, from news to politics, business, weather, sports and international news. Scott joined Newsweek in 2018 after a lengthy career of print journalism in Texas, including The Dallas Morning News, where he was a sportswriter, and he's a voter for the Heisman Trophy. He has been a newspaper editor-in-chief and also a newspaper publisher. He is a graduate of The University of Texas at Austin. You can get in touch with Scott by emailing s.mcdonald@newsweek.com. Languages: English