Judas Priest's Rob Halford on the Band's Latest Album, 'Firepower,' and the 'Ever-Present Darth Vader'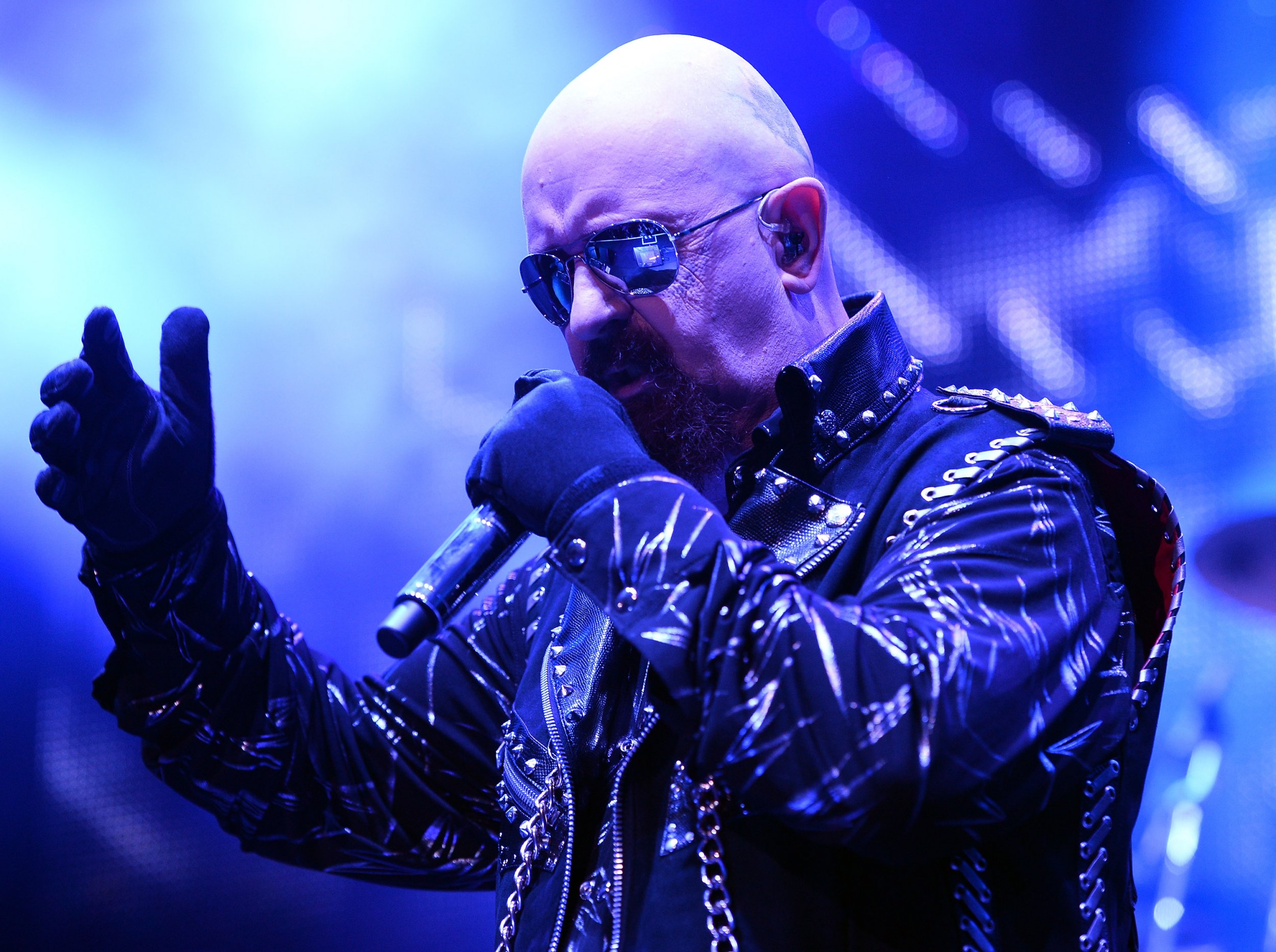 More than four decades after releasing their debut album, Rocka Rolla, Judas Priest have not grown soft. Firepower, the band's 18th studio album, released March 9, is a ferocious slab of heavy metal. It's also a more diverse and dynamic outing than Priest's previous release, 2014's Redeemer of Souls. A major reason for that is lead singer Rob Halford.
Decades ago, Halford's window-shattering scream made him a metal legend. His voice isn't as powerful as it used to be, but Halford can still belt it out better than many metal singers a third his age. "It's a blessing," Halford, 66, told Newsweek. "I mean, I do torture my voice. I put it through extremes, and maybe these vocal cords have just gotten used to it now. But I did work really, really hard on this album. I was pushed—really, really pushed, vocally—by Tom and Andy. It was hard work, but I think the payoff is a good one." (Tom and Andy are Tom Allom, who produced every Priest record from 1979 to 1988, and Grammy Award-winning producer Andy Sneap.)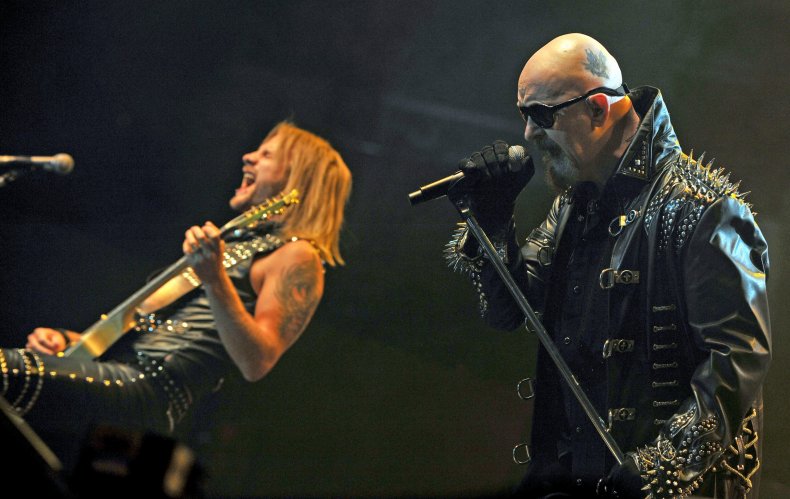 Behind Halford's pipes and the twin-guitar attack of K.K. Downing and Glenn Tipton, Priest's full-throttle, riff-packed sonics spearheaded the '70s wave of British metal. Their thunderous style—inspired by Led Zeppelin, Black Sabbath and Deep Purple—and hell-bent-for-leather look influenced bands like Van Halen, Iron Maiden, Metallica and Anthrax. A decade later, Priest's music had reached a massive mainstream audience. MTV put the video for "You've Got Another Thing Coming," from 1982's propulsive Screaming for Vengeance, into heavy rotation, and that was followed by monster albums (Defenders of the Faith, from 1984, and 1990's Painkiller), monster singles ("Breaking the Law" and "Living After Midnight") and monster world tours (which included Halford rumbling onto the stage with his Harley). When the band appeared on The Simpsons in 2014, they were metal—and pop culture—gods.
Firepower is confirmation of that status—and proof of how dynamic the band has become over the years. At Epic Records headquarters in Manhattan, Halford spoke with Newsweek about Firepower, how it relates to our increasingly violent world and the "ever-present Darth Vader" who is "fucking it up for the rest of us."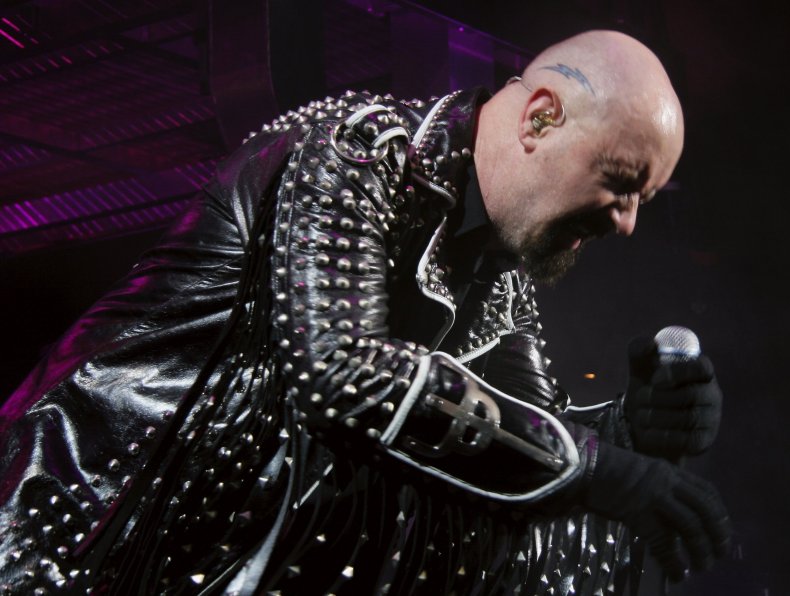 Your singing on the new album is quite impressive.
It was hard work, but I think the payoff is a good one. It's a bit like being an athlete. You have to kind of do the move without really thinking about it, otherwise you lose the reality of the moment and it becomes fake. You've got to keep it real.
Firepower kicks off explosively, with the title track. What's it all about?
What I would like to say about that song, right off the bat, is that it's not about weapons directly or Second Amendment rights. I live in this country and I believe in the Second Amendment. But in terms of the way that we've had some of these horrible experiences recently, I think there's a moment to think about that connectivity. But that wasn't in my mind when I was writing the lyrics. My perspective—and I'll put this on record now—is that "Firepower" is heavy metal. It's just a reference to those two elements, and me going to school and walking past the steelworks and seeing the fire and the molten metal and the power in that whole thing, which was ingrained in me before I even sang a note of metal music.
On the title track, you sing, "Our union thrives, so go to hell." What union are you referring to?
Our union: the union of metal and the bands. Sometimes when I'm writing lyrics, it's a very loose train of thought, and wherever that takes me I let it flow. There are definitely overtones in this record that are a mixture of reality and fantasy, which is pretty much what Priest has done forever: "Breaking the Law," "Savage." I would say all of our songs have one foot in the experience of going to a movie, and the other one that was on headline news.
But you have to tread very carefully there. This band isn't mostly about being a political protest band. We want to entertain, we want to give you a good time. At the same time, if you look through the history of Priest, there's always been an intelligent factor. I think it's a lot more relevant to let the fans make their own perception. I would rather leave the whole thing kind of on the table with a jumble of paper with lyrics all over it and the people come in and pick what they want.
The subject of war comes up on Firepower, especially on "Sea of Red" where you sing, "In fields of wonder where those swallows soar / Our hearts are weary as we pray / The grass is greener from the tears that fall / For you on this remembrance day."
After World War I, a beautiful poem called "In Flanders Fields" was written. It talks about the poppies, which are blood red at a certain time of year, growing in a field where there'd been conflict. I think that all of us in this band have great reverence for the people who have lost their lives in war. It's the ultimate sacrifice. We'd never before written, not exactly a "thank you" because that's the wrong word, but an homage to the fallen. It's also a reference to the fact that love never dies, that even when you lose someone physically you don't lose them spiritually.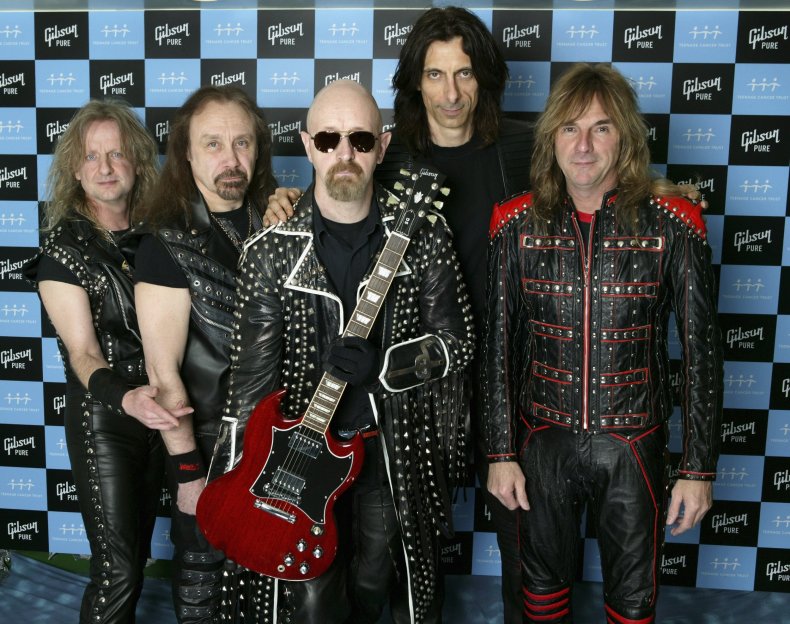 Firepower is hitting at a time when the U.S. is grappling with the rise of the "alt-right" and a growth of white power groups. Donald Trump's policies have turned political divides into chasms and alienated minority groups like the LGBTQ community.
I'm not an American citizen, but I live in this country and eventually want to become an American citizen because I love this country so much. I'm not a Donald Trump supporter for a lot of reasons, but it's not only happening in America. It's happening in other parts of the world, as well, and it's very dangerous. I was born in 1951. We were still recovering from that evil bastard Adolf Hitler and the horrible things he did.
When I was a kid, trying to make sense of the world, I would think, "Well, maybe in about 10 years there will be no more of this." And then it's still there. It's like what threatens the Force in Star Wars. It won't fucking go away. There's always a Darth Vader somewhere, fucking it up for the rest of us. Most of humanity just wants to live a peaceful life, don't we?
What's especially alarming about this moment we're in?
What's scary is how one person or a few people can have that much control and dictate such an outcome. It's your human right to push back against something you disagree with. You do that by voting for that guy instead of that guy, or that lady instead of that lady. If you're passive, that's when the trouble starts. Speaking as a gay man, when the horrible AIDS virus hit, one of the first big organizations to speak up was ACT UP. I had a T-shirt with the ACT UP slogan: Silence=Death. You can't be dismissive of important things. You have to speak out, even if you don't get the results you would like to have.
It's a very shaky time right now. I have so much faith in this country. But it does seem as though the brakes have been slapped on. It's indeed disturbing, and it's such a shame, because throughout the Obama administration, tremendous things were achieved on the basis of human equality. That's the issue here. Treating one bunch of people this way, and treating this bunch that way. You can't do that. You have to give everybody the same rights.
Many Priest fans won't agree with some of those views.
They won't. There's a ton of metal heads that are supportive of [the Trump] administration. That's great. That's OK. You're not bringing that to the show. We're there to all join together, and that is the beautiful thing about a free, transparent society—which we don't appear to have right now. Some fans are completely opposite to me politically. But we can still be in the same room and have a good time and hopefully have a good discussion while respecting each other's opinions.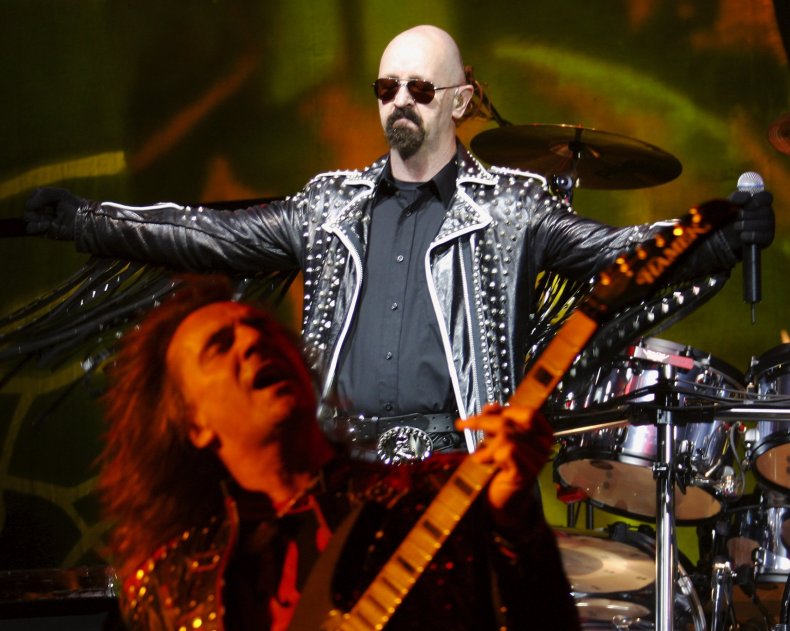 Judas Priest's 2018 Tour Dates:
03/27 – London, ON @ Budweiser Gardens
03/28 – Oshawa, ON @ Tribute Communities Centre
03/30 – Rama, ON @ Casino Rama
03/31 – Detroit, MI @ Masonic Temple
04/03 – Milwaukee, WI @ The Riverside Theater
04/05 – Green Bay, WI @ Resch Center
04/06 – Hammond, IN @ Horseshoe Casino
04/08 – Bloomington, IL @ Grossinger Motors Arena
04/10 – Casper, WY @ Casper Events Arena
04/11 – Loveland, CO @ Budweiser Events Center
04/15 – Kent, WA @ ShoWare Center
04/17 – Portland, OR @ Veterans Memorial Coliseum
04/19 – San Francisco, CA @ The Warfield
04/21 – Las Vegas, NV @ Las Rageous Festival
04/22 – Los Angeles, CA @ Microsoft Theater
04/24 – Phoenix, AZ @ Comerica Theatre
04/26 – Tulsa, OK @ Bok Center
04/28 – Dallas, TX @ The Bomb Factory
04/29 – Sugar Land, TX @ Smart Financial Centre
05/01 – San Antonio, TX @ Freeman Coliseum
05/05 – Mexico City, MX @ Corona Heaven & Hell Festival
06/05 – Oslo, NO @ Spektrum
06/07 – Hyvinkaa, FI @ Rockfest
06/12 – Pilsen, CZ @ Pilsen Homemonitoring Arena
06/13 – Katowice, PL @ Spodek
06/15 – Grafenhainichen, DE @ Full Force Festival
06/17 – Florence, IT @ Firenze Rocks
06/19 – Freiburg, DE @ Messenhale
06/20 – Friedburg, DE @ Sick-Arena
06/22 – Clisson, FR @ Hellfest
06/24 – Dessel, BE @ Graspop Metal Meeting
06/26 – Zurich, CH @ Samsung Hall
06/30 – Madrid, ES @ Download Festival Caja Magica
07/02 – Lisbon, PT @ MEO Arena
07/05 – Barcelona, ES @ Rock Fest Barcelona
07/19 – Athens, GR @ Rockwave Festival
07/21 – Plovdiv, BG @ Hills of Rock Festival
07/24 – Budapest, HU @ Budapest Arena
07/26 – Tolmin, SI @ Metal Days Festival
07/28 – Vienna, AT @ Stadthalle
08/02 – Wacken, DE @ Hauptstrabe 47
08/06 – Tilburg, NL @ 013
08/10 – Catton Hall, UK @ Bloodstock Festival