Rob Portman Becomes Third Republican Senator Not to Seek 2022 Re-Election
Senator Rob Portman, an Ohio Republican, became the third GOP senator to announce he will not seek re-election in 2022.
Senator Richard Burr of North Carolina, 65, announced during his 2016 Senate campaign that it would be his last time running for the Senate and that he would retire at the end of his term, which concludes in 2022. Senator Pat Toomey, a 59-year-old Pennsylvania Republican, similarly announced last October that he would not be running for another term.
Portman, 65, announced Monday morning that he will not seek to retain his seat in 2022, citing his concerns about "partisan gridlock."
"This was not an easy decision because representing the people of Ohio has been the greatest honor of my career," the GOP lawmaker said in a statement emailed to Newsweek.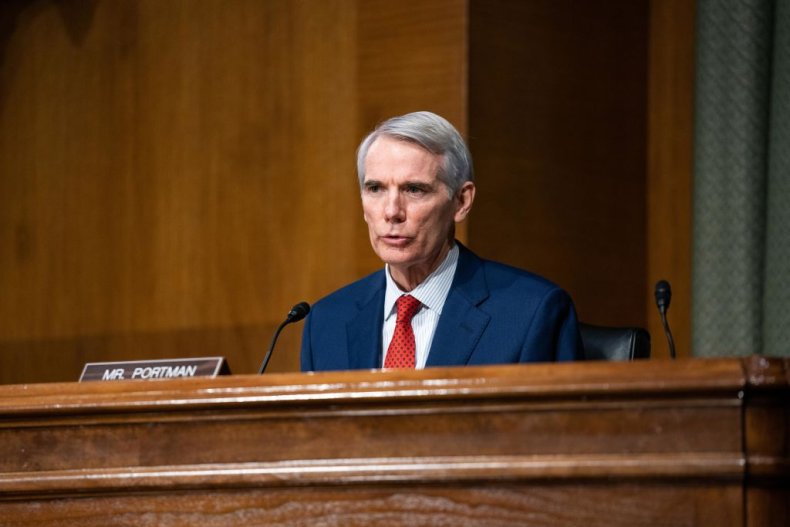 "I don't think any Senate office has been more successful in getting things done, but honestly, it has gotten harder and harder to break through the partisan gridlock and make progress on substantive policy, and that has contributed to my decision," Portman added.
"We live in an increasingly polarized country where members of both parties are being pushed further to the right and further to the left, and that means too few people who are actively looking to find common ground," he said.
Portman was first elected to the Senate in 2010 and was subsequently re-elected in 2016. Prior to that the Republican politician was first elected to the House of Representatives in a 1993 special election, and continued to serve in the lower chamber of Congress until 2005. He then served in President George W. Bush's White House from 2005 to 2007.
In addition to Burr, Toomey and Portman, analysts have speculated that Iowa's GOP Senator Chuck Grassley, 87, could retire following his current term and won't seek re-election in 2022. However, the Republican lawmaker signaled last year that he had not yet decided on his political future.
"You'll have to ask me a year and a half from now," Grassley told the Iowa Capital Dispatch last February.
As Democrats aim to maintain and expand their narrow control of the Senate, they will welcome Republican incumbents stepping aside in 2022. Although the Republican lawmakers' decisions do not necessarily mean Democrats will have an advantage, it offers an open field for new candidates. Incumbents are often favored to win re-election. While 20 Republican-held Senate seats are up for grabs in 2022, just 14 Democrat-held seats will be on the ballot.
Ohio is not a solidly Republican state. Democratic Senator Sherrod Brown represents the state alongside Portman, and was most recently re-elected in 2018. The state has also gone back and forth between supporting Republican and Democratic presidential candidates over the past few decades. Most recently, Ohio went for former President Barack Obama in 2008 and 2012 before flipping red for former President Donald Trump in 2016 and 2020.
GOP Senator Rick Scott of Florida, who chairs the National Republican Senatorial Committee, told The Washington Post earlier this month that he was urging all GOP incumbents up for re-election in 2022 to run again. Although Burr and Toomey had already announced their decision not to seek re-election, Scott expressed optimism that Republicans would be able to hold the two seats.
"I've talked to Toomey about Pennsylvania, and he's got ideas, and Burr clearly has ideas on North Carolina," he said. "We'll find good people."
Updated January 25, 2021 at 12:01 ET: This article was initially published as a breaking news story and additional background information has since been added.