Rob Portman: Biden Is Contradicting Calls for Unity by Pushing COVID Bill Without GOP Support
Ohio Republican Senator Rob Portman criticized President Joe Biden for failing to work along bipartisan lines, as Democratic lawmakers attempt to approve a $1.9 trillion COVID-19 stimulus package without any GOP backing.
In an op-ed published Tuesday in The Washington Post, Portman called out Biden for contradicting his earlier promise to unite the country.
"Our country seems more divided along partisan lines than at any time I can remember," Portman wrote. "I agree with [Biden's] statement that, at 'our historic moment of crisis and challenge ... unity is the path forward.' Unfortunately, that rhetoric has not yet been matched by action," he added.
"Most disappointing is the partisan approach the new administration is taking to the COVID-19 pandemic, one of the few areas where there has been real bipartisanship over the past year," he said.
Portman referred to Biden's $1.9 trillion stimulus package called the American Rescue Plan, which Democratic lawmakers are attempting to pass through a budget reconciliation process. By doing that, they can bypass the need to gain Republican support, as long as every Democratic senator votes in favor of the bill.
The Ohio senator suggested that such action could hurt Biden's presidency and calls for unity in the long-run.
"It sets the wrong tone for the beginning of a new administration and risks undermining other bipartisan efforts going forward," Portman wrote in his op-ed.
"Biden faces an early choice. He can act on the hopeful bipartisan rhetoric of his inaugural address — and his presidential campaign — or contradict that message by trying to jam a $1.9 trillion bill through reconciliation with no GOP support. Working together has the benefit of crafting more-targeted policies, while showing a divided country that we can unite at a time of crisis," he added.
Newsweek reached out to Portman's office for additional comment, but did not hear back in time for publication.
Republican lawmakers have argued that Biden's package is too expensive and could hurt the economic recovery process. Others have dismissed it for including measures such as an increased minimum wage and $1,400 direct stimulus payments.
Portman, along with nine other GOP Senators, have instead suggested a less expensive package worth $618 billion. This measure would include increased funding for vaccination efforts, extended unemployment benefits, and support for small businesses and schools—but would have stricter requirements regarding the cost of benefits and who is eligible.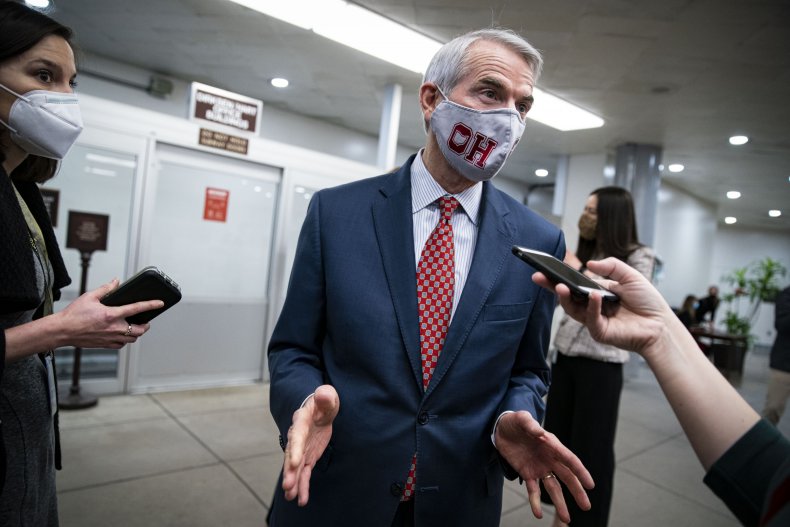 But a majority of Democrats, who view Biden's package as a necessary step for economic recovery, have indicated they will not budge.
On Monday, the budget proposal was approved by the House Budget Committee, and will be voted on by the lower chamber this week.
Once the legislation reaches the Senate, it could pass if all 48 Democrats and two independents who caucus with them agree to the legislation. Since the chamber is split 50-50, Vice President Kamala Harris could then cast a tie-breaking vote to approve the package without any Republican backing.
GOP Maine Senator Susan Collins said Tuesday she believes the stimulus package will be approved this way.
"We are looking at amendments but they pretty much stalled. The administration has not indicated a willingness to come down from its $1.9 trillion figure and that's a major obstacle," she said.