Robb Armstrong and Sparky: How the 'JumpStart' Creator Met Charles Schulz
JumpStart creator Robb Armstrong told Newsweek that he'd been drawing Charlie Brown and Snoopy since he was 5 years old.
"When I was a little boy, I believed that I could draw Peanuts characters just as well as Charles Schulz—and the reason I believed that is my mother told me that," Armstrong laughed.
Though he says he was drawing "rudimentary" versions of the characters, his family and friends were amazed, and told everyone they knew that they had to see Armstrong draw.
"My gift was that I was fearless about it and fast. I didn't need to rehearse, I didn't need to sketch anything ahead of time. I could just, right in front of somebody, draw Snoopy. ... The faster I do this, the more excited people became—and even now," he said. "I do believe it's sort of like a magic trick—there's a piece of paper, nothing on it. Then a few seconds later, there it is."
Armstrong drew throughout his childhood, and had a college strip, Hector, in the student paper at Syracuse University. Though Hector didn't make the leap to syndication, in 1989, he created JumpStart, and was signed to United Features Syndicate, which also handled Peanuts. He was only 26 at the time, particularly young for a nationally syndicated cartoonist—but he had a request as soon as he signed his contract with United Features.
"And I immediately—the ink wasn't dry. And I'm not making this part up for the sake of the story. The ink was not dry on my contract. When I leaned into my editor, Sarah Gillespie, and I said, 'Great, I'm so glad we got this part done. Now, can I meet Charles Schulz?' And she said 'What?' I said that 'I think it's time for me to meet Charles Schulz. My deal is done and he's my hero!'" Armstrong said.
Gillespie said it didn't really work like that, but suggested he send Schulz one of his strips. The strip he sent was from his first month's worth of JumpStart strips, featuring the character Marcy singing "Hang on, Snoopy" in the shower. Her husband, Joe, walks in and tells her the hit song by the McCoys is actually "Hang on, Sloopy," and there's a bit of back and forth, but she accepts her mistake—and goes right back to singing "Snoopy."
This was indeed the way to win Schulz's notice, and in return, he sent an original Peanuts.
"I don't know if you've ever seen an original Peanuts, but it's about two or three times the physical size of the average comic strip. A JumpStart strip is about 14 inches wide, maybe 5 inches tall ... It's small, like the size of a football. An original Peanuts is the size of your computer screen. It's huge," he said. "My only correspondence with this guy was the 'Hang on Sloopy' cartoon. ... This was the most mind-blowing thing. It rattled me more than signing the deal of my life, as weird as that sounds."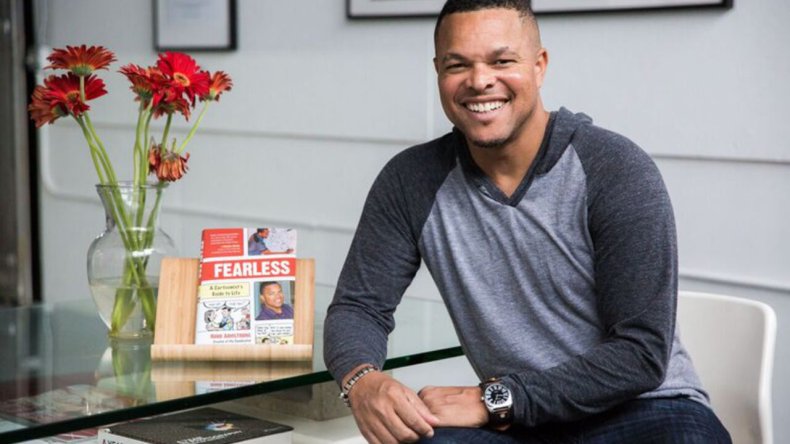 Still, getting an original strip wasn't actually getting to meet Schulz, so Armstrong persisted. He tried again to convince Gillespie to introduce them, but she again refused, pointing out that every cartoonist wanted to meet Schulz. But hope came in the form of the late comic art collector and broker Mark J. Cohen.
Cohen approached Armstrong to see if he was interested in selling some of his original art. He was also close friends with Schulz, and he set up a meeting. Armstrong was then living in Philadelphia, but was more than happy to fly out to California to meet his hero.
Schulz invited him into his famously spartan workspace. Schulz always said he was easily distracted and needed a nearly bare room so he could focus on his work.
"I think I've died and gone to heaven. I go into his office—and I repeat, there's nothing really there, which is interesting on its face. There's nothing in there, his drawing table and his desk—and one thing is on the wall in a frame. It's 'Hang on Sloopy' from JumpStart," Armstrong said. "I was overcome with unbelief—not disbelief, unbelief. And I think I said, 'Oh, I get what you did, that's very sweet. Mark told you I was coming, you dug that thing out and had it framed.'"
"He said, 'Do you really think I would do that?' Like, [he was] almost offended, sort of? 'I didn't mean to offend you, it's just, I get it. I totally understand. I get why you did that.' He said, 'Apparently no, you don't. You don't get why I did it. JumpStart is great. Robb, JumpStart has what Peanuts has: great characters. And that's the whole thing.' Quote, unquote. 'You can have a career for as long as you want, because that's what Peanuts has got. That's the engine. I like your strip, that's why your strip's up on my wall,'" Armstrong continued, quoting Schulz.
This was the first step in a friendship that continued through the years, ultimately leading to Armstrong being asked to give his last name to the iconic Peanuts character Franklin.
Armstrong will be appearing at the Peanuts pop-up exhibition in San Diego's Gaslamp District at 200 J. Street, Suite 105—close to the San Diego Comic-Con. He's scheduled to appear on Thursday, July 21, at 7:30 p.m. for "An Evening with Robb Armstrong" and the following night, July 22, at 7:30 p.m. for "Talking Iconic Black Comic Characters." In addition, Armstrong Project recipients Hailey Cartwright and Promise Robinson will appear with Peanuts Worldwide at Comic-Con.