Robert Aaron Long, the accused gunman in three shootings at Atlanta-area spas that left eight people dead, could be charged with a hate crime if authorities determine he targeted women.
Long, 21, is being detained without bond in Cherokee County, Georgia. He has been charged with multiple counts of murder and one count of aggravated assault. Of the eight victims, six were Asian women.
Police have not yet determined the motive behind the shootings. Atlanta Police Chief Rodney Bryant said Wednesday that investigators were not ready yet to say if the attacks were being considered a hate crime against the Asian American community.
Long has claimed the attacks weren't racially motivated, telling investigators he had a "sex addiction" and viewed the spas as a temptation he wanted to eliminate.
Officials later said Wednesday night that they were taking a "hard look" at the suspect's motivation and hadn't "ruled anything out."
"These atrocious acts will not be tolerated, and our investigators remain hard at work to ensure these deaths are investigated thoroughly," officials said. "Our goal is a successful prosecution of the shooter, to hold him accountable for his actions. Beyond processing evidence from the scenes, investigators are taking a hard look at what motivated the shooter. Our investigation is far from over, and we have not ruled anything out."
Under Georgia's new hate crime law, which was signed by Governor Brian Kemp last year, additional penalties can be imposed against those who "intentionally selected any victim or group of victims or any property as the object of the offense because of such victim's or group of victims' actual or perceived race, color, religion, national origin, sex, sexual orientation, gender, mental disability or physical disability."
State Representative Chuck Efstration, the author and lead sponsor of the legislation, told WSB-TV that he believed the hate crime statute could be used if law enforcement authorities determine the accused gunman was motivated by hate against women.
"The great thing about the bill that we passed last year—it provides both sex and gender as protected classes in addition to race and other protected groups," Efstration told the TV station.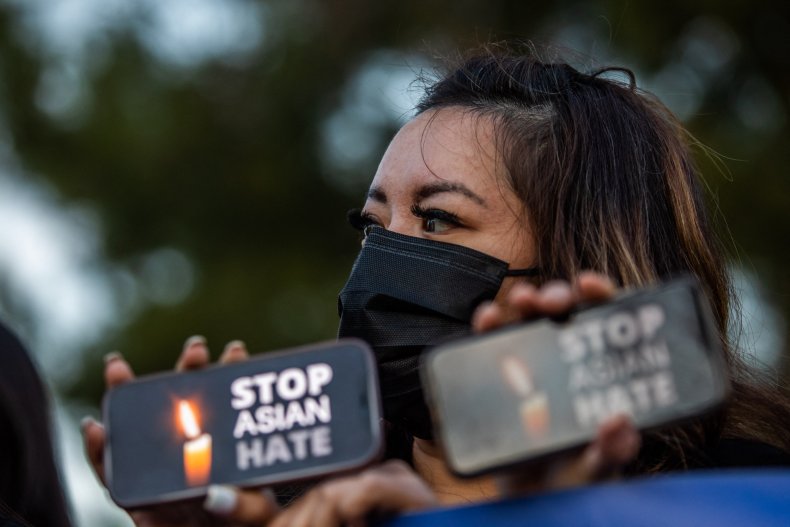 The new crime law was spurred by public outrage over the killing of Ahmaud Arbery, a 25-year-old Black man who was killed while jogging in February 2020. The men involved in the shooting are white.
"We saw injustice with our own eyes. Georgians protested to demand action. And state lawmakers, many who are gathered here today, rose to the occasion," Kemp said at the state Capitol when he signed the bill in June 2020.
Before its passage, Georgia had been one of four states in the U.S. that didn't have a hate crime law.
Under the new statute, a person convicted of a misdemeanor hate crime in Georgia would face at least six months, but no more than 12 months, in prison. A person convicted of a felony hate crime would face at least two years in prison.
Newsweek reached out to Efstration for additional comment on the hate crime bill but did not hear back before publication.