Robert Aaron Long pleaded guilty on Tuesday to all 23 charges against him in Cherokee County, Georgia—including murder—in the killing of four people at three spas in metro Atlanta.
At a time of rising hate crimes against Asian people in America, Long's rampage raised concerns nationwide about the dangers facing the Asian-American community. The 22-year-old was indicted on four counts of murder in Cherokee County in connection with the March 16 spa shootings and still faces additional charges in Fulton County, Georgia.
He entered a plea of guilty to the killings of 49-year-old Xiaojie "Emily" Tan, 44-year-old Daoyou Feng, 33-year-old Delaina Yaun and 54-year-old Paul Michels at Youngs Asian Massage. A fifth person, Elcias Hernandez-Ortiz, was also shot, according to investigators, but the bullet just missed his heart.
A total of eight people were killed during the March 16 shootings. Long faces four charges of murder in Fulton County.
At Tuesday's court hearing, a prosecutor said Long told investigators that he was intoxicated when he drove to Youngs Asian Massage. Long also said he hoped to work up the nerve to kill himself and end his life by visiting the spa, but when he was in the parking lot he decided to shoot those inside, according to the prosecutor.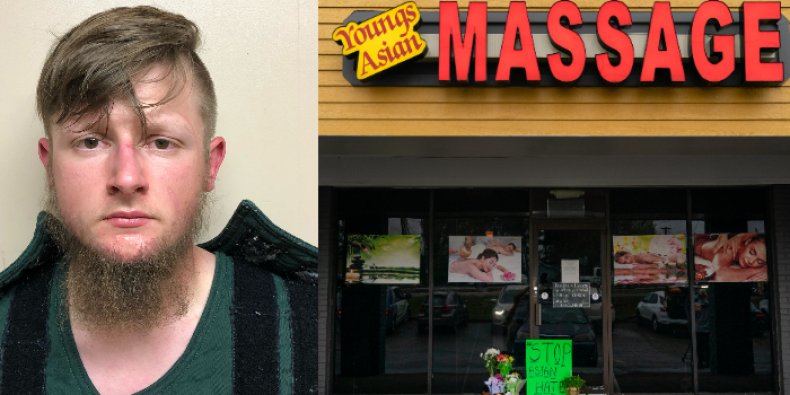 After the shooting at Young's, Long drove south toward Atlanta and shot and killed three women at Gold Spa, according to police. He then went across the street to Aromatherapy Spa and fatally shot a fourth woman.
Cherokee Sheriff's Office Captain Jay Baker told reporters in March that Long told authorities he had an "issue" that he considered to be "sex addiction." Baker added that he saw the locations of the shootings as a "temptation for him" and that he wanted to eliminate that urge.
Long is scheduled to appear in Fulton County court next month. District Attorney Fani Wallis intends to seek a hate crime sentence enhancement, as all the victims in Atlanta were Asian women. She's also looking at the death penalty for Long's alleged crimes.
Police suspected Long after they were tipped off by his parents, who had called authorities when they saw their son on security video footage the Cherokee County Sheriff's Office posted on social media. Authorities were able to locate him on the highway partly because his parents had already been tracking his cellphone.
Cherokee County prosecutors also plan to seek the death penalty for Long and gave him a July 26 deadline to accept the conditions of his plea agreement. It's unclear what the contents of the plea deal contain, but it's expected that prosecutors will seek life without parole.