Robert Aaron Long's Church Condemns His Alleged Actions as 'Antithetical' to Its Teachings and Beliefs
The church attended by Robert Aaron Long, the suspected gunman in three shootings at Atlanta-area spas that left eight people dead, has issued a new statement condemning his "extreme and wicked act."
"Aaron's actions are antithetical to everything that we believe and teach as a church," the Crabapple First Baptist Church in Milton, Georgia, said on Friday. "In the strongest possible terms, we condemn the actions of Aaron Long as well as his stated reasons for carrying out this wicked plan. The shootings were a total repudiation of our faith and practice, and such actions are completely unacceptable and contrary to the gospel."
Long is being held without bond in Cherokee County, Georgia, where he faces four counts of murder and a charge of aggravated assault. He also has been charged with more four counts of murder, the Atlanta Police Department said. Officials said Long has admitted to the crimes.
Among the eight victims, six were Asian women. Law enforcement officials have only released the names of those killed at Young's Asian Massage near the suburb of Acworth. The four victims killed at that location were Delaina Ashley Yaun, 33; Paul Andre Michels, 54; Xiaojie Tan, 49; and Daoyou Feng, 44.
Police have not yet determined the motive behind the shootings. Long has claimed the attacks weren't racially motivated, telling investigators he had a "sex addiction" and viewed the spas as a temptation he wanted to eliminate.
Crabapple First Baptist Church said in its statement that "no blame can be placed upon the victims" and that Long alone was "responsible for his evil actions and desires."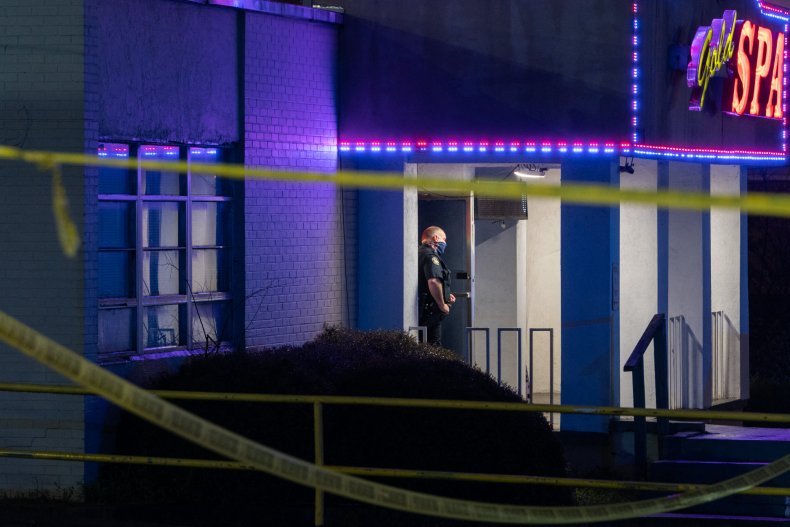 Long, 21, was a member of the Southern Baptist church and screenshots of since-deleted social media posts suggest he was re-baptized there about three years ago. The Daily Beast was the first to report on a 2018 video of Long talking about his religious experience.
"As many of you may remember, when I was 8 years old I thought I was becoming a Christian, and got baptized during that time. And I remember a lot of the reason for that is a lot of my friends in my Sunday school class were doing that," Long reportedly said in the clip. "And after that time, there wasn't any fruit from the root that is our salvation."
After the shootings, Crabapple First Baptist Church took down its Facebook and Twitter pages. Its website was no longer available without private login information. The church said it took down the social media pages "out of an abundance of caution" as they feared for the safety of its members.
Friday's statement also said the church was been cooperating with law enforcement and would continue to do so throughout the investigation.