Robert Crimo Didn't Shoot Second Celebration Over Lack of Planning
Robert Crimo, the suspected Highland Park, Illinois, shooter, reportedly decided against shooting a second Fourth of July celebration in Wisconsin due to a lack of planning, according to authorities.
At a press conference Wednesday, officials in Lake County, Illinois, said that after allegedly shooting at least 70 rounds at the Fourth of July parade in Highland Park Monday, Crimo escaped and noticed a second holiday celebration in Madison, Wisconsin.
Officials said that Crimo "contemplated" shooting the second celebration but ultimately chose not to because he "had not done enough planning."
The announcement on Wednesday comes after Crimo was arrested following Monday's mass shooting in Highland Park that left seven dead and dozens injured.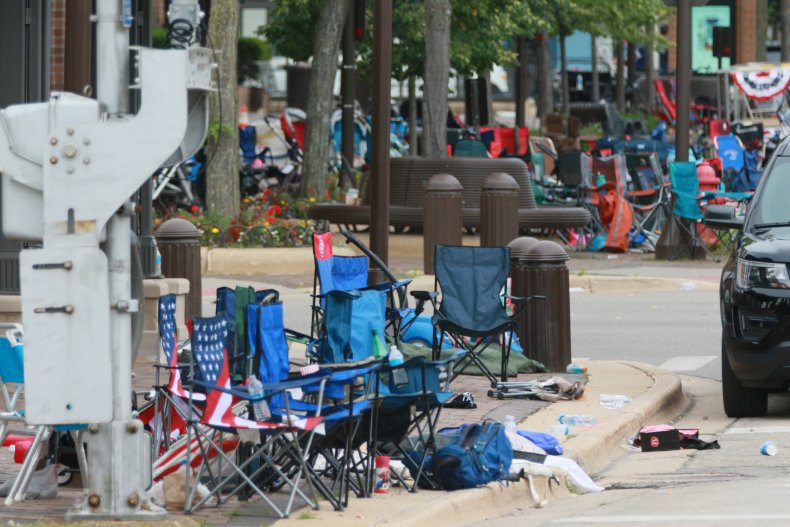 While speaking to reporters Wednesday, Lake County State's Attorney Eric Rinehart said that Crimo "admitted to what he had done."
Crimo appeared before a judge that same day and was ordered to be held without bond.
"There was probable cause at this time to hold him on seven counts of first-degree murder," Rinehart said. "We have filed those counts, alleging the intentional killing of seven individuals. Based on the information that the investigation has produced so far, the judge found that the evidence was at such a level that he could held without bond, also because the fact that it is a mandatory life sentence."
When further asked about the potential second shooting incident in Wisconsin, Christopher Covelli, Lake County Major Crime Task Force spokesman, said that Crimo had around 60 rounds of ammunition on him at the time. Crimo was taken into custody by police shortly after.
During the press conference Wednesday, Rinehart declined to make any comments on a possible motive for the mass shooting, while Covelli said of Crimo: "His motivation isn't necessarily clear."
Covelli continued, "I don't want to go specifically into what he told investigators, however, he had some type of affinity toward the numbers four and seven and inverse was seven, four," alluding to the date that the incident took place.
Prior to the information released on Wednesday, Covelli announced on Tuesday that Crimo allegedly wore women's clothing to disguise himself during the parade. Authorities have alleged that Crimo then climbed a fire escape where he accessed the roof of a building near the parade and opened fire.
"He blended right in with everybody else as they were running around, almost as [if] he was an innocent spectator as well," Covelli said on Tuesday.
The gun Crimo allegedly used in the shooting was purchased legally, authorities previously said.
Update 7/6/22, 1:33 PM ET: The story has been updated with additional information.