Robert De Niro Defends Right to Criticize Trump's 'Blatant Abuse of Power' in Screen Actors Guild Awards Speech
Legendary actor Robert De Niro defended his right to criticize President Donald Trump Sunday night at the Screen Actors Guild Awards, despite not naming the president directly.
De Niro, 76, received the lifetime achievement award from the acting union and used his speech to subtly critique the Trump administration and what he defined as a "blatant abuse of power."
"There's right and there's wrong. There's common sense and there's abuse of power. As a citizen, I have as much right as anybody—an actor, an athlete, a musician, anybody else—to voice my opinion. And if I have a bigger voice because of my situation, I'm going to use it whenever I see a blatant abuse of power," said De Niro.
Earlier in the speech, De Niro referred to the Screen Actors Guild, a union for professional actors, by saying that "political leaders who support unions are more likely to support Affordable Care Act, equitable taxes, humane immigration regulations, a safe environment, diverse citizenry, reproductive rights, sensible gun control, and fair wages and benefits. We owe them our support and we owe them our vote."
De Niro added: I can imagine some of you are saying, 'Alright, alright, let's not get into the politics,' but we're in such a dire situation, so deeply concerning to me and so many others, I have to say something."
The Irishman actor has been one of Hollywood's most vocal Trump opponents, although frequently sharper in his judgment of the president compared to Sunday's more subdued address.
In October 2016, ahead of the U.S. presidential election, De Niro appeared in an infamous campaign video in which he denounced Trump as a "dog," "bulls**t artist" and "con," adding: "He talks how he wants to punch people in the face? Well, I'd like to punch him in the face."
At the 2018 Tony Awards, De Niro publicly lambasted Trump on stage, saying: "I'm gonna say one thing. F*** Trump."
Trump responded on Twitter, writing: "Robert De Niro, a very Low IQ individual, has received too many shots to the head by real boxers in movies. I watched him last night and truly believe he may be 'punch-drunk.'
"I guess he doesn't realize the economy is the best it's ever been with employment being at an all time high, and many companies pouring back into our country. Wake up Punchy!"
More recently, in an interview with British GQ, De Niro blamed NBC reality show The Apprentice for the rise of Trump. "He's an idiot. He's a fool. He's a buffoon. He's silly. He's tacky. He's dangerous. That stupid show The Apprentice, people bought it. They buy into it... They created a monster," said the actor.
De Niro added that Trump is "a low-life. He's going to ruin this country."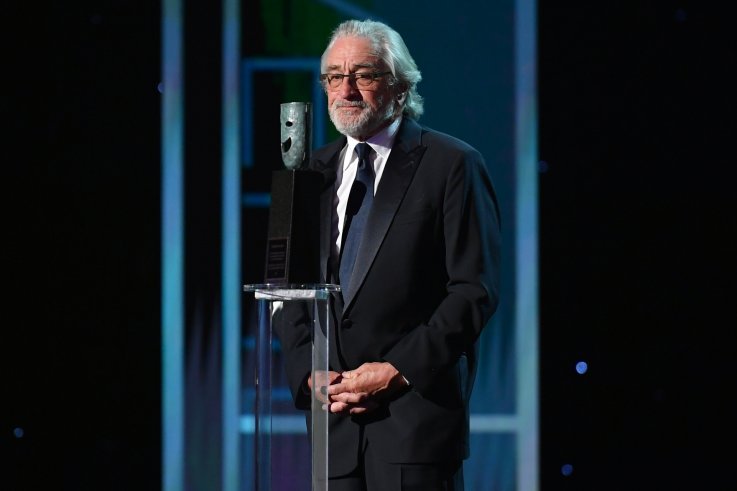 Robert De Niro Defends Right to Criticize Trump's 'Blatant Abuse of Power' in Screen Actors Guild Awards Speech | Culture