If there's one thing pretty much everyone knows, it's that you do not cross Robert De Niro. Joaquin Phoenix learned exactly that on the set of their new film, Joker.
The two actors are known for diving deep into their roles, often staying in character on set. But the two differed greatly when it came to the standard practice of a cast read-through of the script, according to director Todd Phillips.
Phoenix notoriously does not like this method of preparation, telling Vanity Fair for its November issue that he's always thought "acting should be like a documentary."
"You should just feel whatever it is that you're feeling, what you think the character is going through at that moment," Phoenix said.
So when director Phillips told Phoenix's co-star, De Niro, that the actor refused to do a read-through, De Niro wasn't having any of it.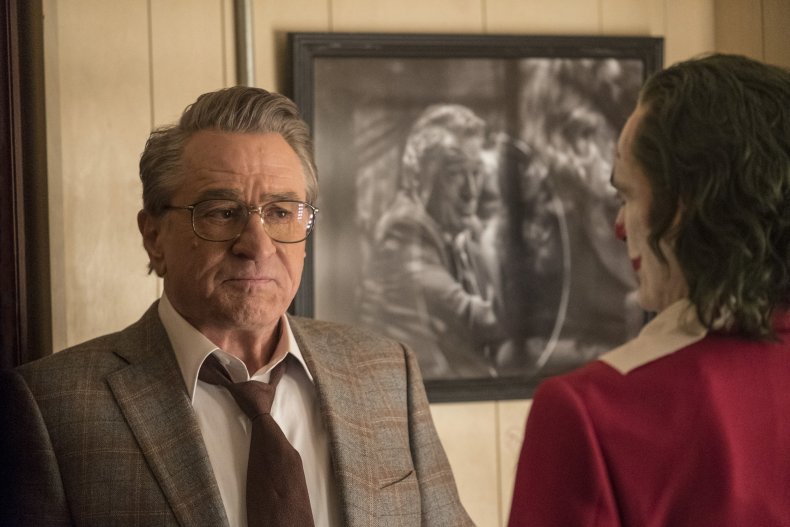 "Bob called me and he goes, 'Tell him he's an actor and he's got to be there, I like to hear the whole movie, and we're going to all get in a room and just read it,'" Phillips told Vanity Fair. "And I'm in between a rock and a hard place because Joaquin's like, 'There's no fucking way I'm doing a read-through,' and Bob's like, 'I do read-throughs before we shoot, that's what we do.'"
De Niro, as you might expect, got his way, and Phoenix showed up at the actor's office in lower Manhattan, reportedly mumbling his way through his lines. At one point Phoenix took a break to have a smoke. Phillips told the magazine that Phoenix said he "felt sick after that read-through" and insisted on leaving.
That's when De Niro took to the two to another room and addressed the issues the two were having. At the end of the meeting, Phillips recalled De Niro took Phoenix's face in his hands, kissed him on the cheek and said, "It's going to be okay, bubbeleh."
De Niro's soft approach is proof that no matter if he's playing the part of a murderous gangster or a warmhearted father-figure, De Niro will always get his way.
After that, the two actors were on the same page during filming, even though they barely spoke to one another on set.
"The first day we said good morning, and beyond that I don't know that we talked much," Phoenix told Vanity Fair.
De Niro confirmed to the magazine the two rarely spoke but says it wasn't out of dislike or malice, but rather because there was no point to speak.
"His character and my character, we didn't need to talk about anything," De Niro said. "We just say, 'Do the work. Relate as the characters to each other.' It makes it simpler and we don't [talk]. There's no reason to."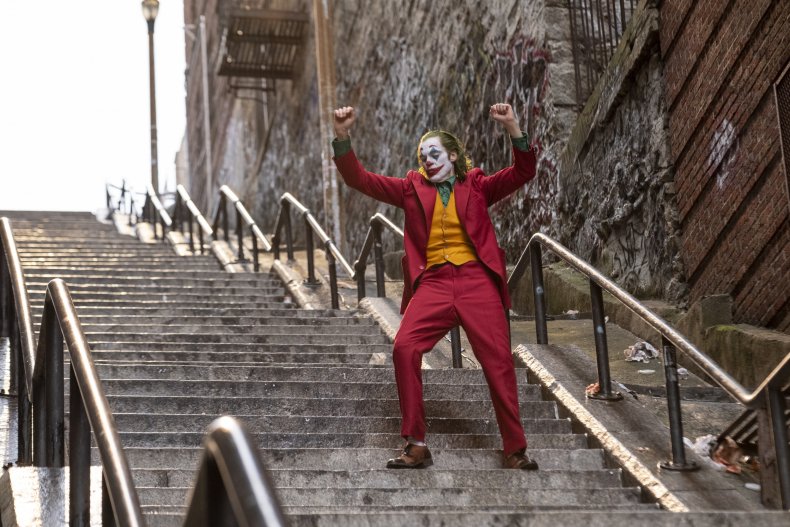 The new Joker has not been without controversy. Families of the victims of the 2012 Aurora, Colorado, shooting—where a gunman injured 70 people and killed 12 during a midnight showing of The Dark Knight Rises—published an open letter to Warner Bros. expressing their concerns over the film.
"My worry is that one person who may be out there—and who knows if it is just one—who is on the edge, who is wanting to be a mass shooter, may be encouraged by this movie," Sandy Phillips, whose 24-year-old daughter, Jessica Ghawi, was among the murdered that day, told The Hollywood Reporter.
Theaters nationwide are requesting an increased police presence during the screening and theater chains are banning the use of masks and costumes.
The highly anticipated film opens nationwide on Friday.