Robert Durst Gets Life in Prison for 2000 Murder of Friend Over Wife's Disappearance
Nearly one month after Robert Durst was found guilty of Susan Berman's murder, the New York millionaire has been sentenced to life in prison.
A Los Angeles jury ruled last month that the 78-year-old real estate heir shot and killed Berman execution-style in 2000. His conviction also included special circumstances of lying in wait and killing a witness, which carries a mandatory life sentence, and Durst will not be eligible for parole.
Durst was arrested and charged with first-degree murder shortly after the release of a six-part HBO documentary, The Jinx, which examined his life and included an alleged confession.
Prosecutors argued during months of testimony that Durst shot his close friend to prevent her from incriminating him in the disappearance of his first wife, Kathleen McCormack Durst, who went missing in 1982. Berman, 55, was found dead in Beverly Hills just one hour before she was scheduled to meet with the police.
"I was robbed, and my beautiful son was robbed, of an absolutely extraordinary brilliant person whose life was savagely taken," Deni Marcus, one of Ms. Berman's cousins, said during the four victim impact statements that were delivered to the judge, The New York Times reported.
Durst, who has difficulty hearing, followed the sentencing by watching a display of the spoken words and did not address Judge Mark E. Windham—who denied the defense's request for a new trial due to an "overwhelming evidence of guilt."
Dave Berman, another of the victim's cousins, said that he visited Berman's grave and told her she could rest easy knowing "justice has been done." He added that Durst should reveal where his wife's body is located so that her family can have closure.
Durst's sentencing comes five months after his trial resumed after being adjourned in March 2020 due to the pandemic.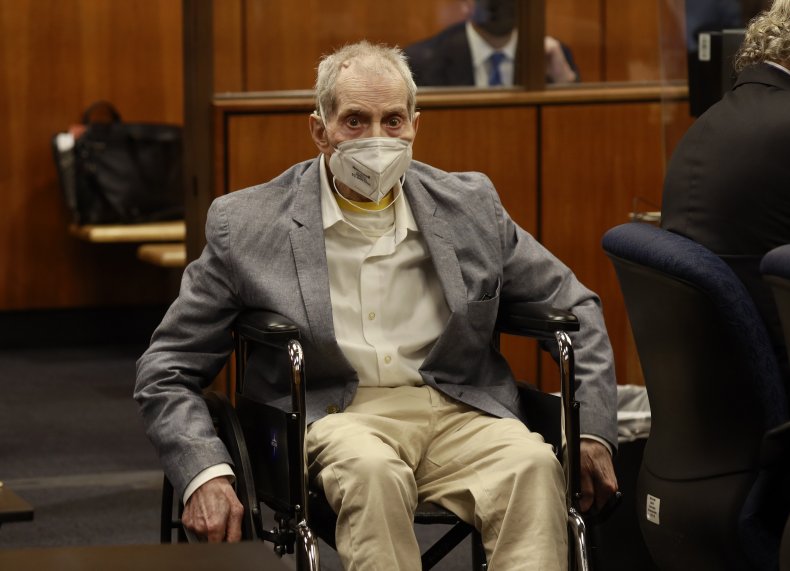 During the trial, prosecutors argued that Durst confessed to Berman he killed his first wife and that she helped him conceal the murder without sharing what she knew with police. Nearly 20 years later, Durst shot Berman in her California home to silence her.
Nick Chavin, a key witness and a mutual friend of the pair, testified that Durst told him, "It was her or me, I had no choice."
"Those nine words sum up the entire case," prosecutor Habib Balian told jurors. LA County prosecutors also called Durst a "narcissistic psychopath."
Durst denied killing both his wife and Berman but admitted that he was also willing to lie and perjure himself in court. His attorneys argued that the prosecutors' scenario was unproven because Durst had never been convicted of killing his wife Kathleen.
His sentencing comes nearly four decades after she went missing.
Following Durst's guilty verdict, the McCormack family issued a statement regarding Kathleen—who was declared legally dead in 2017 though her body was never found and no one was charged in the case.
"Today more than ever before it is clear that she was murdered by Robert Durst in Westchester County, New York on January 31, 1982. The evidence is overwhelming," they wrote. "The McCormack family is still waiting for justice. Kathie is still waiting for justice."
Durst has been accused of multiple violent crimes and was tried in 2001 for killing and dismembering his Texas neighbor, but he was ultimately acquitted. The millionaire was previously serving a seven-year prison sentence for illegally possessing a revolver prior to the murder trial.
While filming The Jinx, Durst was recorded speaking to himself while using the bathroom and the clip has long been considered incriminating against him.
"There it is. You're caught," he said. "He was right. I was wrong...What the hell did I do? Killed them all, of course."
Durst's sentencing comes as New York prosecutors are moving forward with the reopened case into his wife's disappearance. They are in the process of interviewing witnesses and will likely seek a first-degree murder indictment from a grand jury later this month.
Newsweek reached out to the Westchester County District Attorney's Office for comment.