Robert Durst on Ventilator With COVID Following Life Sentence for Murder: Lawyer
Robert Durst, a real estate heir sentenced to life in prison for murder on Thursday, has been placed on a ventilator with COVID-19, his attorney said on Saturday.
His attorney, Dick DeGuerin, told the Los Angeles Times that his client had been in "very bad condition" during the sentencing hearing. "He looked worse than I've ever seen him, and I was very worried about him," DeGuerin told the newspaper.
In an email to Newsweek, DeGuerin confirmed that Durst had contracted the disease. "That is all the medical information I am willing to share. I was very concerned about his condition in court on Thursday, as he was having difficulty breathing and speaking," DeGuerin wrote.
DeGuerin added that he plans on getting tested for the virus on Saturday.
DeGuerin told NBC News that he believed Durst was vaccinated, but didn't know if he had received a booster shot.
Durst, 78, was sentenced to life in prison without parole on October 14, nearly a month after a jury found him guilty of murdering Susan Berman.
The Los Angeles Times noted that a month before, when he was initially convicted, Durst wasn't in the room because he had been exposed to someone who had contracted the virus.
He had also been hospitalized for an unspecified health issue in June. Durst's sentencing came five months after his trial resumed after it had been delayed for more than year due to the COVID-19 pandemic.
The Times noted Saturday that it's unclear if anyone else "associated" with the sentencing hearing on Thursday, which was attended by dozens, had tested positive for the virus.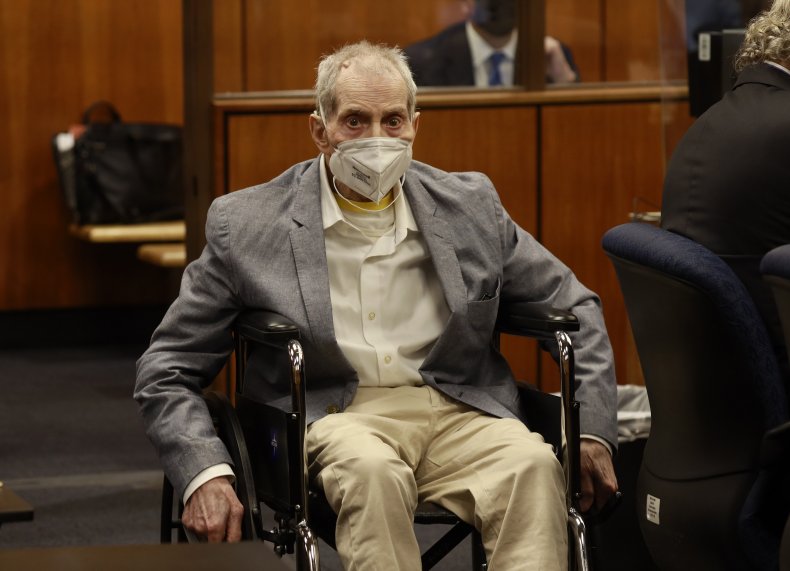 Newsweek reached out to the Los Angeles County Sheriff's Department for more information about the situation. In a response, a spokesperson said: "Per HIPAA laws, we cannot confirm that information."
During the trial, prosecutors argued that Durst shot Berman, his close friend, to prevent her from incriminating him in the disappearance of his first wife, Kathleen McCormack Durst, who went missing in 1982.
Berman was found dead in Beverly Hills just one hour before she was scheduled to meet with the police.
Durst was sentenced as prosecutors in New York reportedly plan to indict him for the death of his ex-wife.
The Associated Press reported on October 9 that Westchester District Attorney Mimi Rocah plans to bring the case to a grand jury this month.