Robert F. Kennedy Jr. Takes His Debunked Vaccine Concerns To Trump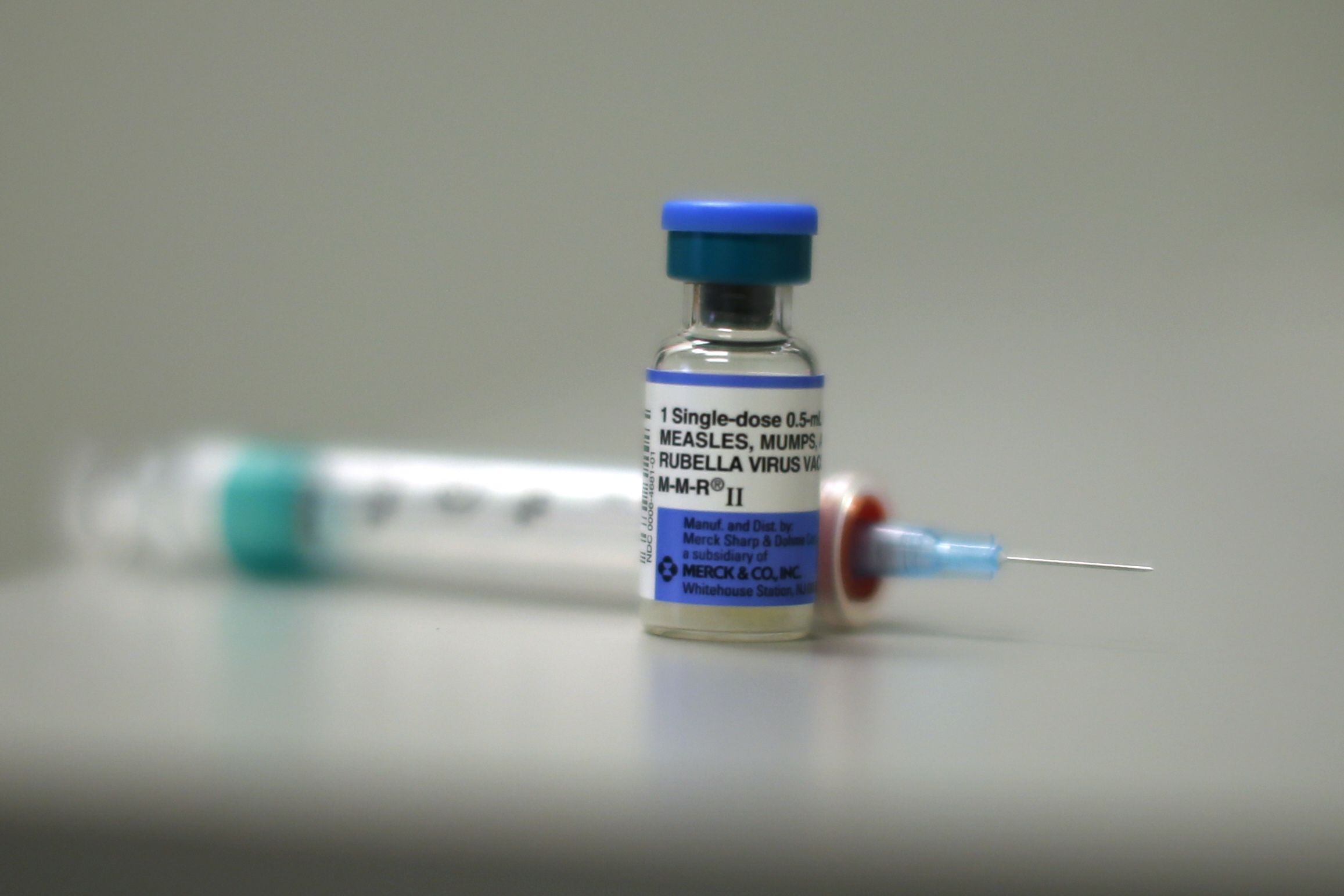 Three years ago, the eco-activist Robert Kennedy Jr. was in despair. None of his longtime allies in the public health and environmental community wanted to read his manuscript on the supposed link between vaccines and autism. He sent it to friends and colleagues. "No one will give it the time of day," he complained to me during an interview in 2014 for a story that ran in the Washington Post magazine. It's the kind of treatment he's grown used to since taking on an unpopular cause.
That all changed, at least briefly, on Tuesday when Kennedy received widespread news coverage after meeting with Donald Trump to discuss "vaccine safety." The outrage meter among health care professionals spiked off the charts. Many feared the worst. In Trump, Kennedy had found an unlikely ally who has previously expressed unwarranted concerns of a vaccine-autism link:
Independent medical researchers have thoroughly investigated the possibility of a vaccine-autism link and found no such connection. Kennedy has long insisted that the U.S. government is covering up evidence for the vaccine-autism link. This, too, has been thoroughly examined and debunked.
So what happens when you put these two like-minded conspiracy theorists in the same room for an hour?
When Kennedy emerged from the meeting, he told reporters that the president-elect had asked him "to chair a commission on vaccination safety and scientific integrity." The internet let out a primal scream.
For years, the mainstream media has either condemned or ignored Kennedy's strident vaccine fear-mongering, which dates back over a decade. In the mid-2000s, he published a notorious and widely publicized article in Rolling Stone that falsely accused federal health officials of hiding evidence of vaccine harm.
In 2014, when I learned of Kennedy's attempt to vindicate himself with a dubious work recycling the same claims from his discredited Rolling Stone article, I asked to interview him. When we met, he was upfront about the hit to his reputation. "Nobody wants to read this," he told me, pointing to the galleys of a soon-to-be published book on a vaccine preservative (thimerosal) that he argued can be linked to neurological disorders. (This view is not shared by mainstream science and in 2001 thimerosal was removed from most vaccines out of an abundance of caution.) He says his colleagues begged him: "Don't do this; you're going to destroy your credibility; you're making yourself radioactive."
"They're right," I told him.
"Yeah, but I don't have a choice," Kennedy said. "Because I know I'm not a crackpot."
In 2015, there were several measles outbreaks across the country. Some states, such as California, acted to tighten their vaccination laws. What did Kennedy do? He joined with anti-vaccine activists to visit these states and lobby against such legislation.
I asked him what he thought he was doing. We had a testy back-and-forth email exchange in which he said to me, among many other things: "You are complicit in a monumental Holocaust involving the agonizing torture and destruction of millions and millions and millions of innocent children. It's going to be pretty hard for you to hide behind feigned ignorance and pretend you didn't understand the consequences of your cowardice." There was little constructive dialogue between us after that.
On Tuesday, after word of the Kennedy-Trump meeting broke, the American Academy of Pediatrics put out a statement reiterating that "vaccines protect children's health and save lives. They prevent life-threatening diseases, including forms of cancer. Vaccines have been part of the fabric of our society for decades and are the most significant medical innovations of our time."
The swift reaction—combined with the harsh denunciations of Kennedy in media stories—must have spooked the Trump team. Hours after Kennedy declared that he was heading up a vaccine safety probe, Trump transition spokeswoman Hope Hicks issued a statement saying that the president-elect is merely "exploring the possibility of forming a commission on autism" and that "no decisions have been made at this time."
I wouldn't be surprised if Kennedy jumped the gun. He'd been consigned to the lunatic fringes, and now suddenly he had the ear of the most powerful person in the world. When would that happen again? If you watch the video of Kennedy fielding questions from reporters, you will detect a sly grin. That's the face of someone who is reveling in a moment he thought would never arrive, least of all in Trump Tower.
Kennedy had had little success with politicians, even those who shared his views on so many other things. Three years ago, I watched Kennedy argue his anti-vaccine case in private meetings with Democratic congressional leaders, including Bernie Sanders. It was obvious that Sanders and the others wanted no part of it. Kennedy knew it, too.
Over lunch in the Capitol later that day, a dejected Kennedy turned to Mark Hyman, a medical doctor who had worked on Kennedy's vaccine book that nobody else in Kennedy's reality-based circle wanted anything to do with. Hyman, a best-selling author of diet and "wellness" books, accompanied Kennedy to the D.C. meetings to provide medical gravitas. Kennedy wondered what their next move would be,
Hyman happened to be a trusted health adviser to Bill and Hillary Clinton. Kennedy suggested to Hyman that they wait for Hillary Clinton to become president in a few years. "You're close with them," Kennedy said to Hayman, implying that he could sway Hillary Clinton on their vaccine concerns. Hyman didn't seem that thrilled by the idea. There's also evidence that Clinton would not have been amenable.
The Trump meeting must have been a treat for Kennedy, after years of contending with the many in his progressive orbit who have been outwardly dismayed by his relentless anti-vaccine crusade. It's not clear whether Kennedy and Trump will meet again, or whether they will work together. But for the short time he was on it, Kennedy must have found that the Trump train was a very sweet ride.