Robert Fuller's Death Probe Petitions Get More Than 300,000 Signatures As Family Questions Suicide Theory
Two online petitions calling for an investigation into the death of Robert Fuller, a 24-year-old black man found hanging from a tree near Palmdale City hall in California, have collectively garnered more than 300,000 signatures as of Saturday evening.
Fuller, of Antelope Valley, was found dead early Wednesday morning by a passerby in Poncitlan Square. The city's coroner's office initially described the case an "alleged death by suicide," but the Los Angeles County Medical Examiner-Coroner's office walked back the remark, saying on Friday that Fuller's cause of death will be deferred pending a full autopsy and probe.
Los Angeles County Supervisor Kathryn Barger on Saturday formally requested the state's Attorney General Xavier Becerra launch a probe into his death. The request came after the deceased's family and local community members questioned what they believed to be a hurry by authorities to label his death a suicide, sparking concerns that foul play may have been involved.
As crowds gathered at Fuller's memorial in the courtyard behind Palmdale City Hall on Saturday, his sister, Diamond Alexander, expressed concern over the early decision to link his death to suicide.
"We want to find out the truth on what really happened," she said, according to the Los Angeles Times. "Everything they told us is not right. We just want the truth. My brother was not suicidal. He was a survivor. He was street smart."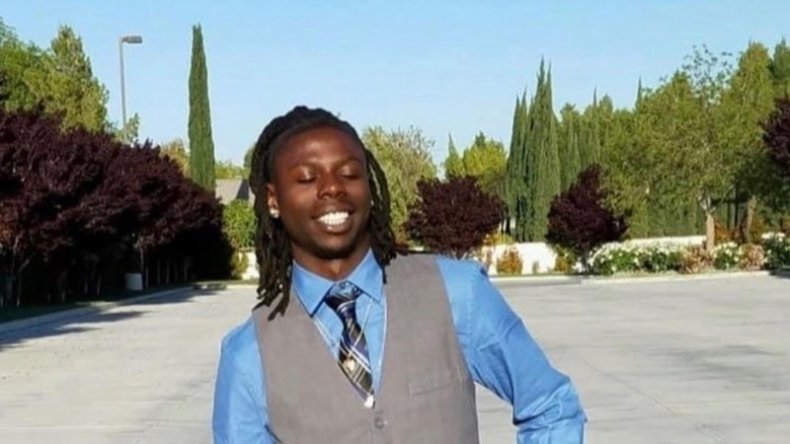 Two Change.org petitions launched about one day ago—named "Justice for Robert Fuller" and "Robert Fuller was found dead June 10, 2020, hanging from a tree outside City Hall Palmdale"—have already garnered 164,300 and 177,500 respectively at time of publication. Both fast-growing petitions are calling for an investigation into Fuller's death, with their goal set at 200,000 signatures each. Their collective goal of 400,000 signatures is expected to be reached by early Sunday morning.
Both petitions have alleged that Fuller's death could have been the result of a lynching. And if this is determined to be the case by investigators, signatories are calling for the persons responsible to be brought to justice.
In a statement emailed to Newsweek, Palmdale Mayor Steve Hofbauer called for California Attorney General Xavier Becerra to "help ensure the probe is a full and transparent process."
"We immediately questioned whether the obvious⁠—an African American hung in a tree in the civic center⁠—had been given adequate and thoughtful consideration before that preliminary impression was made," Hofbauer said.
Fuller's death has drawn significant media attention in the wake of the police killing of George Floyd, which sparked widespread protests across America against police brutality and systemic racial discrimination.
One of the Fuller petitions, which includes at the bottom "Black Lives Matter!," stated: "It is evident that Robert did not commit suicide. He was found hung from a tree right outside city hall. This is a clear case of intimidation by White Supremacists to show their [disdain] for Black Lives Matter movement, the protests to demand change for racial equality and police brutality reform."
The city of Palmdale officially threw their support behind calls for an independent investigation and autopsy into Fuller's death on Saturday. "The City of Palmdale is joining the family and the community's call for justice, and we do support a full investigation into his death," the city said in a statement. "We will settle for nothing less than a thorough accounting of this matter."