Robert Gates Raises Questions About Age, 'Intellectual Acuity' of Septuagenarians Trump, Biden, Sanders
Former Secretary of Defense Robert Gates questioned the "intellectual acuity" of the three men in their 70s in the 2020 presidential race: Donald Trump, Joe Biden and Bernie Sanders.
Gates, who served under Presidents George W. Bush and Barack Obama, told CBS News' Face the Nation in an interview Sunday that older men in their mid- to late 70s don't have the "kind of energy" needed to take on the presidency.
Trump became the oldest first-term president when he was sworn in at 70. If elected to a second term, he would be 74 at his inauguration. Biden is 76 and would be 78 when starting his first term, if elected. Sanders is the eldest of the group, at 77. By the next inauguration, in January 2021, the Vermont senator will be 79.
On Sunday, Gates doubled down on comments he made about Biden in his 2014 memoir, saying that while he is "impossible not to like," the former VP and six-term senator has been wrong on "every" foreign policy and national security issue in his 40-year career.
Gates said it is "problematic" the country has placed a trio of septuagenarians in the field of leading candidates. At 75, he said, he understands the limitations that come with age.
"I think I'm pretty busy and pretty active, but I think having a president who is somebody our age or older—in the case of Senator Sanders—I think it's problematic," he explained.
"I think that you don't have the kind of energy that I think is required to be president, I'm not sure you have the intellectual acuity that you might have had in your 60s," Gates added. "It's just a personal view. For me, the thought of taking on those responsibilities at this point in my life would be pretty daunting."
Gates, who pointed out he is a Republican, said he has "no idea" whom he'll vote for in 2020, noting how long it is until the election.
"I gave up predicting the future after leaving the CIA," Gates said. He added that he is "disappointed Republicans don't stand up [to Trump] more often for traditional Republican values," including fiscal discipline, internationalism and trade.
He said old age is "a question people ought to address" but observed that Ronald Reagan, whom he called a "great president," was 73 when he was elected to a second term.
In the wide-ranging interview with Face the Nation's Margaret Brennan, Gates tackled a series of issues. In particular, he said special counsel Robert Mueller's investigation is "not case closed."
In regard to China, Gates said the real problem is the "structural imbalance" in the way the two countries work with each other on trade, and he commended the Trump administration for trying to take on the issue.
"The Chinese place restrictions on joint ventures on foreign investment, require turnover of technology, they steal intellectual property," Gates lamented. He said Trump is—and should be—demanding reciprocity in trade negotiations with the Chinese and accused them of "cheating" the international community.
Gates literally laughed off Trump's comment last week that former Secretary of State John Kerry should be prosecuted under the Logan Act for allegedly speaking with Iranian leaders without the White House's approval.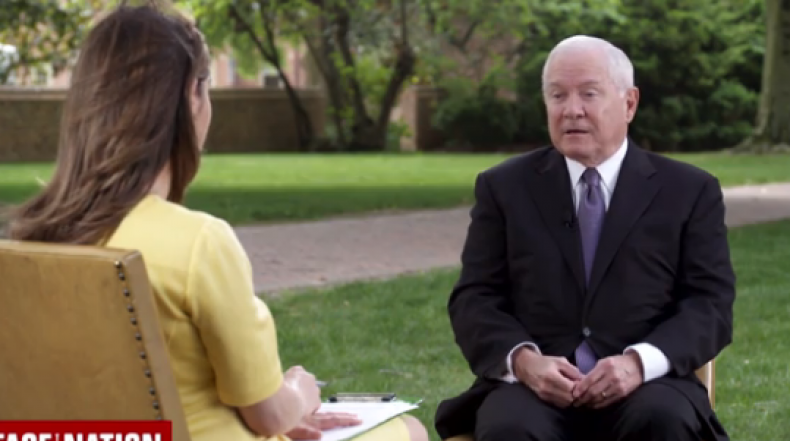 Robert Gates Raises Questions About Age, 'Intellectual Acuity' of Septuagenarians Trump, Biden, Sanders | U.S.