Robert Hyde Says He Was Only 'Playing' in Texts About Surveillance of Marie Yovanovitch
GOP congressional candidate Robert Hyde has denied being involved in surveillance of former U.S. Ambassador Marie Yovanovitch, saying he was "playing" in texts to Lev Parnas released by House Democrats on Tuesday.
The Connecticut Republican told Eric Bolling on Sinclair TV last night that messages he sent to Rudy Giuliani's indicted associate discussing surveillance of Yovanovitch were "just colorful," and said he was a "little landscaper from f****** Connecticut" when pressed on whether he had spied on the then-ambassador.
Hyde also denied being a "close associate" of Parnas, claiming he barely knew the businessman.
Documents released on Tuesday suggested the supporter of President Donald Trump texted Parnas with supposed notes on Yovanovitch, her whereabouts and what she was doing.
"She's talked to three people. Her phone is off. Computer is off," one message from March 2019 read. According to the documents, another pair of messages said: "Update she will not be moved special security unit upgraded force on the compound people are already aware of the situation my contacts are asking what is the next step because they cannot keep going to check people will start to ask questions.
"If you want her out they need to make contact with security forces."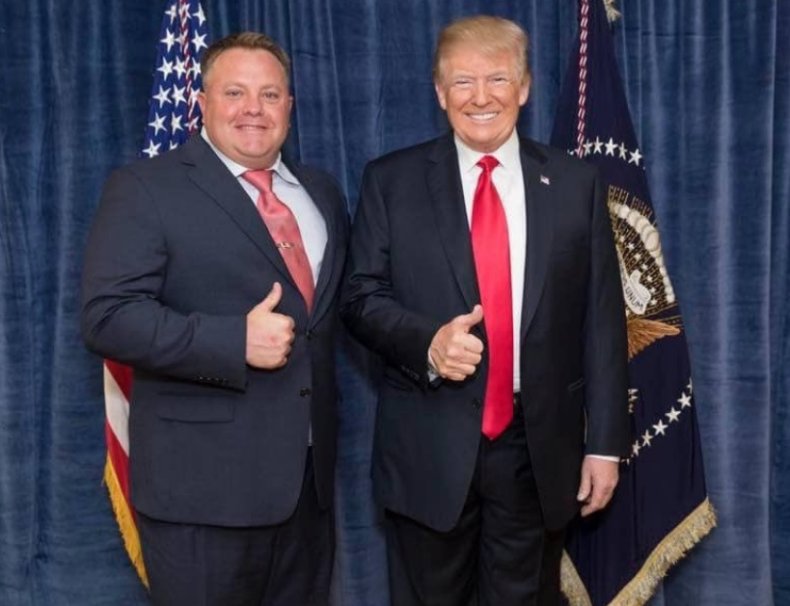 After handing the documents over to House lawmakers, Parnas told Rachel Maddow on Wednesday night that he didn't take the texts "seriously," and thought Hyde was "trying to make himself bigger than he was."
The Giuliani associate further clarified that he did not believe Hyde actually had Yovanovitch under surveillance.
Speaking to Bolling on America This Week yesterday, Hyde said: "You meet a bunch of these characters when you're out there in the fundraising, and events, and supporting candidates. We just had some colorful texts, had a few pops way back when I used to drink, and it's kind of unfortunate that the left ought to get their panties in a bunch."
Pressed again for a response to suggestions he surveilled Yovanovitch, the congressional candidate said: "I mean those are pretty heavy accusations. It was just colorful, we were playing. I thought we were playing. I didn't know he was so serious."
After a long pause, Bolling asked Hyde if he "had eyes on Marie Yovanovitch," referring to texts where he spoke of surveilling the ex-U.S. ambassador.
"Absolutely not, are you kidding me?" Hyde said. "I'm a little landscaper from f****** Connecticut. Come on."
He went on to argue that "the left" was more offended by his text messages than "supporting the Iranian protesters" or caring about the opioid crisis.
"I barely know the guy [Parnas]... I was told a long time ago who Lev was by a lot of people down in communities throughout this country, [who] would pull me aside, have meetings with me and tell me to stay away from the guy," Hyde said. "I was never a close associate of Lev Parnas."
The congressional candidate went on to say he liked the businessman's character and say they had "a lot of laughs," but suggested he had tried to "throw me under a bus somehow for joking around on WhatsApp."
Newsweek has contacted the candidate's company Finley Hyde & Associates for further comment, and will update this article with any response.
Robert Hyde Says He Was Only 'Playing' in Texts About Surveillance of Marie Yovanovitch | U.S.