Robert Jeffress: Controversial Pastor Attacks Dallas Mayor After Billboard Proclaiming America 'Christian' Nation Removed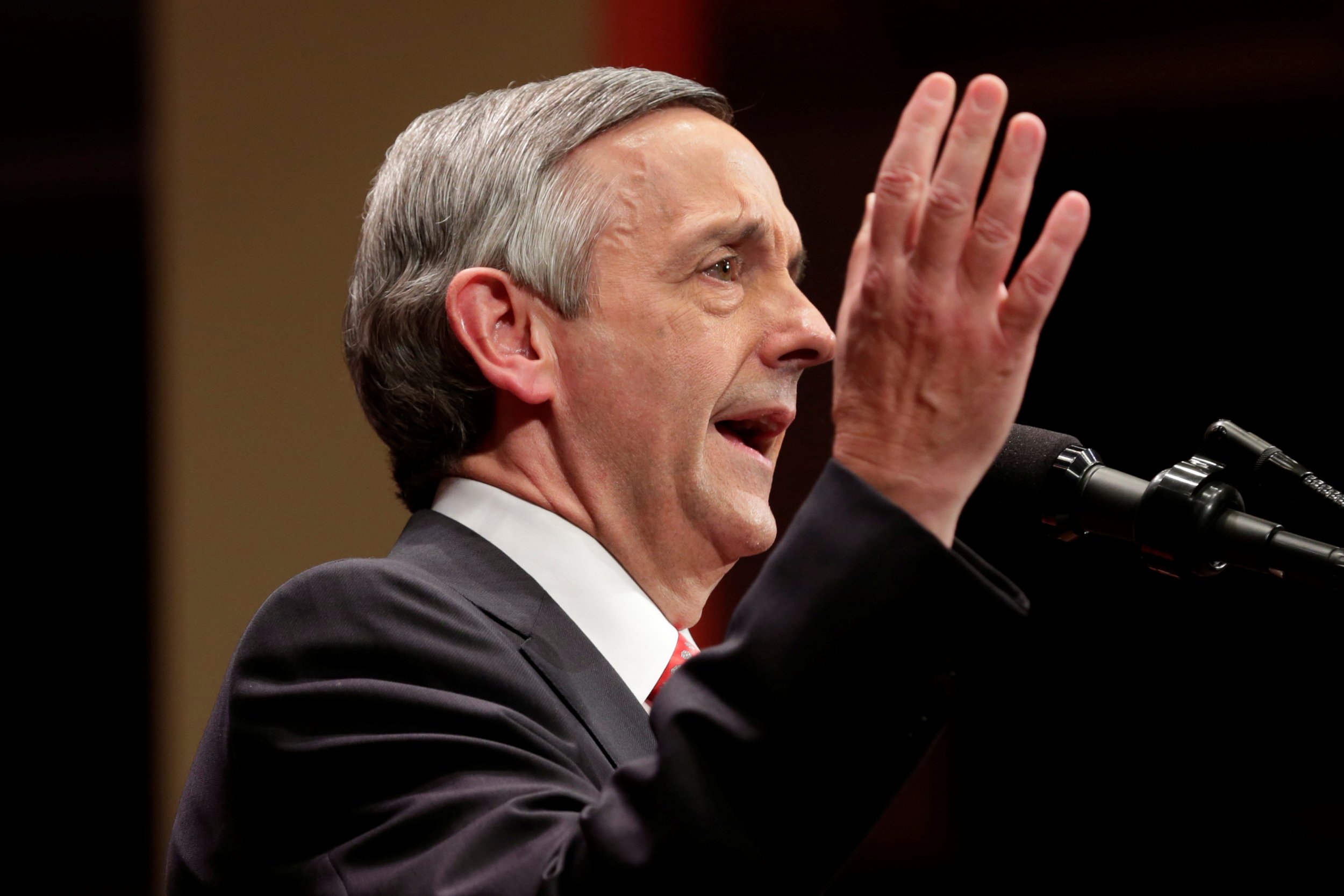 A church billboard in Dallas, Texas, proclaiming "America is a Christian Nation" has been removed after complaints from the community. The billboard had been heavily criticized by Dallas Mayor Mike Rawlings.
The billboard promoted an event Sunday at the First Baptist Dallas, a southern Baptist megachurch where controversial pastor Robert Jeffress preaches.
In an interview with Fox News Monday, Jeffress accused Mayor Rawlings of pressurizing billboard company Outfront Media into removing the ads.
"Liberals are the most intolerant people of all when it comes to ideas they disagree with," remarked Jeffress.
"He does not have the right to weigh in on this, to disparage our church and to directly or indirectly influence the billboard company," he said. "We think Mayor Rawlings has been hostile [to First Baptist Dallas]."
He also attacked a Dallas Morning News column criticizing the billboard, in which Rawlings was quoted.
"That is not the Christ I follow," Rawlings said as quoted in the column by Robert Wilonsky.
"It's not the Dallas I want to be—to say things that do not unite us but divide us. I never heard those words, that voice come out of Christ. Just the opposite. I was brought up to believe: Be proud of yours, but do not diminish mine," said Rawlings.
Jeffress claimed that when the billboard company called the church to say it was removing the advert, it cited the column.
"I want to make it clear: We respect the right of the billboard company not to propagate a message they aren't comfortable with," he said Monday.
The company, in a statement to the Dallas Morning News, denied claims its decision was influenced by Mayor Rawlings' comments. It said it had also weighed similar considerations regarding adverts from Jewish groups, Muslims and Scientologists.
Scott Goldstein, a spokesman from Rawlings' office, told evangelical news outlet CBN News they had "no communication" with Outfront Media.
"A Dallas Morning News reporter asked him his opinions about the billboard and he shared his thoughts. That was the extent of it," Goldstein said.
Jeffress is no stranger to accusations of divisiveness, and has been criticized for claiming that Jews, Mormons and Muslims are going to hell, as well as describing the Catholic church as an "instrument of Satan."
Jeffress is one of President Donald Trump's closest evangelical advisers, and there was controversy in May after he led prayers at the opening of the new U.S. embassy in Jerusalem.