Robert Kennedy's 90-Year-Old Widow Joins Hunger Strike Against Trump Immigration Policy
Ethel Kennedy, the widow of former Attorney General and New York Senator Robert F. Kennedy, joined a growing hunger strike on Wednesday protesting President Donald Trump's immigration policy that allows for the separation of undocumented immigrant families.
Four organizations, including Robert F. Kennedy Human Rights, joined forces to create the protest, titled, Break Bread, Not Families, which is a 24-hour hunger strike spanning the course of 24 days to call attention to the 2,400 children separated from their parents.
The Break Bread, Not Families website argued that Trump's "zero tolerance" immigration policy caused a "humanitarian crisis" along the border and criticized the "indefinite detention of families."
"This 'solution' is not only immoral, it is also illegal under U.S. and international law," the website stated.
Newsweek reached out to Robert F. Kennedy Human Rights but did not receive a response in time for publication.
Related: Democrats warn separating children at border traumatizes them
While the strike, which began on Saturday, lasts 24 days, each participant is asked to fast for a 24-hour period after which they can then "pass" it to someone else, or they can opt to continue fasting themselves.
In a statement to The Boston Globe, Ethel Kennedy said Trump's executive order, which halted the practice of separating families, was "not a time to declare victory and go home."
"Generations of Americans did not toil and sacrifice to build a country where children and their parents are placed in cages to advance a cynical political agenda," she said in her statement.
Following the murder of her husband in 1968, Ethel Kennedy became an activist and spent her time advocating for various social causes. That same year, she founded the Robert F. Kennedy Human Rights organization. In 2014,she was also awarded the Presidential Medal of Freedom by then-President Barack Obama.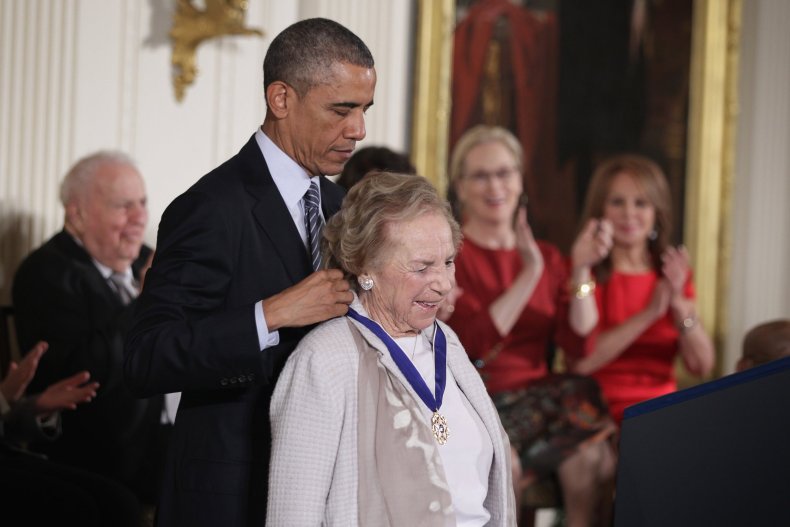 Ethel Kennedy joined 38 other members of the Kennedy family in the fast, including her grandson, Massachusetts Representative Joe Kennedy III, and daughter Kerry Kennedy.
"We want to find a way for people who can't go down to the border to actually do something themselves at home that is concrete and creates change, and this is what we're calling on them to do," Kerry Kennedy told The Boston Globe.
She added that her mother hasn't started the fast yet, but is "very joyful about it."
Joe Kennedy wrote on Twitter that if his grandma is willing to fast to end family detention, "You better believe you'll find me right by her side."
Other notable names involved in the protest include actors Lena Dunham, Martin Sheen and Alec Baldwin, as well as former United States Ambassador to Luxembourg David McKean.
In addition to fasting, participants are asked to donate the amount of money they would have spent on food that day to Break Bread, Not Families.
Related: Trump needs enough judges to process asylum seekers to make 'zero tolerance' policy work