Who Is Robert Lloyd Schellenberg? China Sentences Canadian to Death as Row Over Huawei CFO's Arrest Continues
A court in northeast China's Liaoning Province has sentenced Canadian citizen Robert Lloyd Schellenberg to death for alleged drug smuggling, as tensions persist between Beijing and Ottawa over the arrest of Huawei CFO Meng Wanzhou last month in Vancouver.
Schellenberg was detained by Chinese authorities back in 2014, accused of being instrumental to drug smuggling within the country as well as having connections to international drug trafficking, the South China Morning Post reported. He was sentenced to 15 years in prison and fined $22,000. He appealed the sentence, but the effort backfired in December 2018, with the court ruling that his initial sentence was too lenient in light of the charges he'd been convicted of.
Now, the court has ruled that he should be executed. Schellenberg will have the right to appeal the sentence, according to Reuters. But experts have suggested the case is actually part of a greater feud between Canada, China and the U.S., involving the detention of Meng in early December 2018. The Chinese tech executive remains under house arrest in Vancouver after she was arrested over U.S. allegations that her company misled banks to circumvent sanctions on Iran. She faces possible deportation to the United States.
"It is obvious … that Schellenberg's fate will have little to do with his actual guilt or innocence," Donald Clarke, a professor at George Washington University specializing in Chinese law, told the South China Morning Post. Clarke pointed out that retrials are generally a rare occurrence in China.
"If the Chinese government has an innocent explanation for all the unusual features of this case, I hope it will provide it—otherwise, I don't know how to understand this case other than as a simple threat," he said.
William Nee, a China researcher at Amnesty International, expressed similar sentiments to the Hong Kong–based newspaper. "It's clear that Chinese courts are not independent, and by systematic design, courts can be influenced by Communist Party officials," he said.
Speaking to reporters on Monday morning, Canadian Prime Minister Justin Trudeau told reporters that the sentence was of "extreme concern" to his government. "China has chosen to begin to arbitrarily apply (the) death penalty ... as in this case," he said.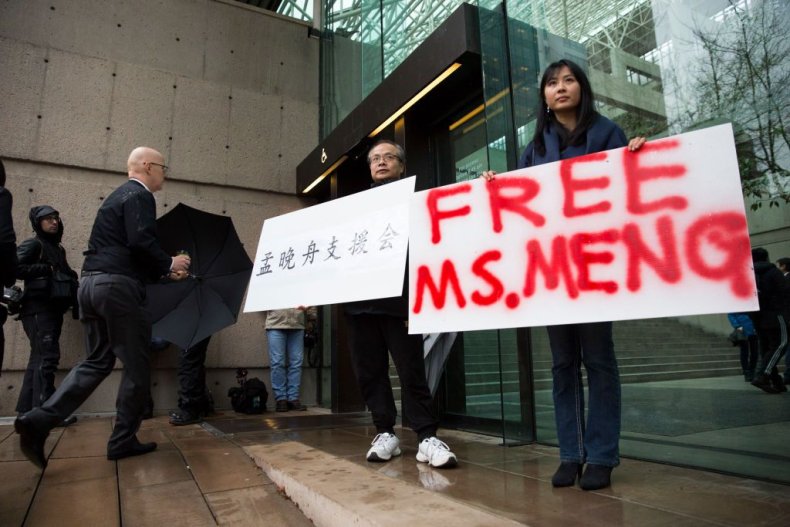 China also has detained former Canadian diplomat Michael Kovrig, who now works for a foreign think tank, and Canadian businessman Michael Spavor, in what is widely considered to be retaliation for Meng's arrest.
Huawei recently surpassed Apple to become the world's second-largest telecommunications equipment and service provider, after South Korea's Samsung. Meng's prominent role in such a high-profile international tech company has led some U.S. analysts to compare her to Facebook's Sheryl Sandberg. Washington had previously raised concerns about the Chinese conglomerate due to its links to China's government.
Experts speculated that President Donald Trump may use Meng as a bargaining chip in ongoing trade negotiations with China. The president has said he was open to such a possibility, but Canadian leaders insisted that their nation's courts operate independently of government or foreign interference, and dismissed any connection to the trade dispute.
Editor's note: This article was updated to include comments made by Canada's Prime Minister Justin Trudeau.