Live Updates: Here's All You Need to Know about Robert Mueller's Congressional Testimony
Welcome to Newsweek's live blog as we watch Robert Mueller's testimony about his 22 month Russia investigation on Wednesday July 24.
3.30pm: Mueller has left the building and so have we! This concludes our live coverage.
3.15pm: Mueller defended his decision not to subpoena President Trump to interview him in person. "There's a balance" he said between gathering evidence and "how much time you're willing to spend in the courts litigating the interview with the president." He said "we had to make a balanced decision."
3.07pm: "I hope this is not the new normal, but I fear it is," Mueller says when asked about political campaigns asking for help from foreign adversaries in the future.
3.00pm: The hearing is slinking towards it's finale now, Republicans have finished their questioning and we're now hearing from the Democrats who haven't spoken yet. In a few minutes, Mueller will be able to go back into retirement.
2.51pm: In the previous hearing Mueller stressed that we were "underplaying" the extent and importance of Russian interference. This afternoon he said "They're doing it as we sit here and they expect to do it during the next campaign."
2.50pm: President Donald Trump's lawyer, Jay Sekulow, issued a statement about Mueller: "This morning's testimony exposed the troubling deficiencies of the special counsel's investigation. The testimony revealed that this probe was conducted by a small group of politically biased prosecutors who, as hard as they tried, we're unable to establish either obstruction, conspiracy, or collusion between the Trump campaign and Russia. It is also clear that the special counsel conducted his two-year investigation unimpeded. The American people understand that this issue is over. They also understand that the case is closed."
2.45pm: There was a lot of protest around Zebley being sworn in this afternoon but he has not answered one question thus far.
2.35pm:
2.30pm: We're back. I got some coffee during the break and I hope you did, too!
Former 2020 candidate Eric Swalwell is kicking things off, and he line of questioning is pretty similar to Schiff's. Mueller did tell him that he believed the Trump campaign used encrypted messaging systems which hurt his investigation.
2.16pm: The hearing is now half-over and there will be a 5-10 minute break.
2.15pm: Mueller is asked about Trump's tweets saying that he "loves" WikiLeaks. "Problematic," says Mueller, is an understatement. He later adds that it was "disturbing and also subject to investigation."
2.15pm: Mueller is asked what message he wants the American people to take away from his report. He calls it a "living document" and says he wants it to act as a "flag" to politicians in power.
2.10pm: Republican Representative Brad Wenstrup attempted to get Mueller to admit that because the final report did not discuss a meeting between Julian Assange and Paul Manafort, no such meeting occurred. "I'm not sure I agree with that assumption," Mueller said while confirming there was no mention of a meeting in the report.
2.00pm: Republican Representative Mike Turner led a heated exchange with Mueller. He came with a number of books and a copy of the Mueller report marked with red post-its. Turner appeared to want to prove that there is no legal reason that Mueller could not fully exonerate the president. "It's a meaningless word that has no legal meaning and it has colored your entire report," he said of the term. The exchange didn't go very far, but was very theatrical, complete with props.
1.48pm: Democratic Representative Terri Sewell pushed Mueller to comment on Donald Trump Jr. and Jared Kushner's meeting with a Kremlin-linked lawyer during the 2016 presidential campaign in Trump Tower.
Sewell asked if it was the responsibility of political campaigns to report "offers of foreign assistance to the FBI." Mueller responded that "I would have thought that is something they ought to do."
1.44pm: President Donald Trump's 2020 campaign team just sent out an email blast falsely claiming in all caps "MUELLER CONFIRMS: NO COLLUSION, NO OBSTRUCTION, TOTALLY UNPRECEDENTED TREATMENT."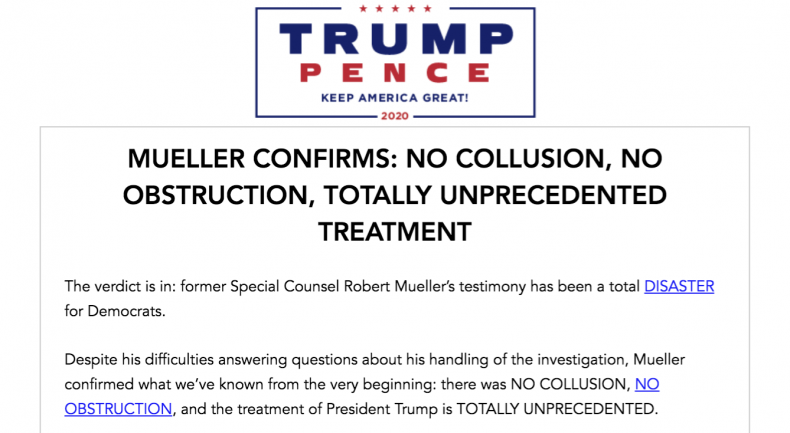 1.35pm: Representative John Ratcliffe, who made a big splash this morning, is back up. He asks to clarify the Lieu exchange once more. Mueller says "What I want to clarify is that we did not make a determination with regard to culpability."
Ratcliffe is taking a softer tone than he did this morning, perhaps someone on his team told him to tone it down.
1.25pm: Nunes' line of questioning has become quite confusing, he has an image of British Prime Minister Boris Johnson and Joseph Mifsud. 'What we are trying to figure out here, Mr. Mueller, is if our NATO allies or Boris Johnson had been compromised," he says. Mifsud is a Maltese academic who worked with George Papadopoulos and has been accused of being a connection between the Trump campaign and Russia.
1.22pm: There appear to be two strategies Republicans are using to discredit the report and Mueller, and they contradict one other. One group claims that the report was highly partisan and unfair and the other says that the report clearly proved President Trump did not obstruct or collude.
1.20pm: Nunes is focusing on what happened before the investigation began, which Mueller said he would not comment on.
1.20pm: Schiff is now going through a very lengthy list of Trump associates who pled guilty to lying over the course of the investigation.
1.15pm: Mueller clarified his response to Representative Ted Lieu this morning, which was a big attention-grabber. Mueller agreed earlier that he had not charge President Trump with obstruction because of a 2000 legal ruling by the Department of Justice. He said this afternoon that he did not agree with that assertion.
1.15pm: Mueller is now giving his opening statement, much like the last one he tells Congress that he will not discuss the Steele dossier and will not be "making any judgments or offering opinions about the guilt or innocence."
1.10pm: Republicans say they will not address any questions to Aaron Zebley, Mueller's close aide who assisted in the investigation and who was sworn in to also speak at today's hearing on Mueller's request.
Nunes called this action, "highly unusual." Schiff responds that he realizes there "is an angry man down the street," but that President Donald Trump's feelings about Zebley do not bother him.
1.08pm: Trump weighs in
1.07pm: The Nunes testimony focuses on Hillary Clinton, calls collusion with Russia a "hoax" and "conspiracy theory."
This hearing feels much more low-energy than the last.
1.05pm: On to Intelligence Committee ranking member Representative Devin Nunes. Nunes was once a golden child of the Trump administration but has reportedly been on the outs since he failed to prove that the Obama administration had illegally spied on the Trump campaign.
He begins his speech, "welcome, everyone, to the last gasp of the Russia collusion conspiracy."
1.00pm: Some standout parts of Schiff's opening statement.
"Your report tells another story as well. For the story of the 2016 presidential election is also a story about disloyalty to country, about greed, and about lies."
"A crime is the violation of a law written by Congress. But disloyalty to country violates the very obligation of citizenship, our devotion to a core principle on which our nation was founded, that we, the people, not some foreign power that wishes us ill, we decide, who shall govern, us."
12.55pm: We've been gaveled in and House Intelligence Chairman Adam Schiff is giving his opening statement. This meeting will likely focus more on the first part of Mueller's report which was about Russian meddling, we can also expect a lot of Democrats to talk about a "disloyalty to country."
12.50pm: And we're back! People are returning to their seats and the House Intelligence Committee hearing with former special counsel Robert Mueller is about to begin. The meeting is getting a late start, it was supposed to begin about an hour ago.
12.40pm: Hot takes on Mueller's testimony this morning are rolling in, and there appear to be three major camps: Republicans who say that this was a "disaster for Democrats," media sources and political moderates who say Democrats got what they wanted out of Mueller, but his deflection of questions and slow, terse answers made for bad optics, and Democrats who say Mueller's testimony was incredibly damaging to the president and that optics don't matter.
12.30pm: If you're looking for a final tally, Mueller refused to answer questions a grand total of 123 times during this morning's hearing.
12.10pm: The first hearing of the day has concluded, the second was supposed to begin at 12pm but will likely be delayed for a short break. We'll also take a short break here and be back with coverage as soon as the second portion of the day starts up.
12.05pm: As the hearing entered overtime, Republicans began attempts to delay the testimony even further. Representative Mike Johnson interrupted the hearing with a "point of inquiry" and asked Chairman Jerry Nadler "was the point of this hearing to get Mr. Mueller to recommend impeachment?
Nadler responded "that is not a fair point of inquiry" and let Democrats continue with their questioning.
12.00pm: Mueller had another heated exchange with Republican Kelly Armstrong, who accused the former special counsel of leading a politically-biased team.
"It's simply not enough you vouch for your team. No perceived bias can exist. I can't imagine a single prosecutor or judge that I have ever appeared in front of would be comfortable with these circumstances where over half of the prosecutorial team had a direct relationship to the opponent of the person being investigated," Armstrong said.
Mueller responded in an uncharacteristically long response, "we strove to hire those individuals that could do the job. I've been in this business for almost 25 years, and in those 25 years, I have not had occasion once to ask somebody about their political affiliation. It is not done. What I care about is the capability of the individual to do the job and do the job quickly and seriously and with integrity," he said.
11.57am: All Republicans have asked their question, but the hearing is going into overtime to allow the remaining Democrats to ask their questions.
11.50am: Mueller cracked a joke in what has been a very dry hearing thus far. Democratic Representative Sylvia Garcia asked Mueller if she could face five years in prison for lying to Congress. Initially Mueller answered with one word, "yes," he said. "Well, wait," he joked. "It's Congress." The comment got a laugh from the room.
11.45am: Mueller has let Republican criticism wash over him for the most part, but during a tense questioning by Representative Tom McClintock he fought back (a little bit). McClintock suggested that the report was politically motivated and biased, he also falsely claimed that there was no connection between Russian troll farm, the Internet Research Agency, and the Kremlin.
During the questioning, Mueller said things like, "I don't necessarily credit what you're saying occurred," and "I would again dispute your characterization of what occurred in that proceeding." In the end, he sternly told McClintock that "I don't think you have reviewed a report that is as thorough, as fair, as consistent as the report that we have in front of us."
11.30am: Republican Representative Debbie Lesko, who aligns with the Freedom Caucus used her five minutes to chide Mueller for citing The Washington Post and New York Times in his report but not Fox News.
11.25am: We've heard more about what Mueller isn't willing to talk about than what he is. He has deflected or refused to answer questions over 80 times so far in this hearing.
11.20am:
11.10am: In an exchange with Democratic Representative Ted Lieu, Mueller seemed to indicate that the only reason he did not indict President Trump was because of a 2000 Justice Department Office of Legal Counsel memo that said you cannot indict a sitting president.
"The reason, again, that you did not indict Donald Trump is because of OLC opinion stating that you cannot indict a sitting President, correct?" Lieu asked.
"That is correct," Mueller said.
This seems to mean that Mueller may have recommended an indictment if it weren't for that one legal memo. It also contradicts what Attorney General William Barr said in May. Barr testified to Senate that in a private meeting Mueller "reiterated several times in a group meeting that he was not saying that but for the OLC opinion he would have found obstruction."
11.00am: With about an hour left in this first hearing, some 2020 Democratic candidates are weighing in about impeachment.
10.50am: Republican Representative Ken Buck asked Mueller if he could "charge the president with a crime after he left office?"
Mueller, in what has become a pattern, answered with a single word, "yes."
Buck then clarified, "you believe that you could charge the president of the United States with obstruction of justice after he left office?"
Mueller responded once again with a simple "yes."
10.40am: Former White House press secretary Sarah Huckabee Sanders has weighed in on the hearing.
"Didn't take long for Mueller to once again vindicate President Donald Trump. No collusion. No obstruction. And now Mueller all but admits it was all along a total witch hunt," she wrote in response to a line of questioning by Republican Representative John Ratcliffe.
Ratcliffe asked Mueller if he could think of another instance where the Justice Department "determined that an investigated person was not exonerated because their innocence was not conclusively determined."
Mueller responded that "I cannot, but this is a unique situation."
Huckabee Sanders added in another tweet that "what's been clear to all but the liberal media is this was a partisan investigation run by Democrats out to destroy Donald Trump with Mueller as the figurehead. Thank you House Democrats for calling today's hearing and exposing the truth for all Americans to see."
It has been reported that Ratcliffe is currently vying for a role in the Trump White House.
10.30am: Mueller has referred Congress back to his report at least 28 times so far in the first two hours of his testimony.
10.25am: Republican Representative Louis Gohmert asked Mueller repeatedly about his relationship with former FBI director James Comey. Mueller denied he was "good friends" with Comey.
"We both started off at the Justice Department about the same time," Mueller said but also said he didn't speak with him in the six months leading up to his appointment to special counsel.
Still, Donald Trump Jr. jumped on the claim, retweeting and tweeting multiple times about the relationship between Comey and Mueller.
Comey himself responded to the line of questioning.
"I admire the man, I like the man. I have not spoken to him in three years," Comey said. "He doesn't know my children's names, I don't know his. He's a great American. He's not a personal friend of mine, but he is a great American."
10.20am: The second half of the first House hearing is now back in session after a short break.
10.00am: OLC Opinion Explained: Why Robert Mueller Couldn't Indict Trump, Despite 10 Obstruction Incidents
9.52am: Robert Mueller Contradicts Donald Trump Outright: The President Was Not Exonerated
9.50am: Representative Hank Johnson asked Mueller if the president told White House counsel Don McGahn to fire him as special counsel while the investigation was ongoing. Mueller confirmed that he did.
9.45am: We've been hearing a lot of "It's not my purview." and "yes" or "no" single word answers, which is hurting the flow of both the Democratic and Republican line of questioning.
9.39am: Democratic Representative Steve Cohen asked Mueller if the president attempted to get former Attorney General Jeff Sessions to unrecuse himself from the investigation more than once.
Mueller: "That's correct."
Mueller said he knew personally of two times that the president attempted to get Sessions to unrecuse himself from the investigation.
9.24am:
Democratic Representative Sheila Jackson Lee: Does your report state there is sufficient factual and legal basis for further investigation of potential obstruction of justice by the President?
Mueller: Yes.
Lee: Is true that obstruction of justice can be committed to protect non-criminal interests as well as criminal ones?
Mueller: Yes.
Lee: Is it true that obstruction of justice warrants a lot of time in jail?
Mueller: Yes.
9.16am:
Democratic Representative Zoe Lofgren of California asked Mueller if "the Russian government perceived it would benefit from one of the candidates winning." Mueller answered positively.
Lofgren then asked which candidate that would be.
"Well, it would be Trump," said Mueller.
9.12am: Representative Doug Collins began Republican questioning by asking Mueller whether "collusion" and "conspiracy" were the same thing. When Mueller said they weren't, Collins pointed to a part of the report where he believed Mueller said they were. The part of the report, however, was talking about "corporate collusion" and not "collusion with Russia."
Read the portion of the report here: "Collusion is not a specific offense or theory of liability found in the U.S. Code; nor is it a term of art in federal criminal law. To the contrary, even as defined in legal dictionaries, collusion is largely synonymous with conspiracy as that crime is set forth in the general federal conspiracy statute."
8.59am:
Nadler: Did the president refuse to request to be interviewed by you and your team?
Mueller: Yes.
Nadler: And is it true that you tried for more than a year to secure an interview with the president?
Mueller: Yes.
And is it true that you and your team advised the President's lawyer that, quote, an interview with the President is vital to our investigation, closed quote?
Mueller: Yes.
Nadler: And is it true you also, quote, stated that it is the interest of the Presidency and public for an interview to take place, closed quote?
Mueller: Yes.
Nadler: But the President still refused to sit for on interview by you and your team?
Mueller: True.
8.58am: Mueller: "The president was not exculpated for the acts he allegedly committed."
8.54am: Questioning has begun and former special counsel Mueller has already refuted a line that President Donald Trump regularly repeats. Chairman Jerry Nadler asked, "did you totally exonerate the president?" Mueller simply responded, "no."
8.52am: Former special counsel Robert Mueller's full opening statement:
Good morning Chairman Nadler, Ranking Member Collins, and members of the Committee.

As you know, in May 2017, the Acting Attorney General asked me to serve as Special Counsel. I undertook that role because I believed that it was of paramount interest to the nation to determine whether a foreign adversary had interfered in the presidential election.

As the Acting Attorney General said at the time, the appointment was "necessary in order for the American people to have full confidence in the outcome."

My staff and I carried out this assignment with that critical objective in mind: to work quietly, thoroughly, and with integrity so that the public would have full confidence in the outcome.

The order appointing me as Special Counsel directed our Office to investigate Russian interference in the 2016 presidential election. This included investigating any links or coordination between the Russian government and individuals associated with the Trump campaign. It also included investigating efforts to interfere with, or obstruct, the investigation.

Throughout the investigation, I continually stressed two things to the team that we had assembled.

First, we needed to do our work as thoroughly as possible and as expeditiously as possible. It was in the public interest for our investigation to be complete, but not to last a day longer than necessary.

Second, the investigation needed to be conducted fairly and with absolute integrity. Our team would not leak or take other actions that could compromise the integrity of our work. All decisions were made based on the facts and the law.

During the course of our investigation, we charged more than 30 defendants with committing federal crimes, including 12 officers of the Russian military. Seven defendants have been convicted or pled guilty.

Certain of the charges we brought remain pending today. For those matters, I stress that the indictments contain allegations, and every defendant is presumed innocent unless and until proven guilty.

In addition to the criminal charges we brought, as required by Justice Department regulations, we submitted a confidential report to the Attorney General at the conclusion of the investigation. The report set forth the results of our work and the reasons for our charging and declination decisions. The Attorney General later made the report largely public.

As you know, I made a few limited remarks about our report when we closed the Special Counsel's Office in May of this year. There are certain points that bear emphasis.

First, our investigation found that the Russian government interfered in our election in sweeping and systematic fashion.

Second, the investigation did not establish that members of the Trump campaign conspired with the Russian government in its election interference activities. We did not address "collusion," which is not a legal term. Rather, we focused on whether the evidence was sufficient to charge any member of the campaign with taking part in a criminal conspiracy. It was not.

Third, our investigation of efforts to obstruct the investigation and lie to investigators was of critical importance. Obstruction of justice strikes at the core of the government's effort to find the truth and to hold wrongdoers accountable.

Finally, as described in Volume 2 of our report, we investigated a series of actions by the President towards the investigation. Based on Justice Department policy and principles of fairness, we decided we would not make a determination as to whether the President committed a crime. That was our decision then and it remains our decision today.

Let me say a further word about my appearance today.

It is unusual for a prosecutor to testify about a criminal investigation, and given my role as a prosecutor, there are reasons why my testimony will necessarily be limited.

First, public testimony could affect several ongoing matters. In some of these matters, court rules or judicial orders limit the disclosure of information to protect the fairness of the proceedings. And consistent with longstanding Justice Department policy, it would be inappropriate for me to comment in any way that could affect an ongoing matter.

Second, the Justice Department has asserted privileges concerning investigative information and decisions, ongoing matters within the Justice Department, and deliberations within our office. These are Justice Department privileges that I will respect. The Department has released the letter discussing the restrictions on my testimony.

I therefore will not be able to answer questions about certain areas that I know are of public interest. For example, I am unable to address questions about the opening of the FBI's Russia investigation, which occurred months before my appointment, or matters related to the so-called "Steele Dossier." These matters are the subject of ongoing review by the Department. Any questions on these topics should therefore be directed to the FBI or the Justice Department.

As I explained when we closed the Special Counsel's Office in May, our report contains our findings and analysis and the reasons for the decisions we made. We conducted an extensive investigation over two years. In writing the report, we stated the results of our investigation with precision. We scrutinized every word.

I do not intend to summarize or describe the results of our work in a different way in the course of my testimony today. As I said on May 29: the report is my testimony. And I will stay within that text.

And as I stated in May, I also will not comment on the actions of the Attorney General or of Congress. I was appointed as a prosecutor, and I intend to adhere to that role and to the Department's standards that govern it.

I will be joined today by the Deputy Special Counsel, Aaron Zebley. Mr. Zebley has extensive experience as a federal prosecutor and at the FBI, where he served as Chief of Staff. Mr. Zebley was responsible for the day-to-day oversight of the investigations conducted by our Office.

I also want to again say thank you to the attorneys, the FBI agents, the analysts, and the professional staff who helped us conduct this investigation in a fair and independent manner. These individuals, who spent nearly two years working on this matter, were of the highest integrity.

And let me say one more thing. Over the course of my career, I've seen a number of challenges to our democracy. The Russian government's effort to interfere in our election is among the most serious. As I said on May 29, this deserves the attention of every American.
8.49am: Robert Mueller just delivered what will likely be a big blow to the Republican line of questioning by saying in his opening statement that he would not comment on anything related to the opening of the Russia investigation or the Steele dossier.
8.44am: Republican Representative and House Judiciary ranking member Doug Collins delivered the following opening statement.
For two years leading up to the release of the Mueller report and in the three months since, Americans were told first what to expect, and then what to believe. Collusion, we were told, was in plain sight, even if the special counsel's team didn't find it. When Mr. Mueller produced his report and Attorney General Barr provided it to every American, we read no American conspired with Russia to interfere in our elections, but learned of the depths of Russia's malice toward America.

We are here to ask serious questions about Mr. Mueller's work, and we will do that. After an extended, unhampered investigation, today marks an end to Mr. Mueller's involvement in an investigation that closed last April. The burden of proof for accusations that remain unproven is extremely high — especially in light of the special counsel's thoroughness.

We are told this investigation began as an inquiry into whether Russia meddled in the 2016 election. Mr. Mueller concluded they did. Russians accessed Democratic servers to disseminate sensitive information by tricking campaign insiders into revealing protected information.

The investigation also reviewed whether Donald Trump sought Russian assistance to win the presidency. Mr. Mueller concluded he did not. His family and advisors did not. In fact, the report concludes no one in the president's campaign colluded, collaborated or conspired with Russians.

The president watched the public narrative surrounding the investigation assume his guilt while he knew the extent of his innocence.

Volume II of Mr. Mueller's report details the president's reactions to a frustrating investigation, where his innocence was established early on.

The president's attitude towards the investigation was understandably negative, yet the president did not use his authority to close the investigation. He asked his lawyer if Mr. Mueller had conflicts that disqualified Mr. Mueller from the job, but he did not shut down the investigation. The president knew he was innocent.

Those are the facts of the Mueller report. Russia meddled in the 2016 election. The president did not conspire with Russians. Nothing we hear today will change those facts.

One element of this story remains: the beginnings of the FBI investigation into the president. I look forward to Mr. Mueller's testimony about what he found during his review of the origins of this investigation. In addition, the inspector general continues to review how baseless gossip can be used to launch an FBI investigation against a private American citizen, and, eventually, a president. Those results will be released, and we will need to learn from them to ensure government's intelligence and law enforcement powers are never again turned on a private citizen or political candidate as a result of the political leanings of a handful of FBI agents.

The origins and conclusions of the Mueller investigation are about the same thing: what it means to be an American. Every American has a voice in our democracy, so we must protect the sanctity of their voices by combatting election interference.

Every American also enjoys the presumption of innocence and guarantee of due process. If we carry anything away today, it must be that we increase our vigilance against foreign election interference while we ensure our government officials don't weaponize their power against the constitutional rights guaranteed to every United States citizen.

Finally, we must agree that the opportunity cost here is too high. The months we've spent investigating from this dais have failed to end the border crisis or contribute to the growing job market. Instead, we've gotten stuck, and it's paralyzed this committee and this House.

Six and a half years ago, I came here to work on behalf of the people of the Ninth District of Georgia and this country. We accomplished a lot in those first six years through bipartisanship. However, this year, because of the majority's dislike of this president, the endless hearings into a closed investigation have caused us to accomplish nothing except talk about the problems our country is facing.

This hearing is long overdue. We've had the truth for months — no American conspired to throw our elections. What we need today is to let that truth bring us confidence and closure.
8.35am: House Judiciary Chairman Jerrold Nadler delivered the following opening statement to begin the hearing.
Director Mueller, thank you for being here. I want to say just a few words about our themes today: responsibility, integrity, and accountability. Your career, for example, is a model of responsibility. You are a decorated Marine officer. You were awarded a Purple Heart and the Bronze Star for valor in Vietnam. You served in senior roles at the Department of Justice and, in the immediate aftermath of 9/11, you served as Director of the FBI. Two years ago, you returned to public service to lead the investigation into Russian interference in the 2016 election. You conducted that investigation with remarkable integrity.

For 22 months, you never commented in public about your work—even when you were subjected to repeated and grossly unfair personal attacks. Instead, your indictments spoke for you, and in astonishing detail. Over the course of your investigation, you obtained criminal indictments against 37 people and entities. You secured the convictions of President Trump's campaign chairman, his deputy campaign manager, his national security advisor, and his personal lawyer, among others.

In the Paul Manafort case alone, you recovered as much as $42 million—so that the cost of your investigation to the taxpayers approaches zero. And, in your report, you offer the country accountability as well. In Volume I, you find that the Russian government attacked our 2016 elections "in a sweeping and systematic fashion," and that the attacks were designed to benefit the Trump campaign.

Volume II walks us through ten separate incidents of possible obstruction of justice where, in your words, President Trump attempted to exert undue influence over your investigation. The President's behavior included, and I quote from your report, public attacks on the investigation, non-public efforts to control it, and efforts in both public and private to encourage witnesses not to cooperate. Among the most shocking of these incidents, President Trump ordered his White House Counsel to have you fired and then to lie and deny that it ever happened; he ordered his former campaign manager to convince the recused Attorney General to step in and limit your work; and he attempted to prevent witnesses from cooperating with your investigation.

Although Department policy barred you from indicting the President for this conduct, you made clear that he is not exonerated. Any other person who acted this way would have been charged with a crime. And in this nation, not even the President is above the law. Which brings me to this Committee's work. Responsibility, integrity, and accountability: these are the marks by which we who serve on this Committee will be measured as well.

Director Mueller, we have a responsibility to address the evidence you have uncovered. You recognized as much when you said "the Constitution requires a process other than the criminal justice system to formally accuse a sitting president of wrongdoing." That process begins with the work of this Committee. We will follow your example, Director Mueller. We will act with integrity. We will follow the facts where they lead. We will consider all appropriate remedies. We will make our recommendation to the House when our work concludes.

We will do this work because there must be accountability for the conduct described in your report, especially as it relates to the President. Thank you again, Director Mueller. We look forward to your testimony.
8.30am: Robert Mueller, the former special counselor who recently concluded a 22-month investigation into Russian meddling in the 2016 elections and obstruction of justice, is set to testify before the House today in what late-night comedian Stephen Colbert has called "the super bowl of things on C-SPAN at 8:30am in the morning."
We expect a three-hour hearing this morning before the House Judiciary and then a two-hour House Intelligence Committee hearing this afternoon.
Reporters have been camped out since last night, and the president has been active on Twitter all morning.
8.20 am: To recap how we got here, here's compact timeline of every major moment that's happened:
When former FBI chief Robert Mueller took on the role of special counsel and began his investigation into Russian meddling in the 2016 presidential election in May of 2017, there were warnings that the U.S. was about to embark on a years-long process and not to expect instant gratification. It turns out those warnings were right, more than two years later even though the investigation has been concluded and the report produced, Mueller, his findings and the meaning behind those findings still dominate the national conversation.
May, 2017
President Donald Trump fired FBI Director James Comey and almost immediately after Deputy Attorney General Rod Rosenstein appointed former FBI director Robert Mueller as special counsel to take over the probe into Russian meddling in the 2016 presidential elections.
June 14, 2017
Mueller expands his investigation to include the possible obstruction of justice by President Donald Trump. The decision comes shortly after Comey testifies to the Senate Intelligence Committee that the president asked him to end his investigation into his former national security adviser Michael Flynn. The FBI had been investigating Flynn's contacts with Russian diplomats before the election and whether he had intentionally misled Vice President Mike Pence about those contacts.
October 30, 2017
Mueller's team serves its first indictment to former Trump campaign manager Paul Manafort. He's charged with 12 counts that included conspiracy against the United States, money laundering and fraud. His partner, Richard Gates, is also served with 5 counts. Meanwhile, it's revealed that Trump's former campaign aide George Papadopoulos pled guilty to investigators about his contacts with Russia. He claimed to have lied to the FBI in order to protect the president.
December 1, 2017
Michael Flynn takes a plea deal with the FBI and agrees to cooperate with the special investigation. He becomes the first member of the Trump administration to plead guilty and admits to "willfully and knowingly [making] false, fictitious and fraudulent statements and representations" about his contacts with Sergey Kislyak, the Russian ambassador to the U.S.
February 20, 2018
A dutch lawyer, Alex van der Zwaan, pleads guilty for lying to the FBI about his interactions with Richard Gates and a person who remains unidentified in filings, referred to as "Person A."
February 22, 2018
Mueller files 32 new financial charges against Manafort and Gates.
February 23, 2018
Gates pleads guilty to two counts: conspiracy against the U.S. and making a false statement to the special team investigating Russian meddling. The plea deal says that Gates will fully cooperate with Mueller's team.
April 3, 2018
Van der Zwaan is the first to be sentenced in the Mueller investigation. He gets 30 days in prison and must pay $20,000 in fines.
July 13, 2018
Mueller indicts 12 Russians, all part of Russia's military intelligence agency, for hacking and releasing the emails of the Democratic National Committee.
September 7, 2018
Papadopoulos becomes the second to be sentenced in the Mueller investigation, this time to 14 days for lying to the FBI.
September 14, 2018
Manafort pleads guilty and agrees to cooperate with the Mueller investigation.
November 7, 2018
President Donald Trump fires his attorney general, Jeff Sessions, and appoints Matthew Whitaker as acting attorney general. Whitaker is a vocal critic of the Mueller probe. The change also means that Rod Rosenstein will no longer oversee the investigation.
December 12, 2018
Michael Cohen is sentenced to three years in prison. He claims that the president told him to pay two women hush money for alleged affairs.
January 25, 2019
Roger Stone, a former campaign adviser and longtime friend of the president's, is indicted and arrested in the Mueller investigation. The FBI raid of his home is dramatic and draws a lot of media attention.
Stone's trial will begin on November 5, 2019.
March 22, 2019
Mueller delivers his report to Attorney General William Barr, officially ending the investigation into Russian meddling and obstruction of justice after 22 months.
March 24, 2019
Barr reviews the report and sends a 4-page memo to congress which he says is a summary of the reports findings. The report did not find any collusion or conspiracy between members of the Trump administration and the Russian government to influence the election, said Barr. On obstruction of justice, he says that the report "does not conclude that the President committed a crime, it also does not exonerate him."
April 18, 2019
Faced with extreme pressure from Democratic lawmakers, Barr releases the full, albeit heavily redacted version of the report.
April 30, 2019
A letter between Mueller and Barr is leaked where Mueller says Barr's summary did not "fully capture" the findings of the report. Barr testifies before Congress on May 1st about the findings.
May 29, 2019
Mueller declares "case closed" on the investigation and announces his intention to go back into retirement. He does add that "If we had had confidence that the president clearly did not commit a crime, we would have said so."
June 25, 2019
Mueller agrees to testify in front of Congress. The date is pushed back a few times until July 24 is settled upon.