Mueller Has Notes From White House Staffer Detailing Trump's Behavior for Obstruction of Justice Probe: Report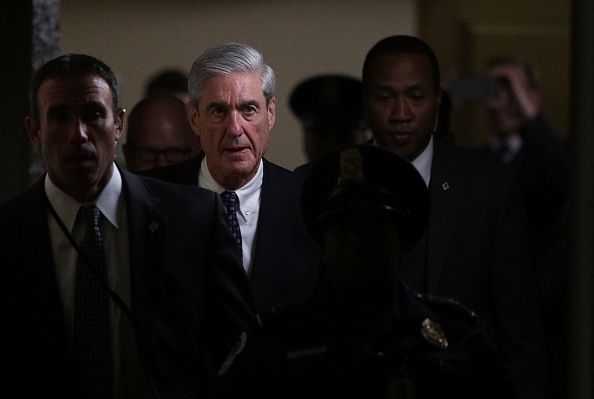 President Donald Trump's lawyers said that special counsel Robert Mueller, who is leading the Russia investigation, has comprehensive notes taken by a former White House staffer detailing the president's behavior.
According to a report published on Monday by The New York Times, Annie Donaldson, the chief of staff to former White House counsel Don McGahn, handed over detailed notes about the president's conduct in the West Wing to the special counsel's team.
The notes reportedly play a role in Mueller's investigation into whether Trump obstructed justice by firing former FBI director James Comey or through his various attacks on the Department of Justice. The team also has information gathered from its hours of questioning Steve Bannon and Jared Kushner about the president's actions.
The president fired Comey in May 2017, initially citing the former FBI director's mishandling of the Justice Department's investigation of Hillary Clinton's private email use. At the time, Comey was leading the inquiry into whether Trump campaign members conspired with Russian government officials in 2016. His firing made Trump only the second president in history to dismiss an FBI director. In a subsequent interview with NBC, Trump said he was thinking of "this Russia thing" when he chose to fire Comey.
Trump's attorneys told The Times that Donaldson's notes about the president were a jewel in Mueller's evidence that Trump may have obstructed justice.
The president has repeatedly denied any wrongdoing, and his lawyers have argued that his firing of Comey and his dealings with the Justice Department were within his authority as president.
Trump has railed against Mueller and the ongoing investigation, which he has repeatedly called a "rigged witch hunt." Last week, the president tweeted a quote from Republican Trey Gowdy, who said that "If thinking that James Comey is not a good FBI Director is tantamount to being an agent of Russia, than just list all the people that are agents of Russia—Chuck Schumer, Nancy Pelosi, Rod Rosenstein who wrote the memo to get rid of Comey."
According to The Times report, the special counsel values secrecy. Andrew Goldstein, a former reporter for Time magazine and now a lead prosecutor for the special counsel, once told his friend Tim Lear that Mueller complained about being photographed near Donald Trump Jr. at an airport in Washington.
Mueller is expected to release his report of the Russia investigation in the coming weeks, which would conclude the 21-month long probe. It is unclear how much of Mueller's findings will be made public, but Representative Adam Schiff, chairman of the House Intelligence Committee, has vowed to subpoena Muller and sue the Trump administration if the full report is not made public.
A former adviser to Trump's 2016 campaign said last week that Mueller's findings could provide the House of Representatives with a "roadmap" for the impeachment of the president.
"I can't imagine that the special counsel is not going to release something that shows a road map for the House to investigate a conspiracy, to answer it as a political question," Sam Nunberg, a conservative political consultant, said during an interview with MSNBC.
Correction: A previous version of this story said Andrew Goldstein told the New York Times that Robert Mueller complained about being photographed near Donald Trump Jr. at an airport. That information was relayed to the newspaper by Tim Lear, not Andrew Goldstein.